UPDATE: Please note that this information is now historical and outdated. I have contacted OSRAM about the compatibility issue and I can confirm its resolution as of Gateway Wi-Fi Firmware Version 1.1.2.90, Zigbee Firmware Version 1.2.0.67. Many thanks to OSRAM for attending to this so quickly – just 14 days total from start to finish.
—
In the Zigbee lighting arena, aside from the Belkin WeMo, the Philips Hue system comes to mind. It was one of the earlier systems, sporting colour changing globes not unlike those of the OSRAM LIGHTIFY RGBW globe, and offered different colour presets and variable colour temperature. As the product is also a Zigbee Light Link product, I decided to purchase a globe (AU$77) and test it for performance and interoperability with the OSRAM LIGHTIFY bridge.
Unboxing
In "expensive products come in luxurious boxes, part three, " the Philips Hue comes in a small, matte, mostly-black fold-open cardboard box.
It's got a bit of a cheesy "I want" statement on the front which … well … doesn't make me want the product any more than if it wasn't there. The rear provides the specifications, with the globe Made in China and sporting the necessary regulatory compliance marks for Australia. Compared to the other globes tested, this globe has the smallest power rating of 8.5w, and produces the least lumens – namely 600lm for an efficacy of 70.6 lumens per watt. The lumen story gets a little more detailed when you visit the site where it claims the following:
360 lm at 2000K
510 lm at 3000K
600 lm at 4000K
500 lm at 6500K
This is why the OSRAM globes claim 810lm (maximum), as the lumens produced (and power consumption) do vary as a function of colour temperature as this determines the drive currents to each of the red-green-blue LEDs. As a result, this globe is only a mid-way equivalency between 40w and 60w incandescent and is unlikely to be sufficient as the sole source of lighting in a medium or large room.
It also claims a 2-second warm-up time, which is unusual for an LED, and an operating lifetime average of 15,000 hours, which is 5,000 hours less than the OSRAM globes and 10,000 hours less than the WeMo globe. The number of switching cycles is claimed as 25,000, which is more than the > 12,500 claimed by WeMo and less than 100,000 claimed by OSRAM. These claims are difficult to gauge for accuracy, as they may have been conservative with their calculations, and in reality, are not likely to represent significant differences in the globes themselves.
The side of the box shows some of the software in action, and a warning that it requires the starter set to operate. The Zigbee certification logo for Light Link profile is clearly visible on the side – this are the same logos on the OSRAM Lightify hub.
The top of the box has a plastic hanger tab, the bottom has a QR code that can be scanned for more information.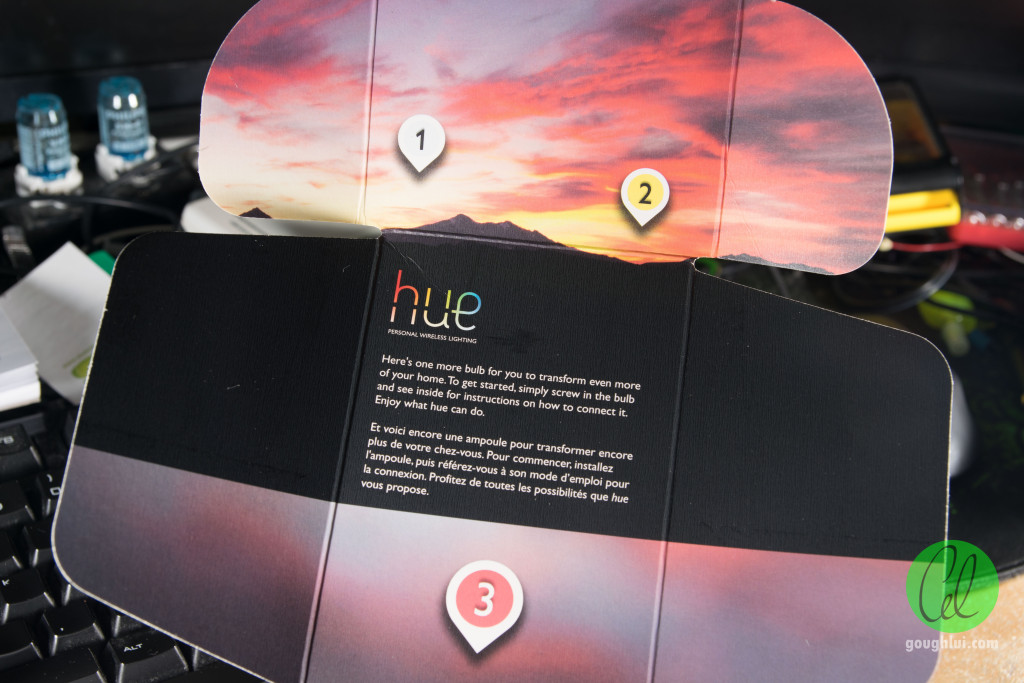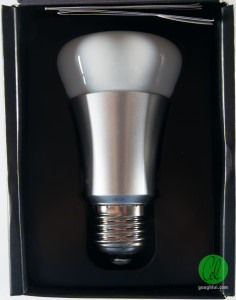 When you open it up, you are greeted with a full colour sunset inside, which is a bit of a surprise.
The globe sits nicely in the bottom section of the box, presented on a plastic tray similarly to the Belkin WeMo globe.
Also included with the bulk are two small leaflets which provide regulatory and quick start information.
The globe itself has a distinct mushroom shape, with a glass front diffuser. It is a little longer and larger than other globes and can be a minor challenge to fit.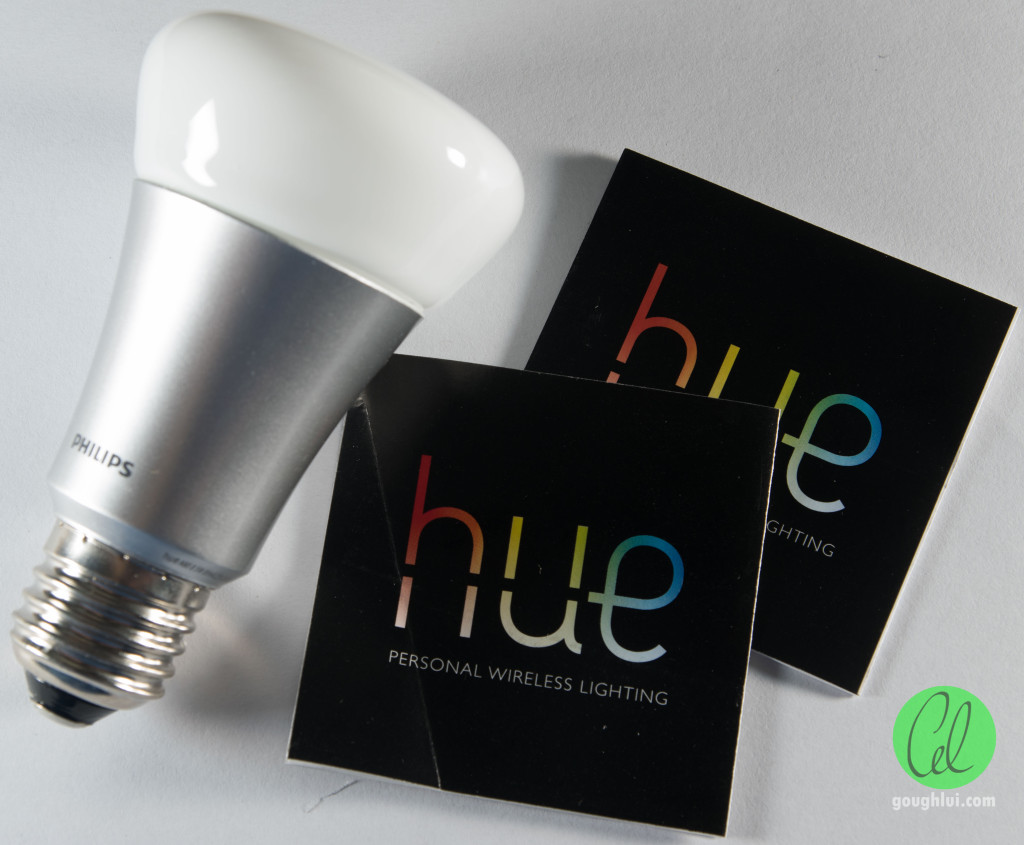 Unlike other globes, the information is printed on the area just adjacent to the edison screw cap, which is a traditional style cap with soldered leads for better reliability.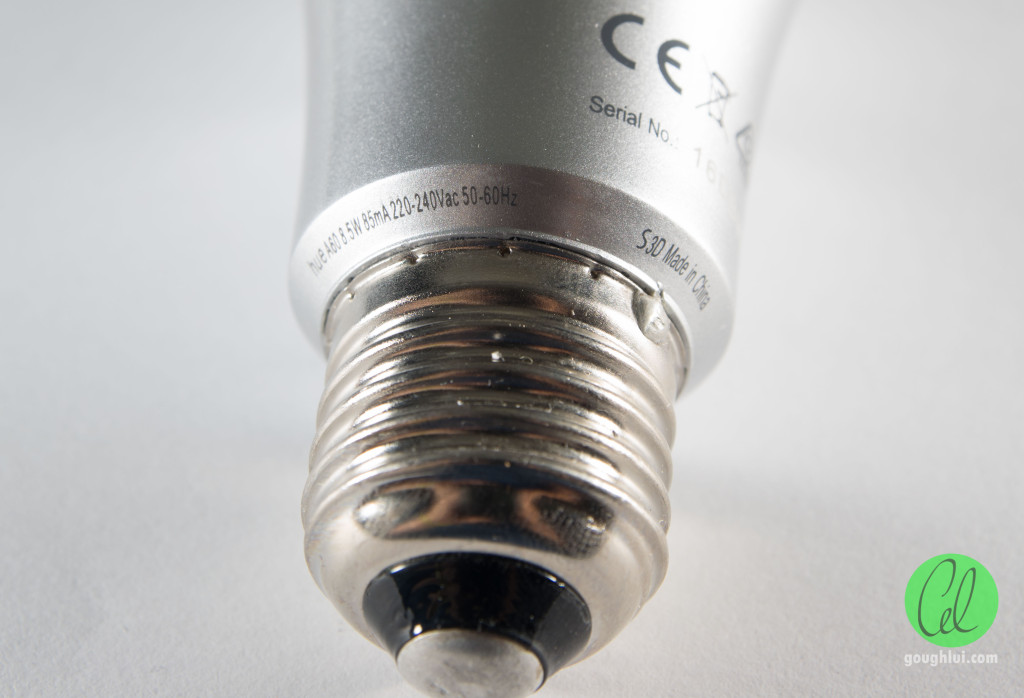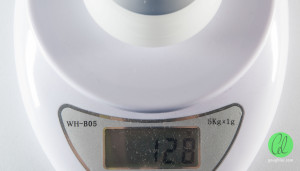 The globe weighs a respectable 128 grams.
Interoperability Test
The moment of truth has arrived – the globe was plugged into power and came on at a full warm white. Attempting to pair the globe with the OSRAM LIGHTIFY hub resulted in the detection of another Light 01 which appeared to pair successfully.
The joy, however, was broken as soon as control of the globe was attempted. The globe entry was greyed out, and the software claimed the globe was "disabled". All attempts to control the globe failed, and even a reset of the globe and removal of the WeMo globe (another Light 01) did not remedy the issue. The WeMo globe consistently paired and worked, the Philips Hue consistently paired and appeared disabled.
According to OSRAM's FAQ's: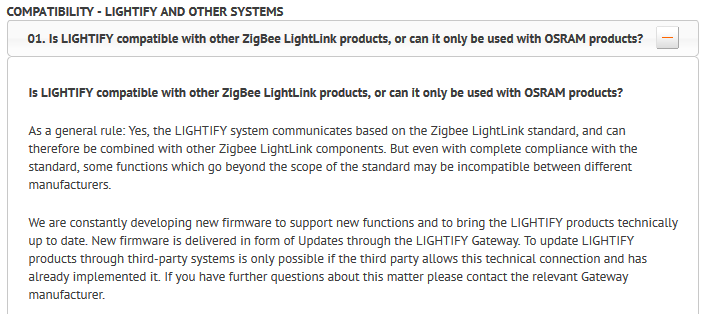 Unfortunately, despite Philips claiming Zigbee Light Link 1.0 compliancy, the Lightify gateway was not able to control the globe. I have contacted OSRAM to see whether a firmware update will be made available to remedy this, or whether there are other potential resolutions, but at this stage, I have a $77 "dumb" globe until I fork out another $250 and run a Philips Hue Starter Kit with the bridge.
Performance Test
Sadly, because the Lightify hub was not able to control the globe, I could only test the globe with the default parameters. Standby power testing was not possible because even turning off the globe was not possible.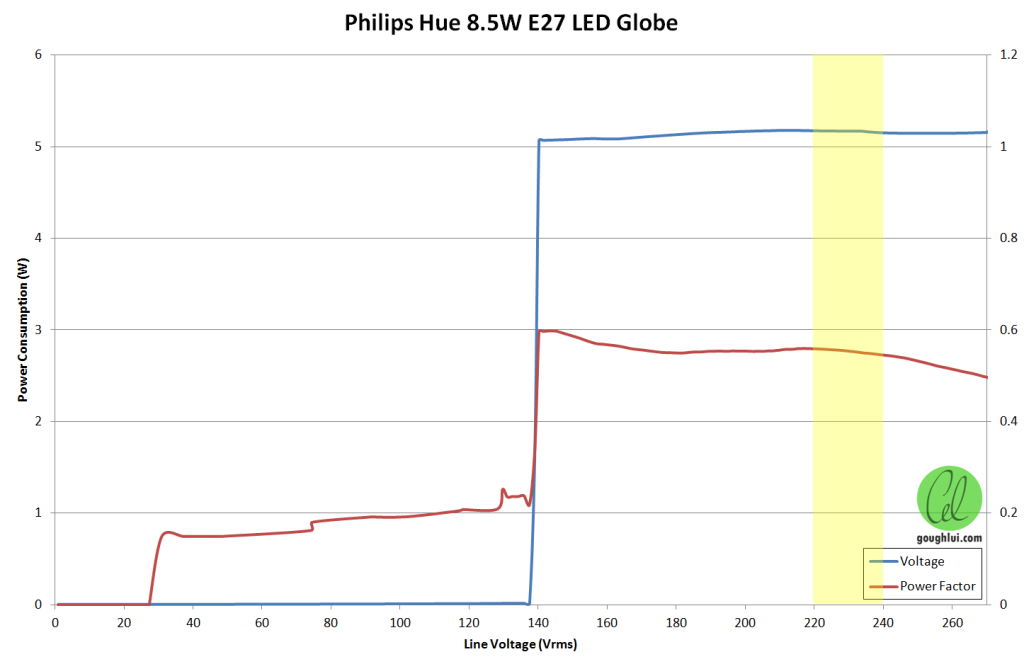 Regulation was excellent for voltages of 140Vrms and above, more than sufficient range for the claimed 220-240v operating voltage. The default settings had a power consumption of just 5.2W, likely because all LEDs were not operating at full power as they would at 4o00K. The power factor was a relatively poor 0.55 or thereabouts.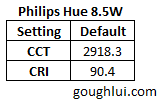 The red, green and blue LEDs can be seen with wavelength peaks of 442.92, 544.99 and 621.75nm. As the white light was generated by the combination of red, green and blue, the CRI was an excellent 90.4 on my spectrometer, and the default colour temperature appeared to be 2918.3K (probably 2700K).
At this stage, no teardown will be presented as I didn't need more glass shards scattered across my table and carpet, and because I really didn't want to break it apart at this stage. Maybe later?
Conclusion
Having recently reviewed various pieces of wireless lighting equipment, curiosity got the better of me, and I decided to see just how far interoperability between presently available Zigbee products went. Sadly, with the Philips Hue, it seems we have reached a limitation and the OSRAM LIGHTIFY was not capable of controlling the globe in any capacity despite being able to pair with it.
The globe itself has an interesting mushroom shape, with a glass diffuser, and is comprised of red-green-and-blue LEDs. As a result, it exhibits excellent CRI values and the ability to change colour temperature when used with a compatible hub. Its price is a little high, claimed lifetime is a little short, and light output is potentially insufficient for primary light-source usage which could make the OSRAM LIGHTIFY RGBW a more interesting choice.
UPDATE: Please note that this information is now historical and outdated. I have contacted OSRAM about the compatibility issue and I can confirm its resolution as of Gateway Wi-Fi Firmware Version 1.1.2.90, Zigbee Firmware Version 1.2.0.67. Many thanks to OSRAM for attending to this so quickly – just 14 days total from start to finish.
New article coming soon!