Life had been getting somewhat routine at home, so I decided that I needed a bit of exercise and a nature break. On Tuesday 30th June 2015, with a family friend, I visited the Minnamurra Rainforest Visitors Centre in Budderoo National Park and went on a photography expedition along the boardwalks. I never had an opportunity in the past to appreciate all that Minnamurra's boardwalks had to offer, as the last two times I visited, we ran out of time.
Entry to the park cost $11 for a car for the day, as it was a national park. The area is so remote that I could get no signal coverage on both Optus and Telstra – that's how you know you're in the bush. Walking through the visitors centre allowed us to start our walk, on a mixture of newer plastic grating, wooden planks and suspension bridges.
It was a rather cool day, with a temperature of about 17 degrees which was probably a little less under the canopy. The day started off rather still, and there was some flow of water. The greenery of nature, be it on trees, moss or grass, has a therapeutic effect along with the quiet sound of flowing water and lyrebird calls. Immediately, I could feel my stresses going away.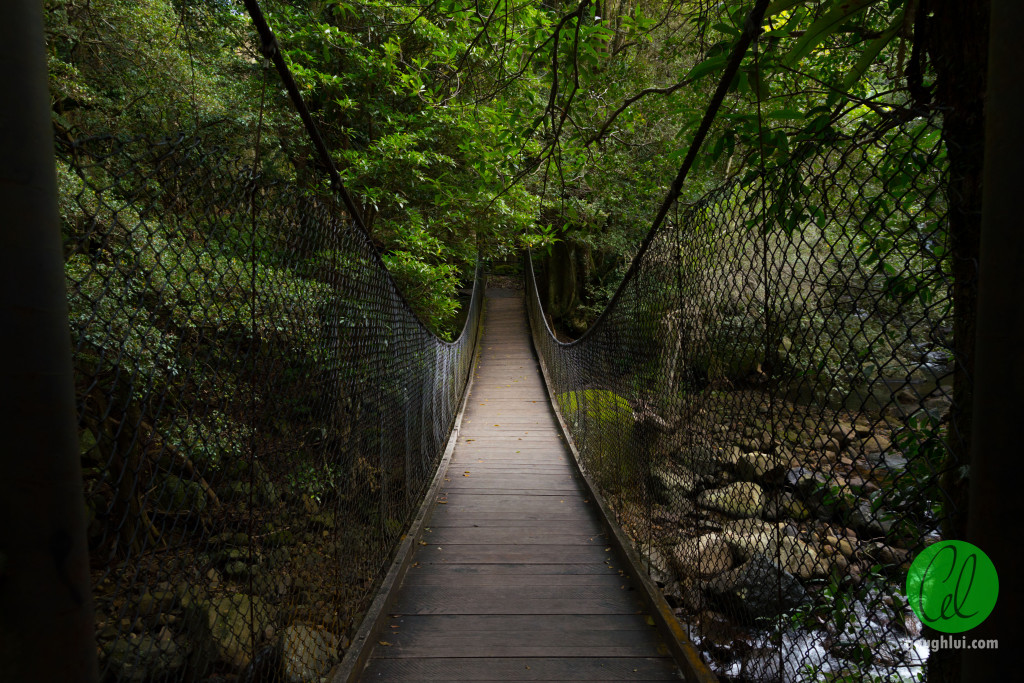 It was particularly nice that the park was not too busy, as we had arrived very early in the morning, however, it is a popular place for school excursions and field expeditions which can ruin the tranquility somewhat. The partly overcast day was a slight blessing though, as it gave the sunlight a "soft" effect.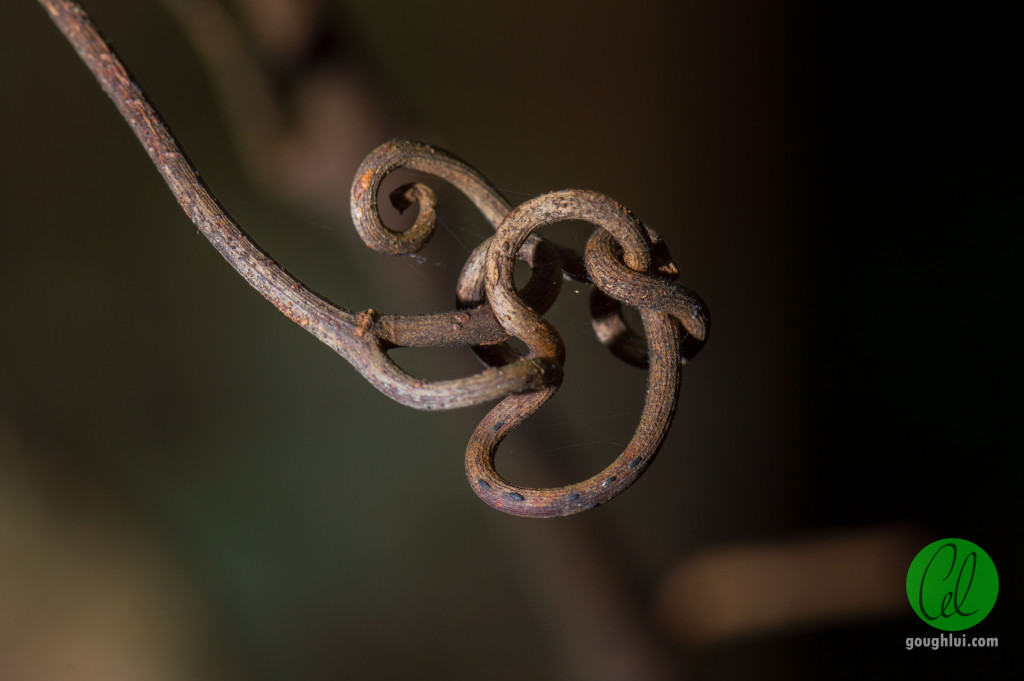 I wasn't going to turn up at the risk of being under-equipped. Nature is a great place to find interesting colours, textures and delicate details, so I packed an external flash and a macro lens to try and catch some of the details. It was a good chance to practice with my manual flashes and get a better handle of how light affects a shot.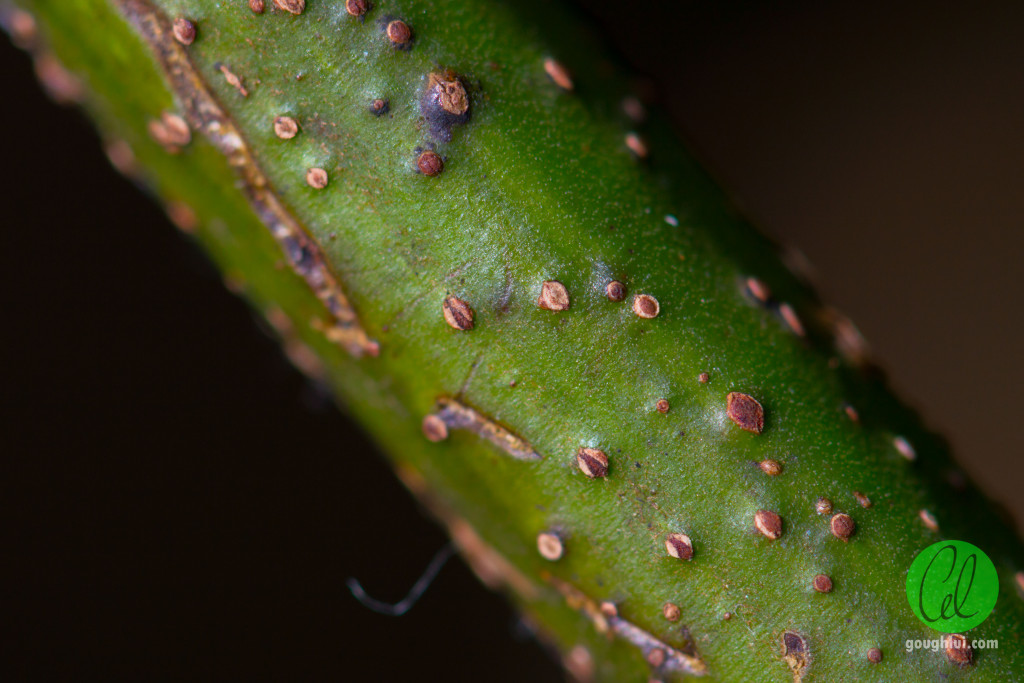 If you keep your eyes out, there are many small intricate details on things which deserve a quick stop and photograph. The boardwalk starts off comfortably, and is arranged in a ring which traverses much of the local forest growth.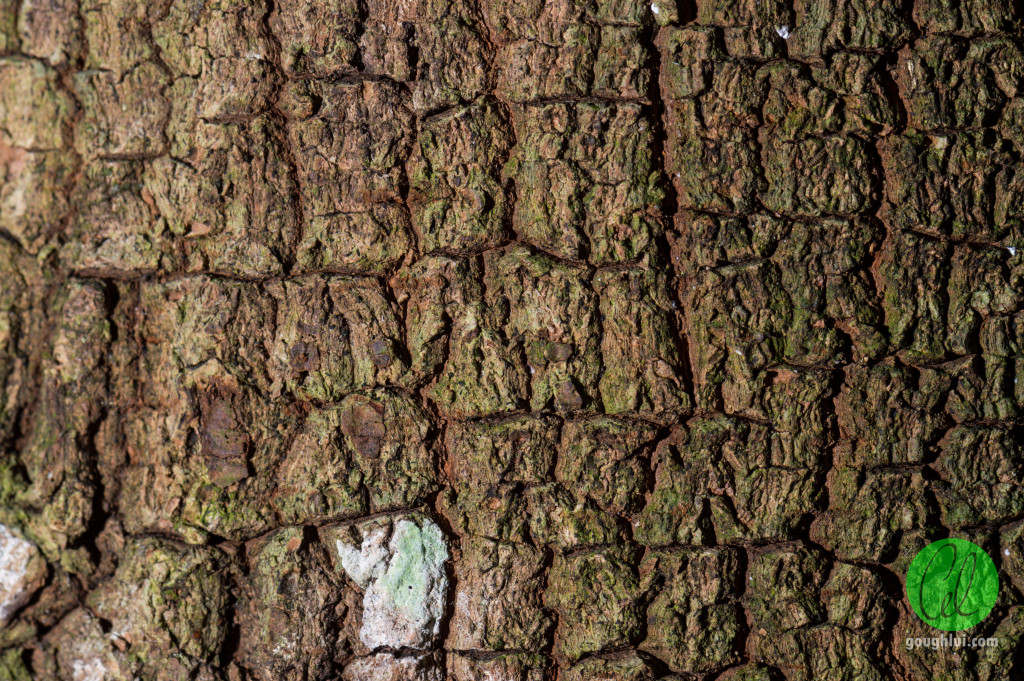 The colour and patterns found in nature can be quite striking up-close. For example, there is the coarse tree bark, but also more delicate "fractal-like" patterning in the moss.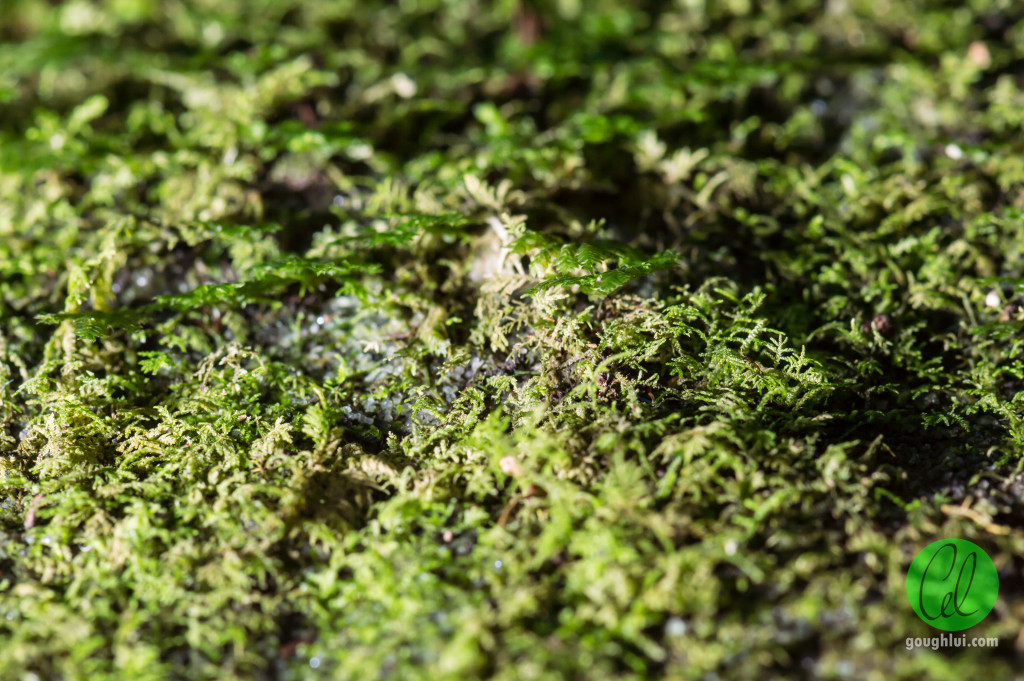 But don't forget to look up as well, as the towering trees overhead scatter the sunlight and make it a comfortable, humid environment to be in.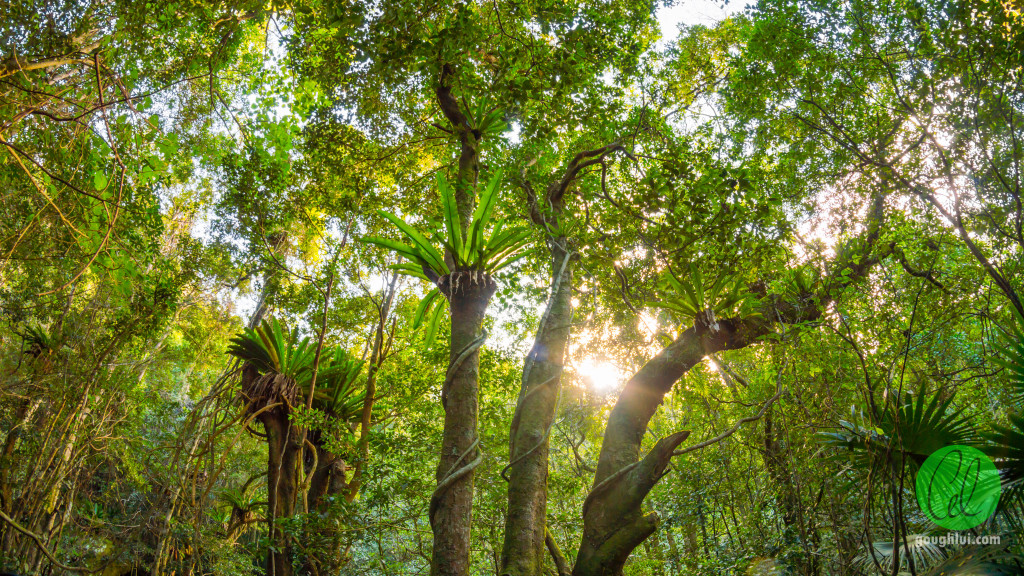 There are a few bridges which cross over streams and waterways, which provide some bush landscape.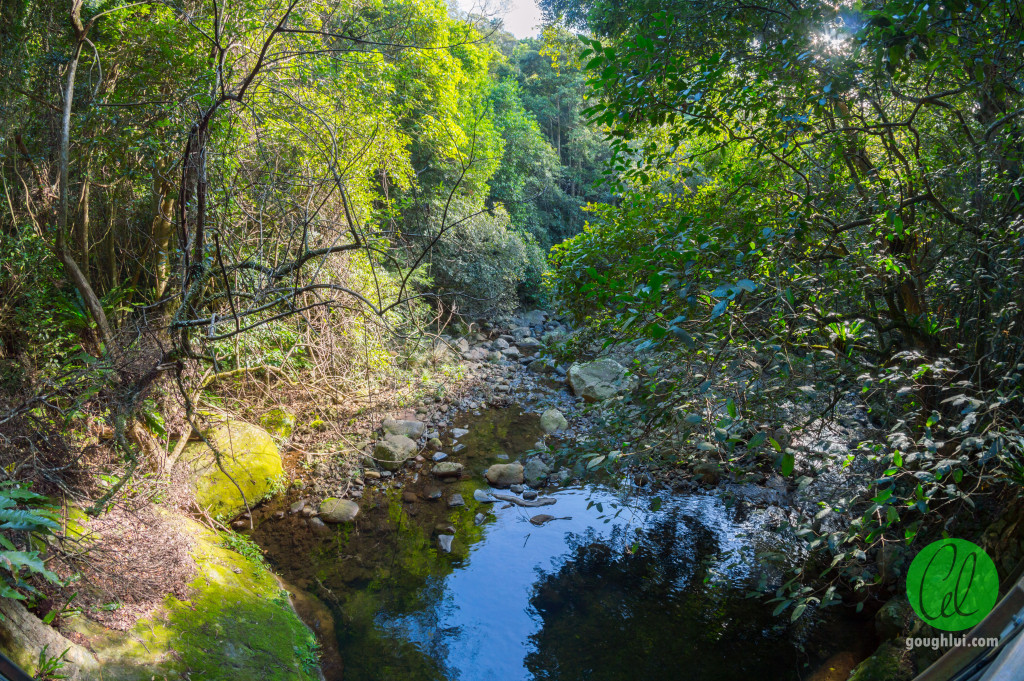 The bush does get a little repetitive after a while.
While walking around, you might hear some very loud bird calls, and some scratching noises. If you look closer, you might find the lyrebirds – there seem to be a few.
Since the natural processes of nature are all on show, this also includes the other part where things decay and are broken down. Mushrooms turn out to be a good subject for trying out your macro lens.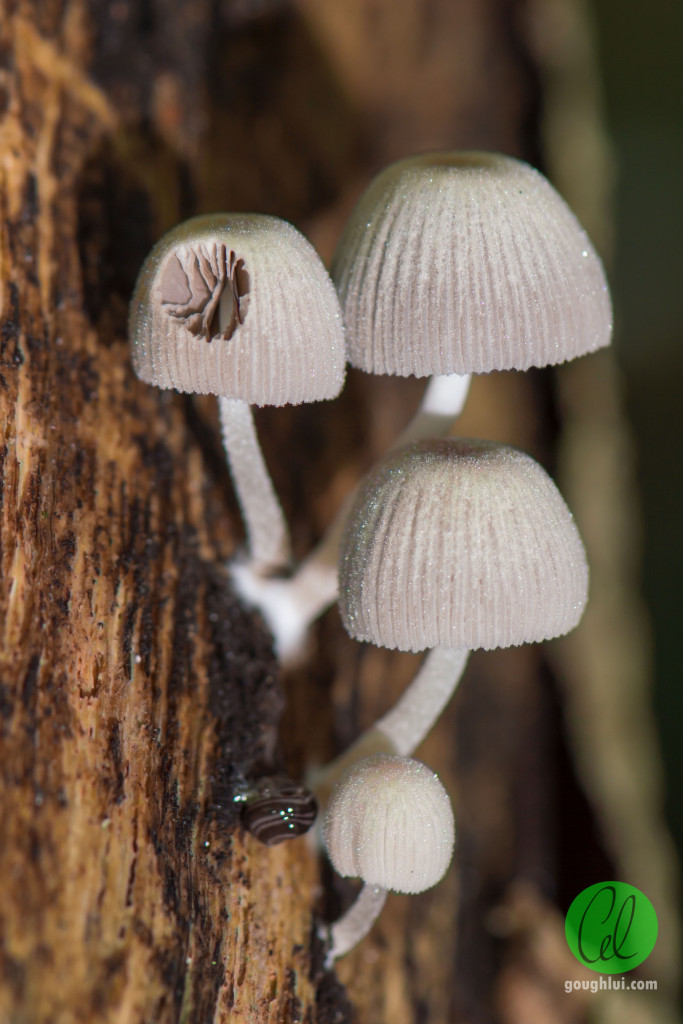 This family of cup mushrooms with one that has a chunk eaten out of them has so much texture and "hairs" that I couldn't distinguish with my naked eye, but was easily resolved with a camera and a flash. We can even see some leech or slug in the corner too.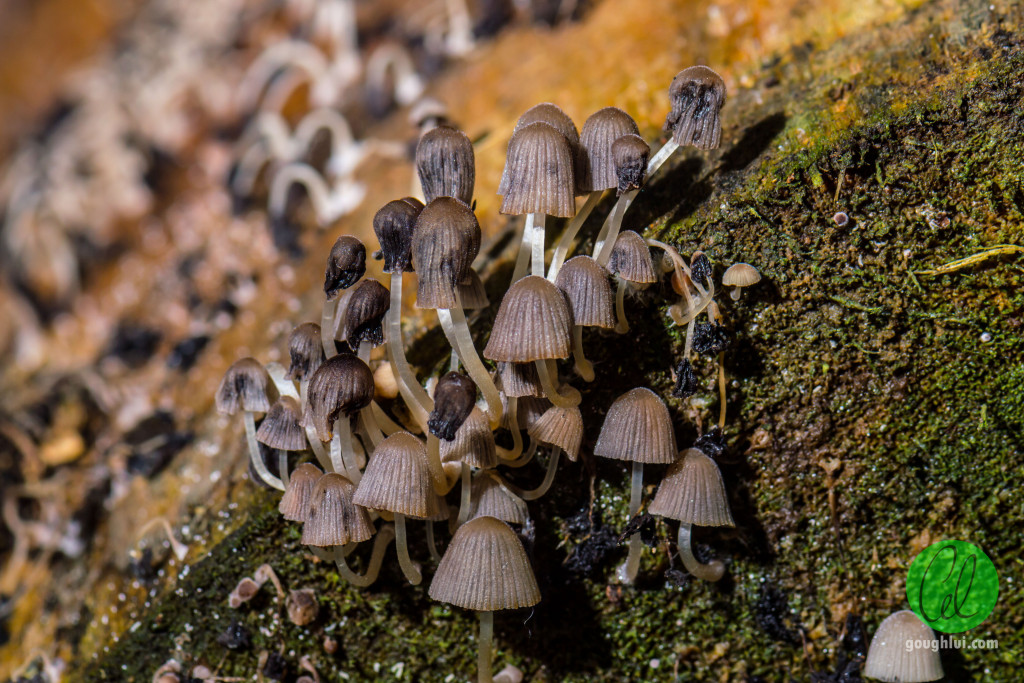 There were a few other smaller mushrooms of a different sort as well, competing with moss.
Some of the decay was rather funky as well, producing bright orange spots, contrasting with the dark bark and green moss.
In the trees, some very delicate spider webs were found as well, so thin as to be almost invisible to the eye unless at just the right angle to reflect the light. Here, we can see what seems to be a tiny nymph or larvae trapped in a web.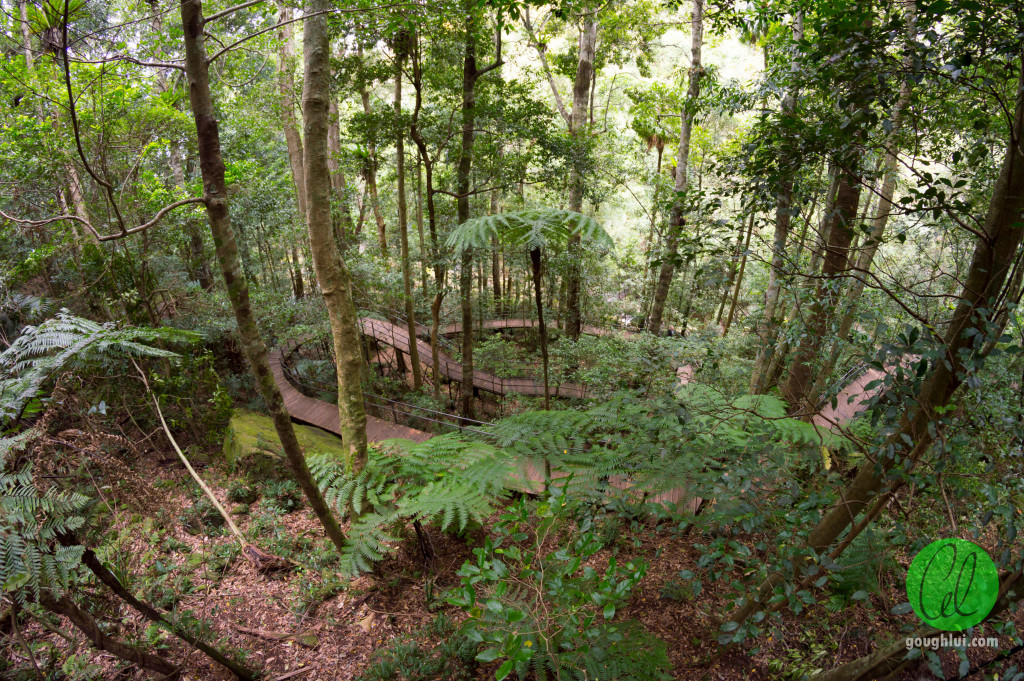 Walking around the boardwalks involves walking up this curved path which rises at a medium grade to reach half-way up an escarpment. It isn't quite difficult if taken slowly, but it is part of the main loop path which brings you back to the visitors centre.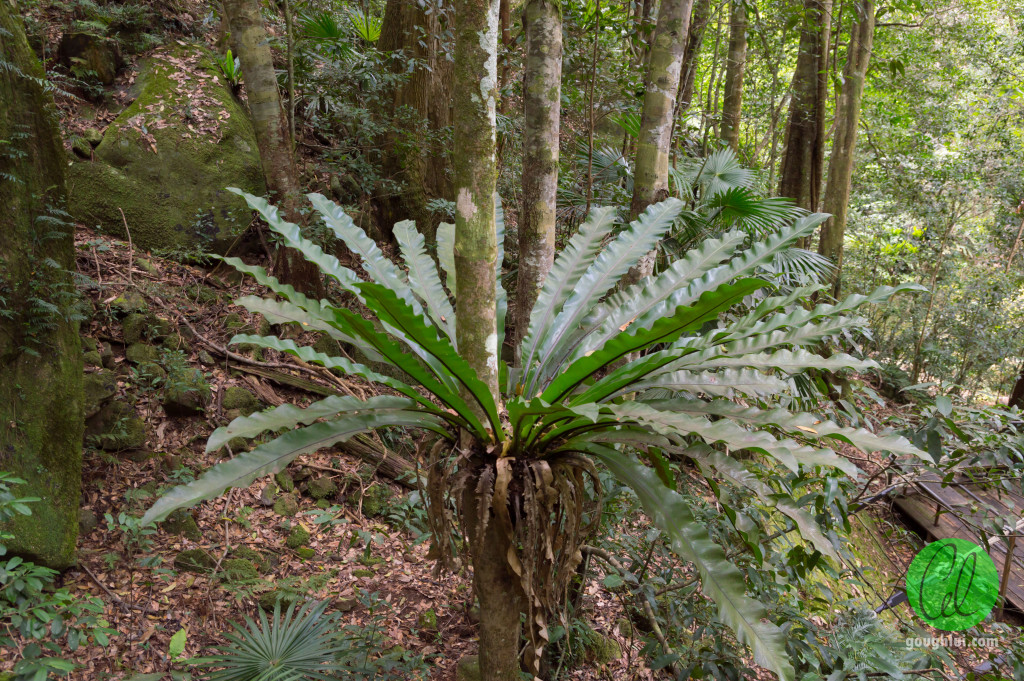 While walking up the path, you can get up close with some of the growths on the trees – both symbiotic and parasitic, including various vines which try to "strangle" their hosts.
As usual, it seems like the kids and other humans can't keep their hands off the nature, so there are many etchings and inscriptions on rocks and trees near the path of those who have passed by. Not that I approve of this vandalism, but … eh … it's there.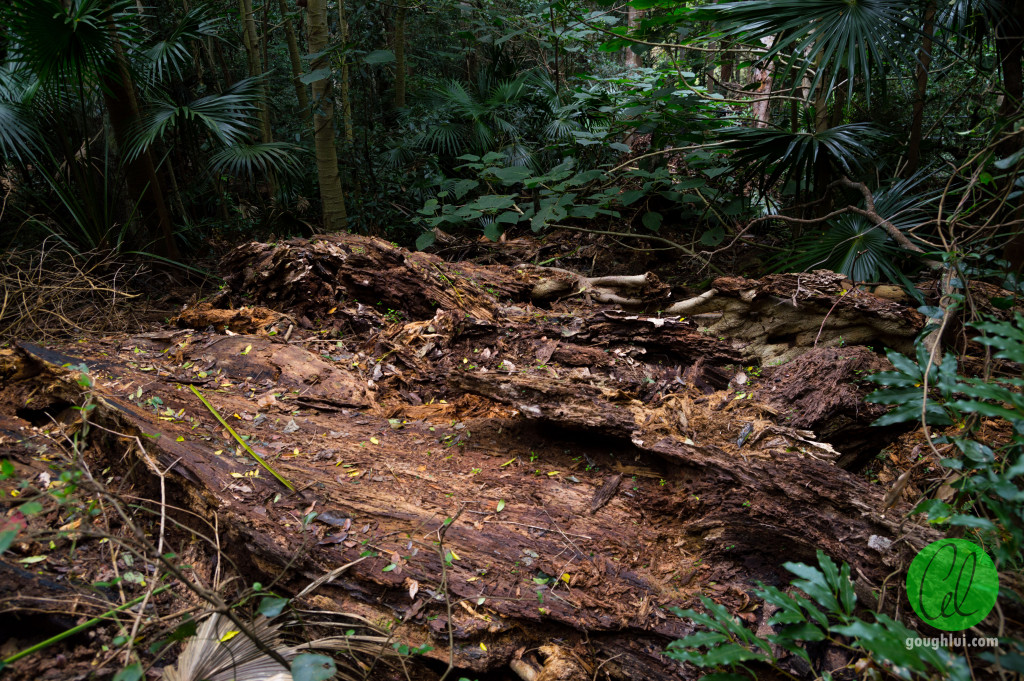 Sometimes, you don't need to do anything, and the natural filtering effect of the trees serves to highlight a subject – in this case, the rotting wood surrounded by a sea of dark and leafy greens. It was amazing.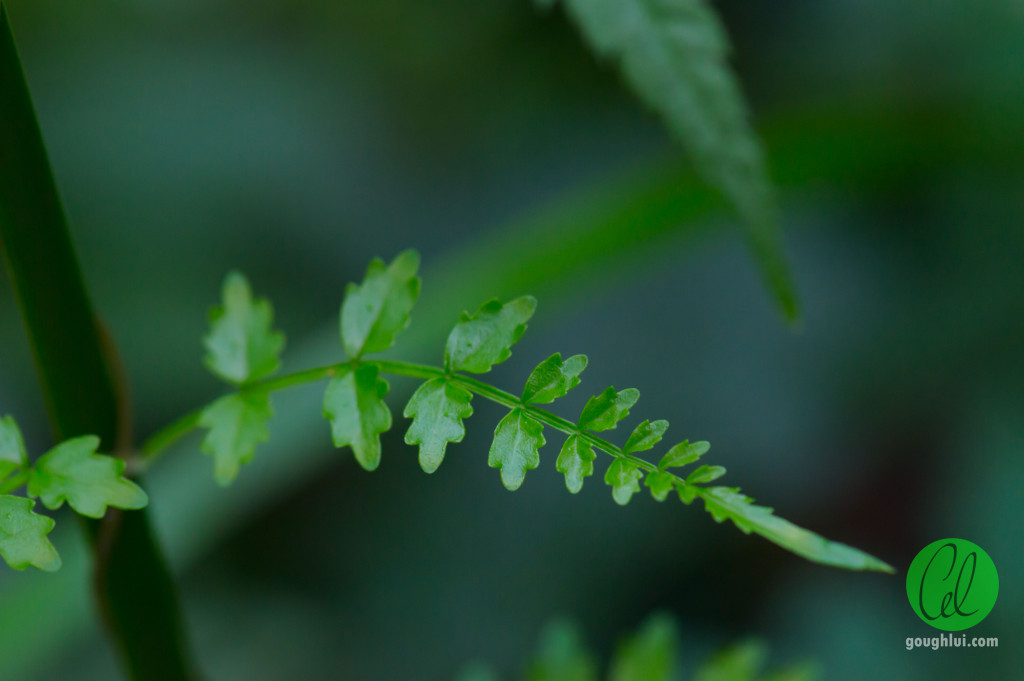 Even the soft overcast lighting served to show highlight the delicate items. You wouldn't get the same effect with harsh sunlight.
Termites have been active – boring out the trees and building large mounds!
There were a few magpies, lyrebirds and also this little golden-breasted fella, who posed very well for the camera.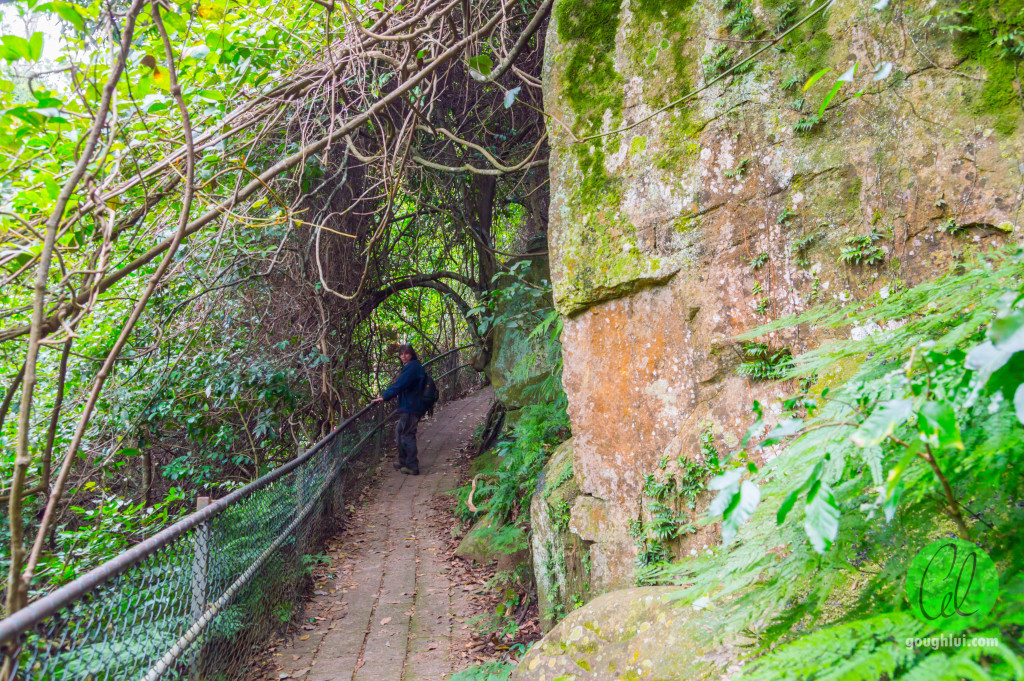 Along the loop walk, we will come across a fork where the path breaks off to the upper falls walk. This is a rather steep grade walk, of about 2.6km return, that takes about an hour. We were met with a light shower as we started the walk, which was very tiring and involved many breaks on the benches along the way. It gave us an opportunity to enjoy the very loud calls of the male lyrebirds. Towards the end of the walk, the grades changed directions, and the bush gets somewhat denser.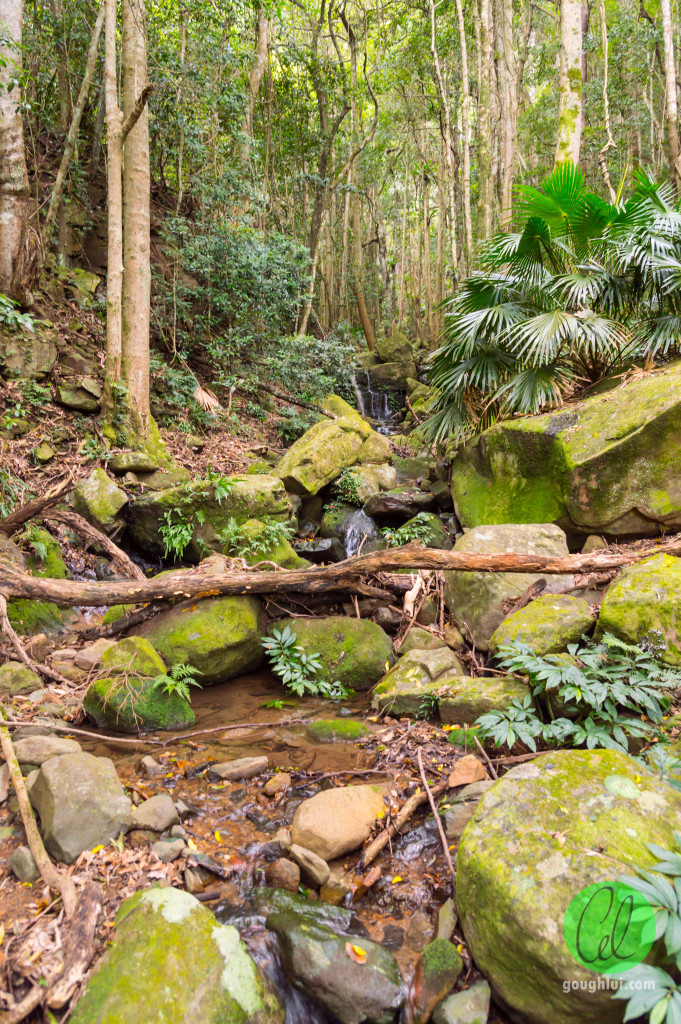 You know you're almost there when you come across Lyrebird Falls. If you're about to give up, don't – the reward is only another few minutes walk away. The reward is down two flights of stairs though …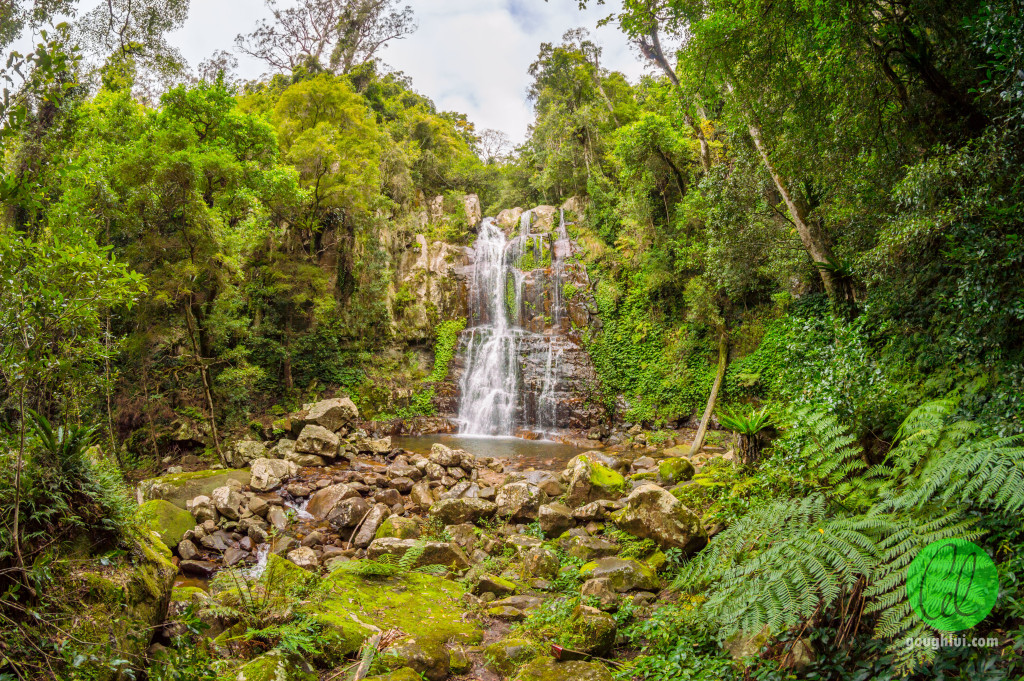 Ta-da! The Minnamurra Falls in all its glory. We were going to take some time to recover from the long walk, so I decided to get out the time lapse gadget to give it a try (as we had one sitting randomly unused). This is basically a head that turns around based on a clockwork mechanism "appropriated" from a 60 minute mechanical timer. Unfortunately, it didn't work quite to plan … so it got stuck about half-way through and then my card ran out of space. Oh well! It is again available in 4K, in case you can watch it at this time.
If you'd prefer to digest it as a panorama sans other people, but with some stitching errors, see below.

In the end, I suppose if you want a bit of a walk to stretch your legs or do some photography, then Minnamurra might just be worth your while. It is definitely a bit of a workout if you go all the way to the falls, and isn't recommended for those who don't want to walk up and down relatively steep inclines. But hey, I survived, so you probably will too!
—
Bonus
This is what happens when you use FFmpeg with TIFF input files straight from Lightroom. It produces a very flashy, trippy video – people with photosensitive epilepsy should not watch this video. The reason for this seems to be an issue with how the FFmpeg TIFF filter interprets TIFF files – it seems not to parse the metadata correctly – so the metadata shows as image in the top line.
If the metadata is a multiple of 3 bytes, the colour will be correct (as the images are 8 bits/channel), but if not, then it results in the colour channels being incorrectly mapped (red -> green, green -> blue, blue -> red for example). Every three bytes of metadata causes a one pixel "shifting" of the image horizontally, although after 11,520 bytes, the image aligns once again (as it is 3840 pixels x 3 bytes), but pushed one line down.
I had to convert the TIFF files to BMP to produce the video above, as the parser for BMP worked just fine.