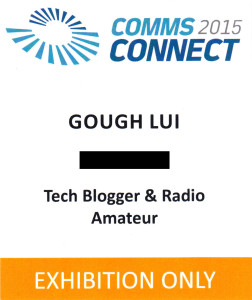 It's been a busy week full of events. Earlier this week saw Comms Connect land in Sydney, held at Sydney Showground at Olympic Park.
Comms Connect is a trade expo which is targeted at critical communication users and those involved in the RF industry. Many exhibitors of radio equipment, integration systems, test and measurement equipment were ready to show off their latest hardware and software solutions.
Thanks to the folks at Icom who had tipped me off about this event, I managed to grab free entry to the exhibition.
Walking Around the Exhibits
I arrived on opening day, a little bit past the opening time. To my surprise, there wasn't much of a crowd at all, which reinforces how niche the RF area really is. Without hassle, I grabbed my badge from the counter and walked straight in.
First stand I visited was the Icom guys, to thank them for tipping me off about the event. As it turns out, they were having some trouble with a third party router and getting it configured, so I stayed around to help them find the IP address and get themselves logged in. It was the least I could do. As with the CeBIT exhibit, the IP100 IP-based Wi-Fi radios were the main attraction, along with some more conventional handhelds.
Just opposite to them was the Hytera and Metwide Group stand, in some sense, competitors facing off. Hytera are a Chinese manufacturer of DMR based handheld radios, and have been gaining exposure over the past few years hoping to capitalize on the 400Mhz band spectral efficiency requirements and reshuffle. Metwide seemed to be advertising a trunked DMR service for hire, using numerous linked repeaters in the VHF ~150Mhz band segment for quite impressive coverage.
Starting my walk around, I spotted a stand for Critical Comms, the associated industry magazine for this event which has advertising, articles and case studies published every two months. One was included in the show-bag that was collected as soon as we got in.
Representatives for Anritsu were very busy demonstrating several of their portable spectrum analyzers and vector test equipment. Unfortunately, I didn't have a chance to get my foot in the door here, because it was that busy at the time.
Just opposite, a large booth was exhibiting for Kenwood – more known for sound systems, what caught my eye was a very nice (but expensive) HF transceiver with a ~100khz band scope and fully computerized LCD S-meter display, which amateur radio guys would have loved. GME communications was also present nearby, an Australian brand which hasn't been as popular as in the past.
Continuing along, I visited Silvertone Electronics, where they were running an ISM band waterfall display using the Signal Hound real-time spectrum analyzer and RF recorder. A common thread amongst the test equipment vendors is the slow "SDR-ization" of the test gear, offering wide frequency ranges, and decent streaming bandwidths for real-time analysis. I suppose this could be an option to the Tektronix RSA306 I've reviewed earlier. They apparently do a lot of UAV stuff, which is another growing market.
At this point, I've already done half the outer perimeter of the show floor. The show itself really isn't very big, and if anything, is probably even smaller than Electronex!
It's at this point I've reached the Keysight Technologies stand, which is here thanks to the distributor, Trio Test and Measurement. These guys were very friendly, and I had a great time watching them demonstrate the abilities of their FieldFox portable swept spectrum analyzer unit, and give us a hint to pick up some refurbished gear at good prices. They also had an assortment of multimeters, including the U1461A I had reviewed earlier on display, and the new TrueIR Thermal Imager, no doubt to compete with Fluke who have recently also pushed a lot of thermal imaging products into the market. One claim to fame is that the Keysight units have a minimum focus distance a lot closer than the other units, allowing for better resolution of small PCB-level components – you'll have to test this one for yourself. They also had an Infiniivision oscilloscope on display, which they claim to have superior simultaneous time-and-frequency domain analysis features compared to their competitors.
I had a great time talking to them about the state of the market, the slow "evolution" of test equipment into more digital domain processing, and exploiting deep memory buffers and fast digital logic to perform analysis – enabling new generations of test equipment. Suffice it to say, some of their competitors are not in such good shape, but the guys are getting there with the rebranding and remain convinced that the Keysight name is here to stay.
The representative from Trio also had a General Dynamics R8000 Communications System Analyzer on display, which was quite impressive. Its capabilities include signal analysis of transmissions from radios for analog signal parameters, as well as digital modulation parameters and demodulated audio parameters. It also looks at the RF parameters, and with Motorola handhelds, can perform autotuning. It's also capable of generating test signals. It seemed to be a very versatile piece of equipment which might suit many repair and alignment shops, as well as those looking to test for interoperability and quality of different models of radio. I managed to score a product demonstration DVD as well, which should be interesting to watch.
Moving along, we find Benelec, which I know well as a supplier of connectors, cables and antennas. Good to see they're around. They're also near the RFI stand, which I know best from the GRN deployment days and seeing them at CeBIT several years back. They're still the go-to guys for certain sorts of antennas, cavity filters and multicouplers.
I didn't visit Emona Instruments' stand, as I'm well familiar with them, but I suspect they were there demonstrating Rigol gear, which is one of the biggest competitors in the T&M market. The cheap Chinese gear performs quite well and is priced very competitively, which certainly makes their competitors quite anxious.
I didn't stop for long at Codan's booth, although their name will be familiar to 4×4 outback recreational users who swear by their Codan HF radio sets, which have a reputation for quality and reliability above all else. Their solutions seemed to be more geared towards commercial users.
In the rear corner, I managed to stop off at Vicom, distributors of Tektronix gear, as well as Bird and Aeroflex. I had a chat about some of their gear, especially the Bird USB wide-band RF power meter which caught my eye because of its small size.
It seems another distributor was also there in the next stand, representing Uniden, Vertex Standard (or Yaesu) and Midland, although they didn't seem too approachable at the time, so I didn't bother going in for more details.
After roaming around the whole show, I noticed that several stands seemed to have boxes with Survey Technologies Inc.'s STI Field Test 7 software on display, and they themselves also had a stand. This is a software used for field verification of radio coverage. I suppose this might be advertising that they may distribute the software, or they sell hardware compatible with the software.
Of course, there were more vendors than I could visit or had interest in, so this is hardly full coverage. But it does summarize the stands I did see and visit in the time I had, before I had to nick off and head to the university.
Conclusion
The environment at Comms Connect is one of a "tight-knit" friendly catch-up with the "regulars" in the industry. Many folk stop to have a long chat, and sometimes it can be difficult to get your "foot in". While I'm not privy to the "club", I was made to feel welcome by all the exhibitors, many were extremely happy to spend the time to explain and demonstrate all the gear they had on display, and to answer (as best as possible) any technical questions I had. Sadly, some exhibitors were a little less attentive, so their stands were quiet and unmanned, or just a display of products, or hard to approach for an introvert like myself.
As an engineer, these events are an opportunity to see some of the latest gear in the flesh and get a "sense" of the important issues in the industry. This year, I can see the continuation of the 400Mhz band reshuffle and improvements in spectral efficiency requirements continue to push users towards digital radio systems, where the battle between different flavours of digital radio (e.g. DMR, TETRA, IDAS, MotoTRBO) seems to be the big frontier, along with co-existence and interoperability issues. New systems also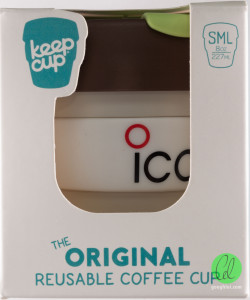 try to solve the issue of "grouping" multiple radio systems together so they can interoperate.
I definitely enjoyed my time there, and as a little bonus, the guys at Icom gave me this very nice Keep Cup, and we promised to meet again at next year's CeBIT.
The Comms Connect series continues around the country with conferences in Brisbane and Adelaide, followed by an exhibition and conference event in Melbourne on 1-3 December, which I'm promised, is a much bigger event.