In this part, we continue where we left off with my Vivid adventure. This time, I return to see the rest of the Circular Quay exhibits, and spend some time walking through Martin Place and Darling Harbour precincts.
Circular Quay, MCA Side (1st June)
Surprisingly, it seems Monday night is a quieter night for Vivid, so I was able to finally sneak into the MCA side without crowd control measures making it unbearable. Unfortunately, half of the projectors on the MCA building were turned off when I arrived, so I didn't bother with that, so we'll start off with Paint the Town, where you can control the lighting on Circular Quay.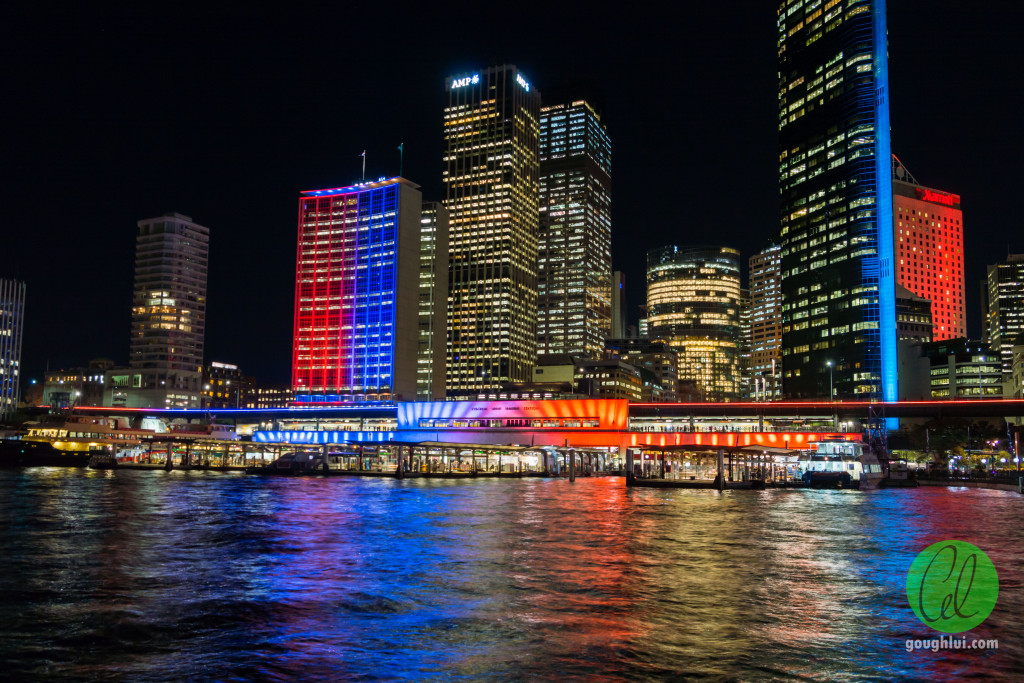 Perhaps you're one of the State of Origin fans … or maybe you like it a little more monotone.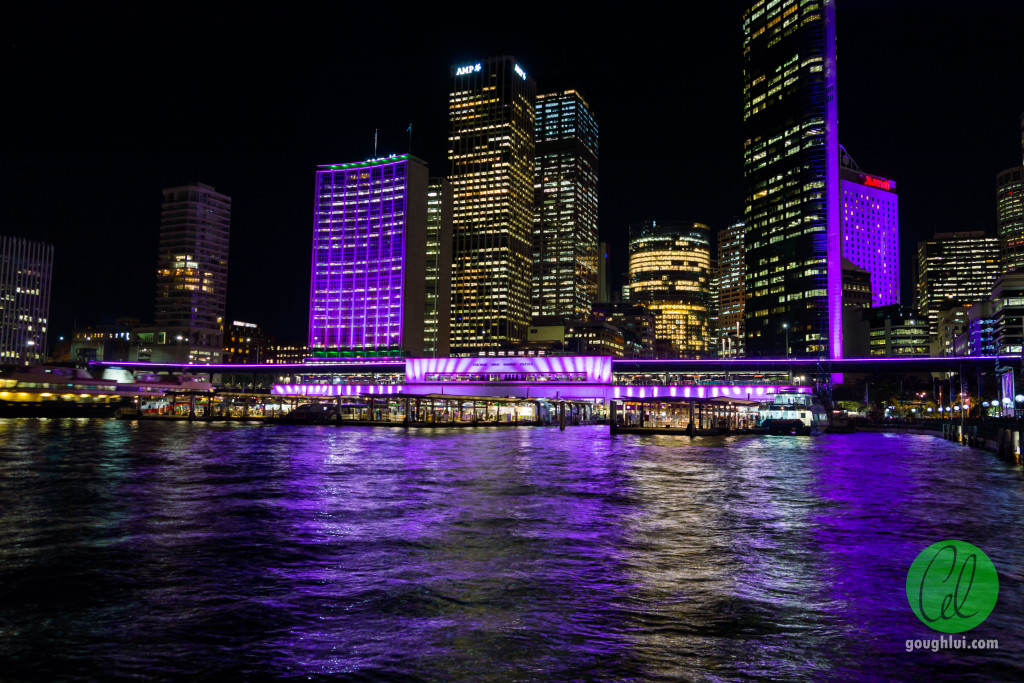 The results are quite stunning and immediately obvious. The interactivity led to lines of people queueing up for a chance to change the colours.
As usual, this side of the harbour is ideal viewing for getting photos of the Opera House projections. Unfortunately as the patterns come and go quickly, you really do have to be on the ball to snap the photo.
If you're lucky, you can get the chance to snap the house in several "solid colour" style patterns. They're beautiful, but not quite as interesting as the artistic projections, and sometimes it almost looks like there's some dirt on the projector lens.
Then there's the geometric ink-splash type of designs, which are a little more vibrant and interesting.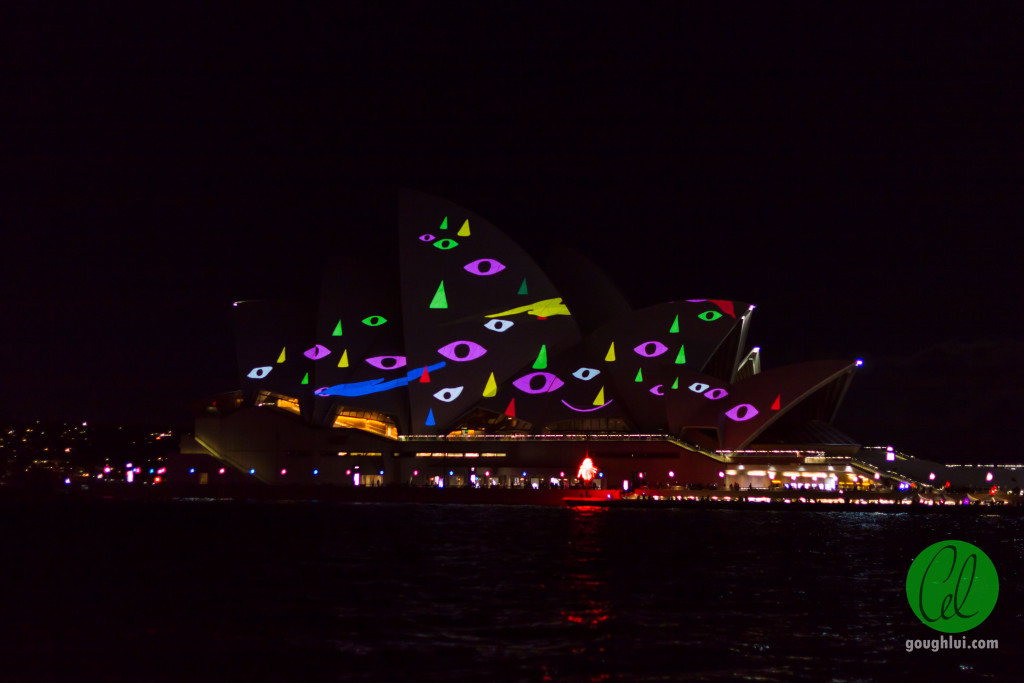 The designs I really liked involved objects or depictions of animals, ghostly figures, etc. This one kind of reminds me of a credit card ad of some sort …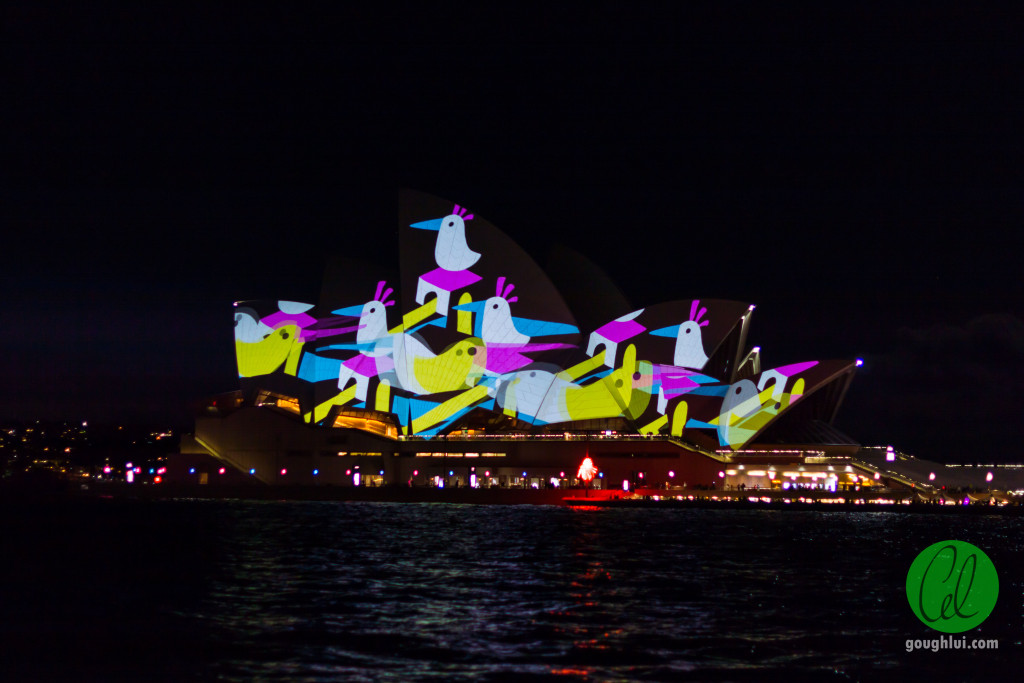 … as do these "cuckoo" birds.
These almost look like friendly ghosts wrapped in ribbons of seaweed, and are cute and "friendly" looking.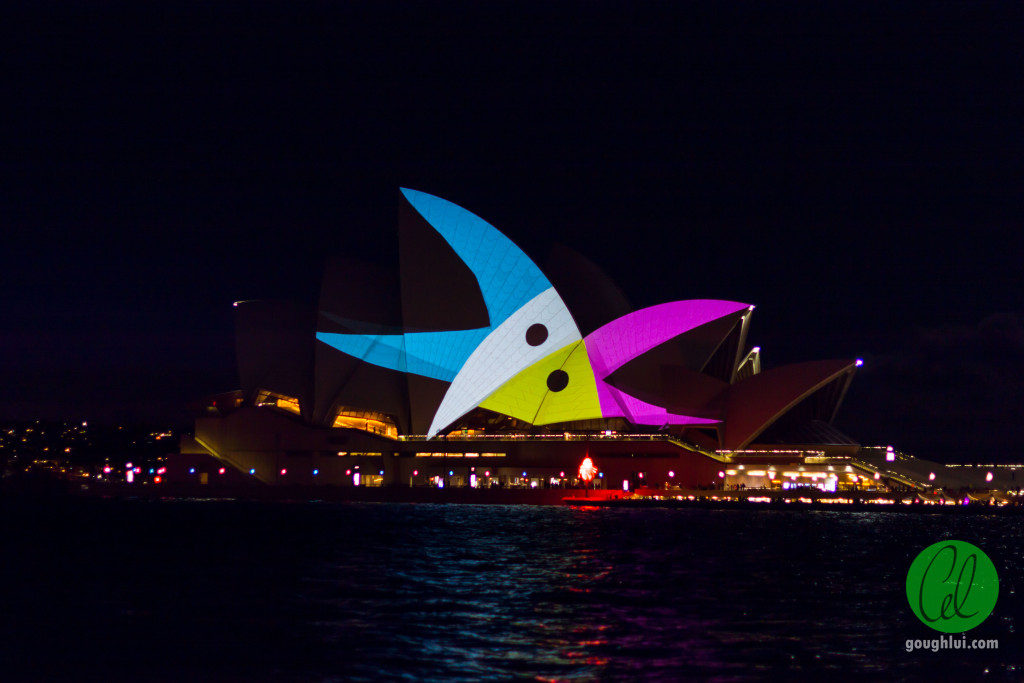 Giant birds having a laugh. At least it's nice and friendly.
Moving right along the foreshore, we get to see the exhibit titled Submerged, which seems to be a nice row of lights which light the water green. Just at that time, a boat happened to arrive, so I moved over to the dock to get a shot looking back at the sails.
The bright green aqua of the water is just stunning, and it matches the sails too when they're green. [insert smile]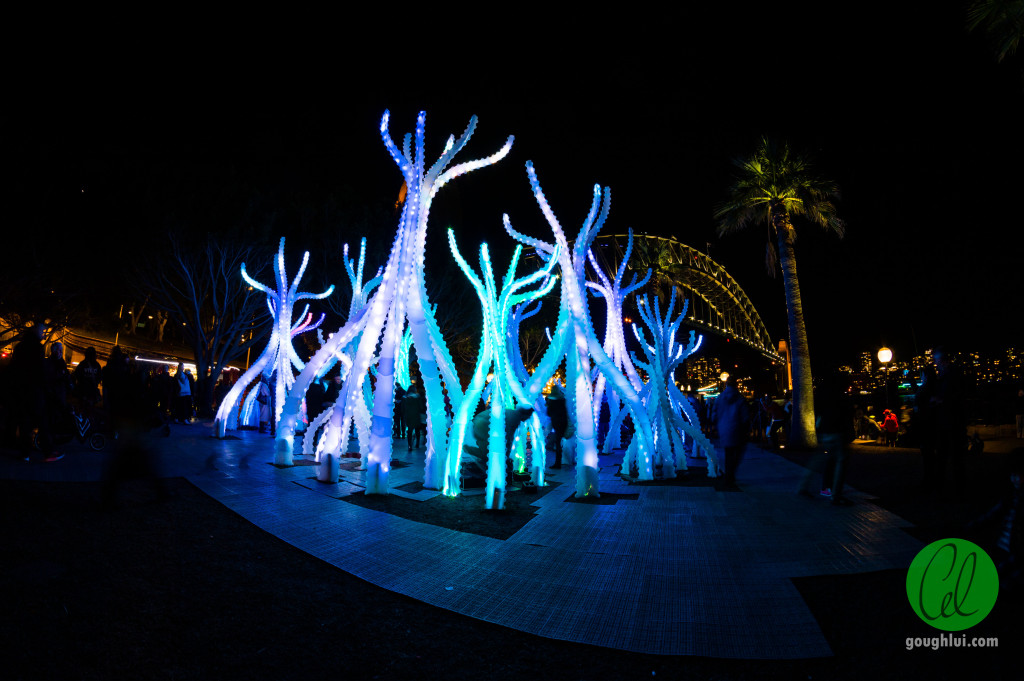 There's quite a few exhibits around that area, but very few of them made for a good photo opportunity in my opinion, and didn't leave as much of a lasting impression as this one, which I think is titled Tree of Light.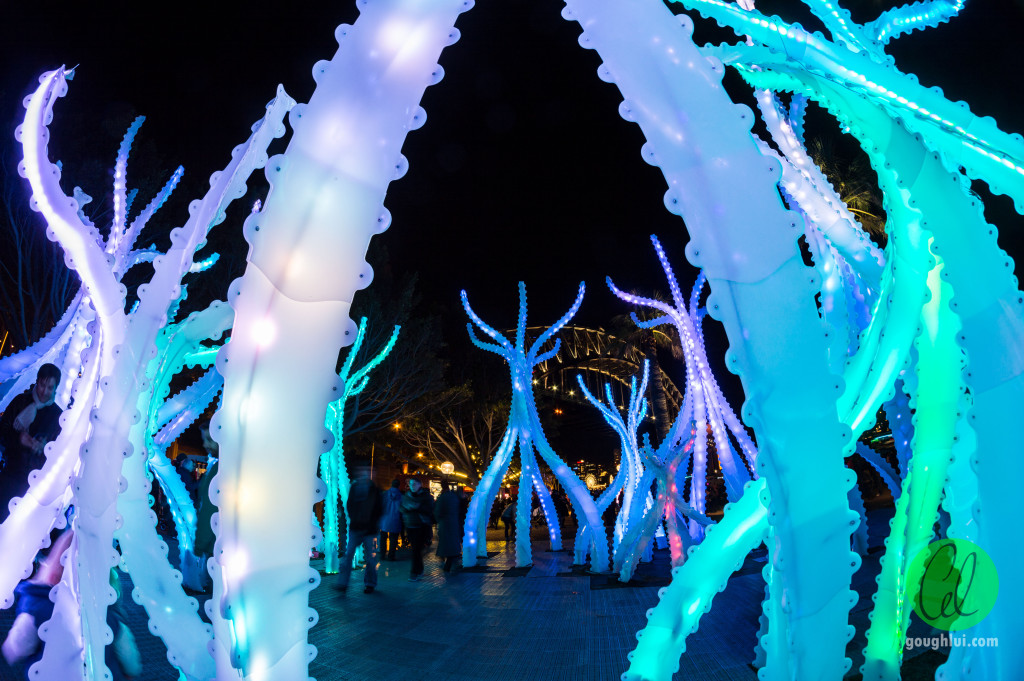 This seems to be a favourite amongst kids and photographers alike, with many people climbing through the exhibit – it was almost utter mayhem.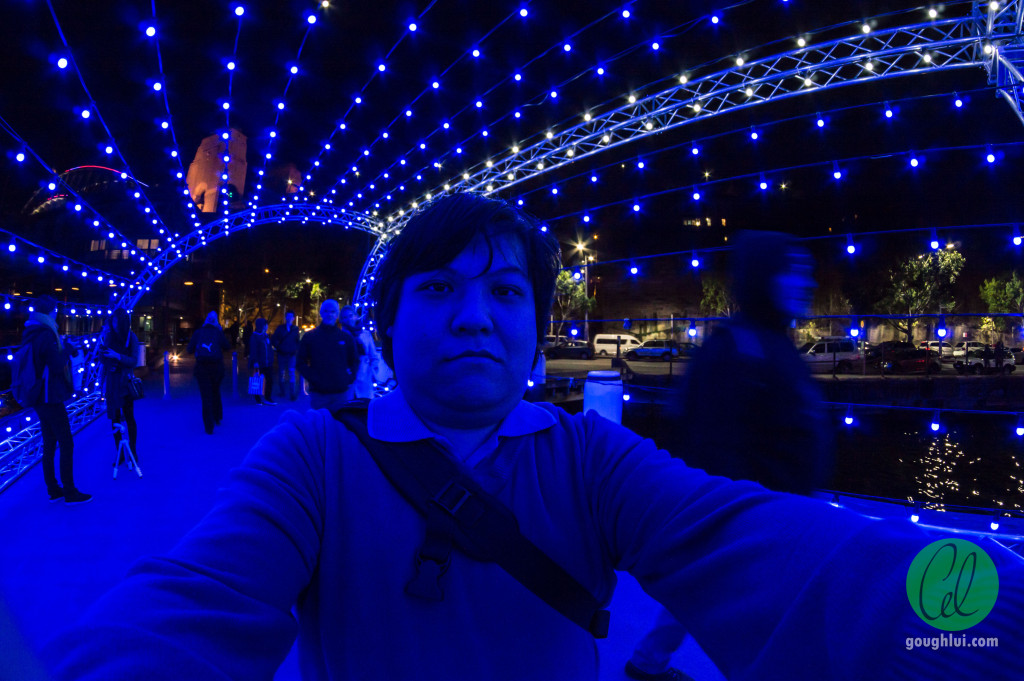 Continuing along the edge, eventually you reach the Walsh Bay area exhibits, where you are greeted by the Harbour Wave. I couldn't resist, so um … *starts singing* "I'm blue, da ba dee da ba da …"
While many of the exhibits can be classed as "take it or leave it", and interactive exhibits are quite difficult subjects for photography, I did meet this rather intelligent sculpture, which reveals a different word depending on how you're looking at the sculpture.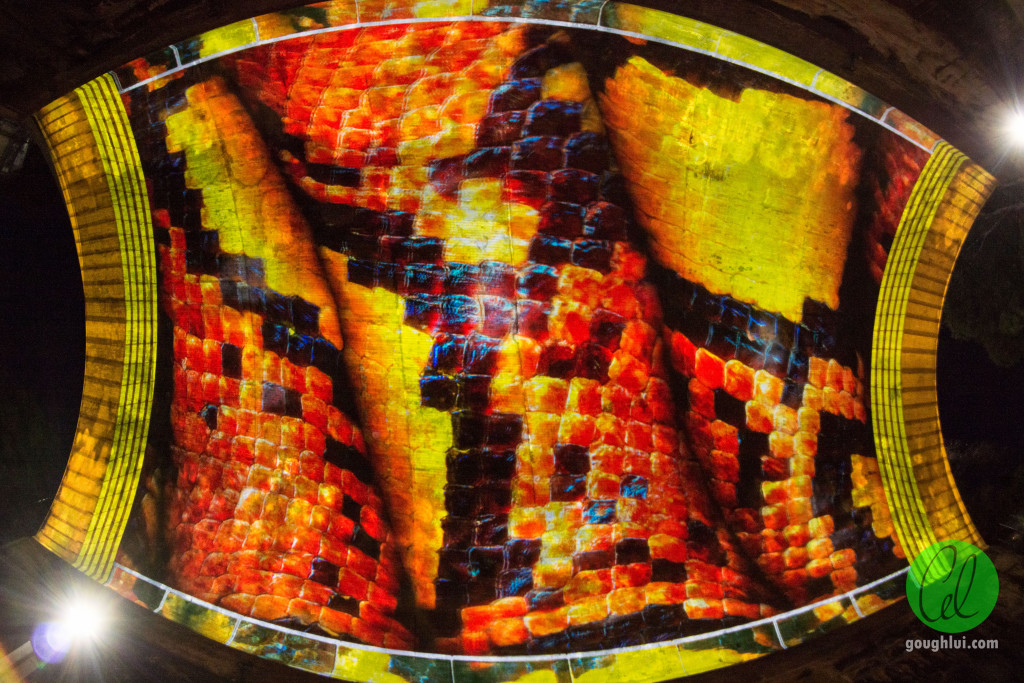 It was time to head back towards Argyle Street to rejoin the main event, and it would not have been a visit to Vivid without visiting the star attraction – the projections in the Argyle Street tunnel, titled Life Story featuring David Attenborough, from the BBC.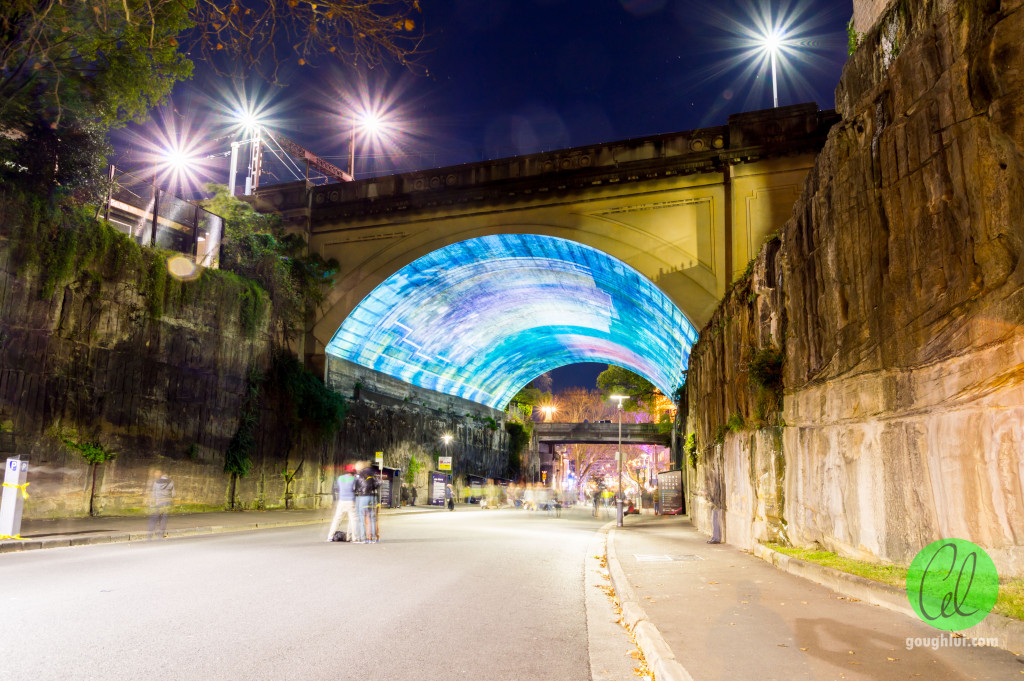 This was a pretty amazing installation, with numerous projectors projecting upwards to the underside of an arched bridge, forming a wide, panoramic display. Many people took the time to take photos, or even lie on their backs on the road to take in the full experience.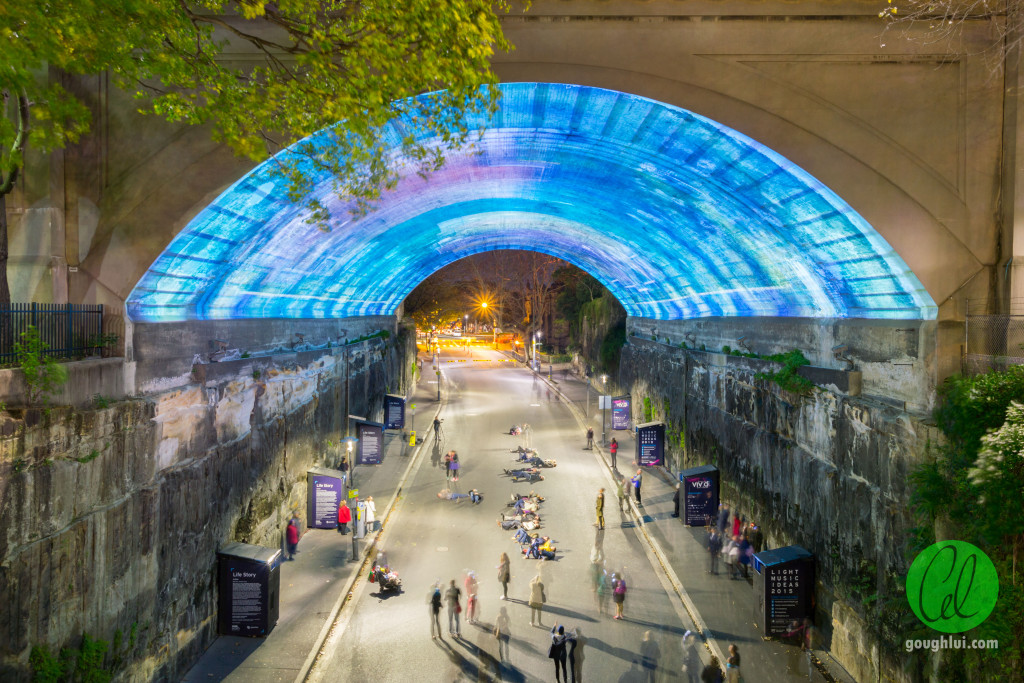 Of course, I took the time to climb the steps up to the road bridge visible in the above shot to get a shot looking back. It does look better when put into context with the Fisheye.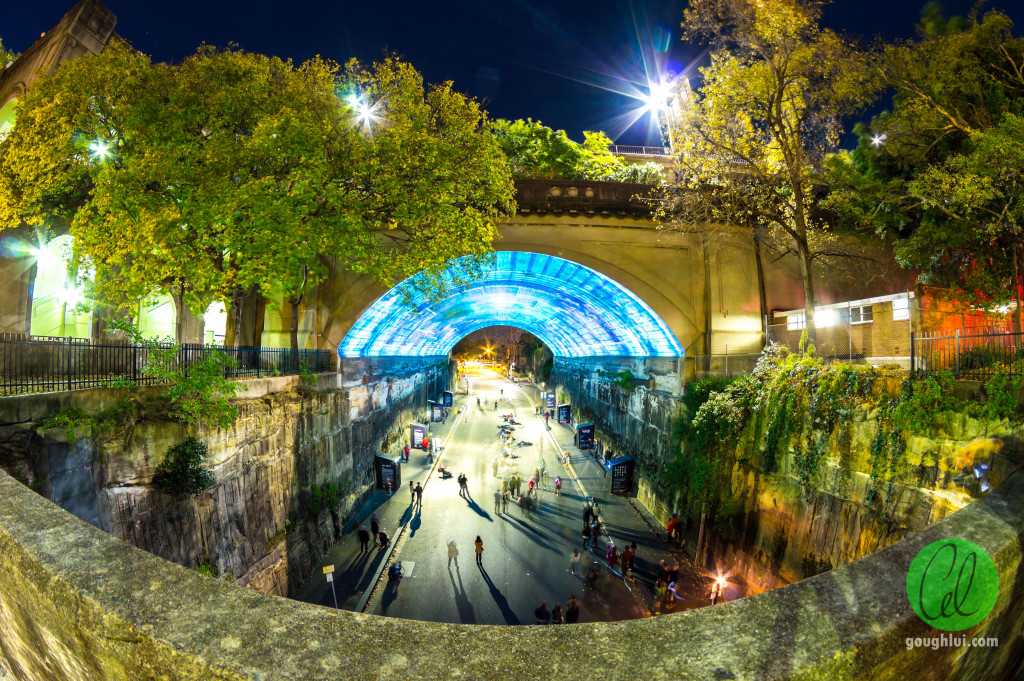 Martin Place, Darling Harbour and The Star (4th June)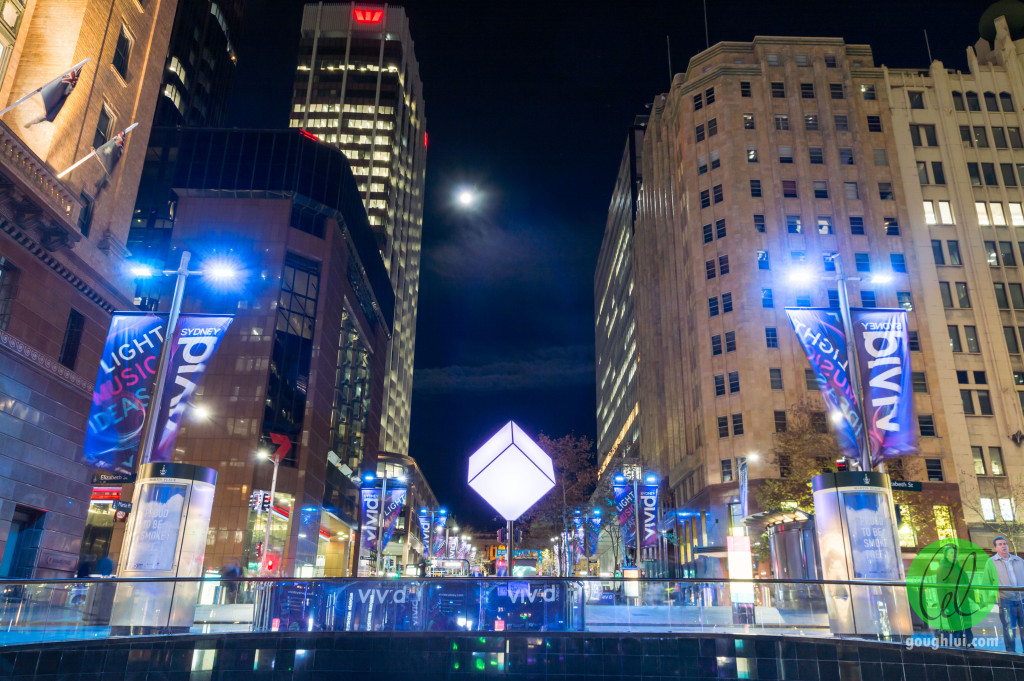 Time is always on the short side, so I decided to spend one last day to try and cram in these last precincts so at least I can say I've been to most of Vivid. Luckily, because these precincts were a little less crowded, I could be a little bit more relaxed with my visit. We begin at Martin Place on a bright moonlit night, where I'm focusing on Spectra – a cube on its corner, lit up by LEDs internally that change every few seconds.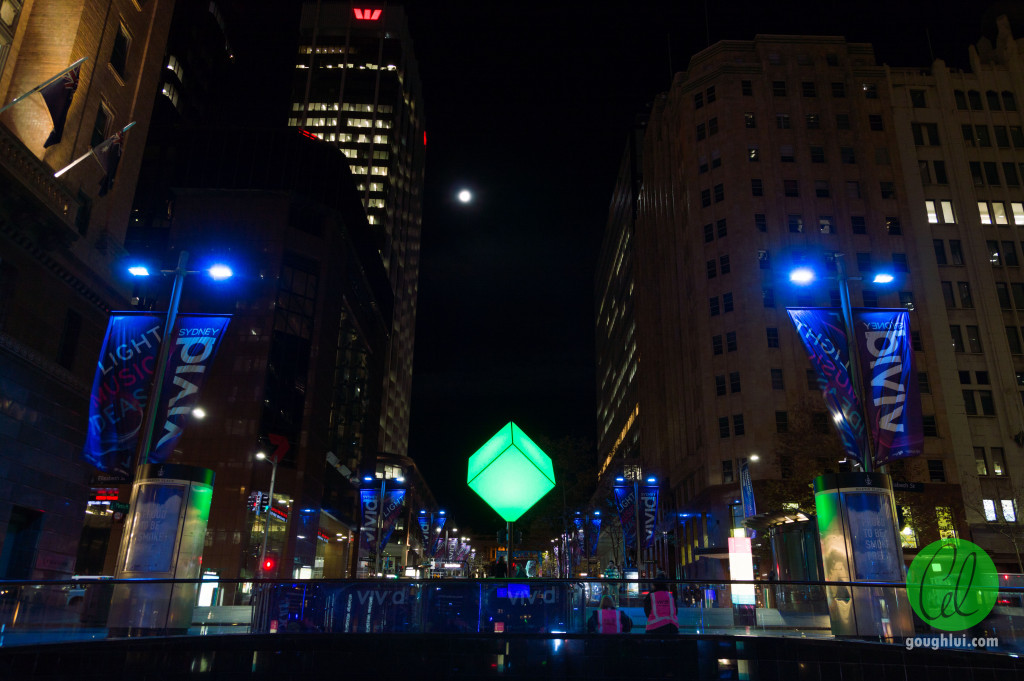 Oh yes, green. My favourite colour.
There are many exhibits which are interactive, including the Intel "drones", and others involving depth sensing, but they weren't very interesting to someone that had just finished a long day. Many of the Martin Place exhibits seem similar to previous years, as they involved the statues and lighting them up in different hues.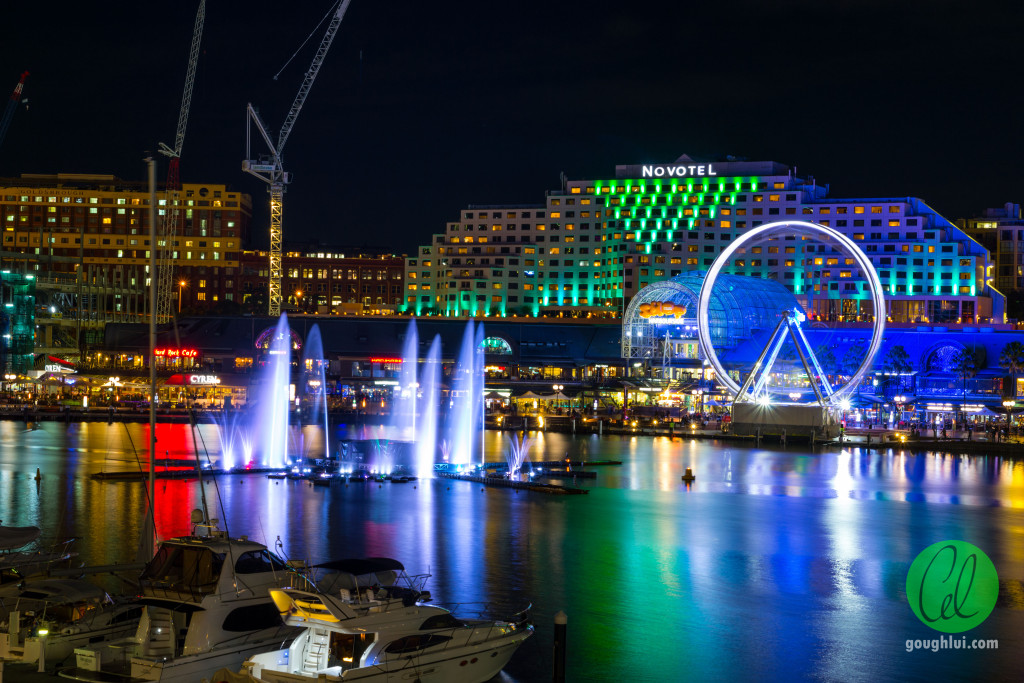 Off to Darling Harbour it is, where I'm just in time to catch the water show. This time, I'm on the bridge, and I realize, they have a ferris wheel set up. Wow.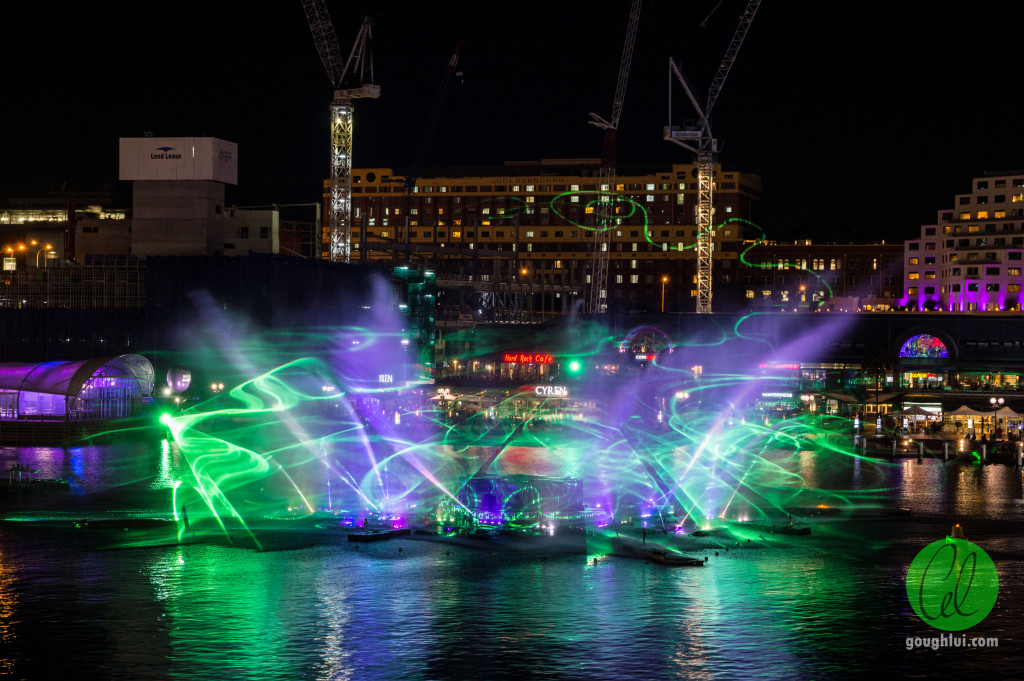 The real water show was punctuated by lots of laser light action, which is probably what most excited the crowd judging by the noises. The lasers even scanned the skyline of the city, and aside from green, there were purple lasers as well, lighting up the mist.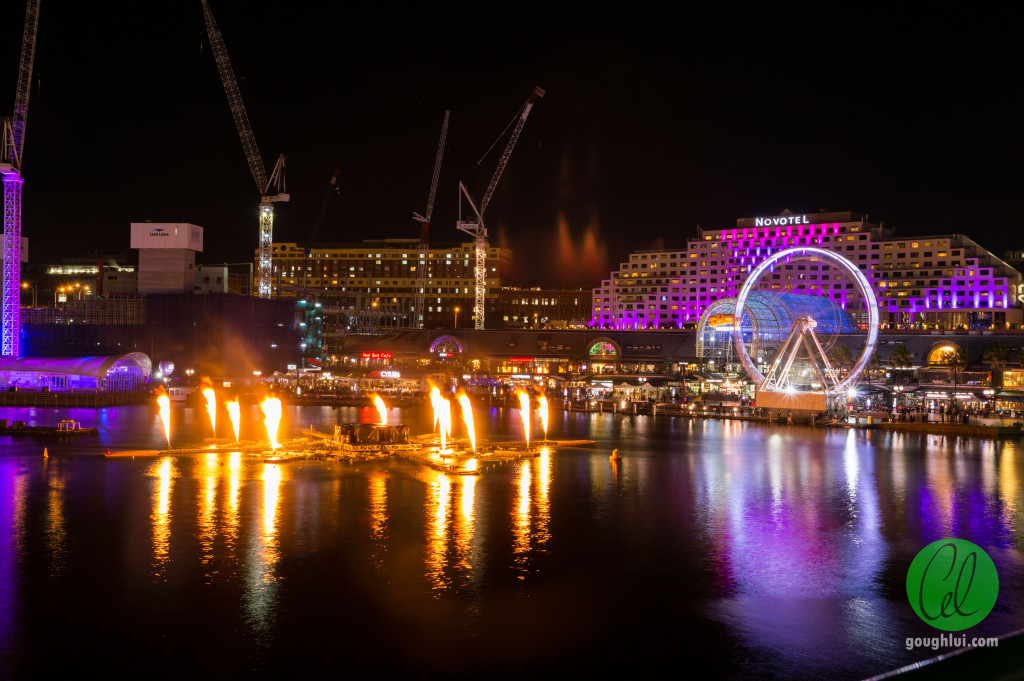 Maybe lasers and water isn't your thing … well there's some pyro too to heat up the action.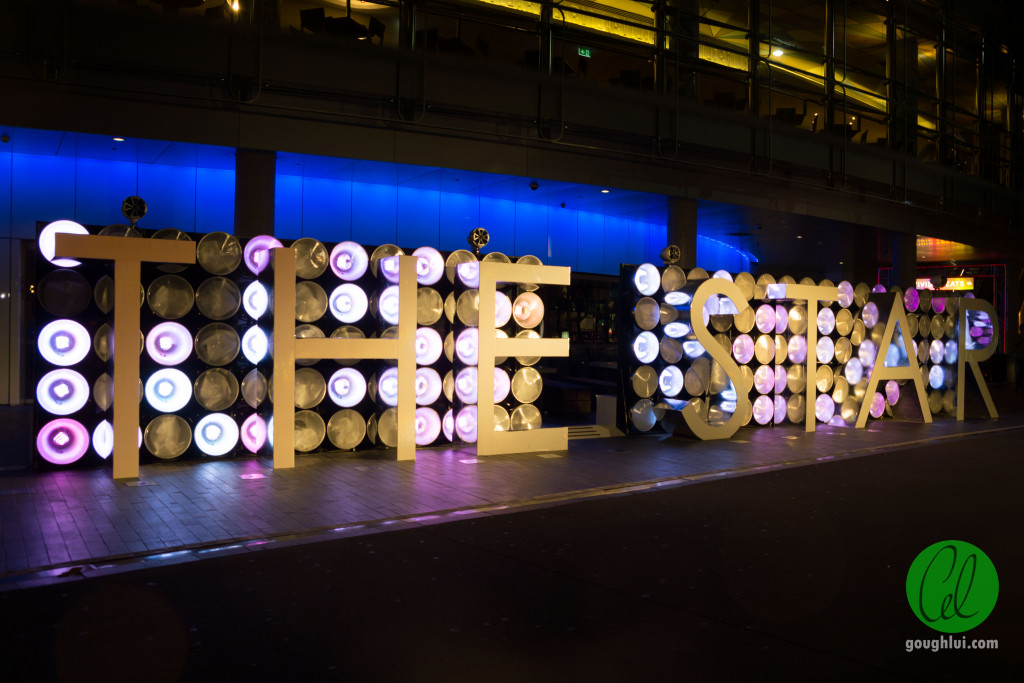 I quickly ventured towards The Star, as the night was quickly coming to a close, and didn't see too many interesting things along the way. The ball inside The Star was pretty normal, not a Vivid attraction, but a light feature nonetheless.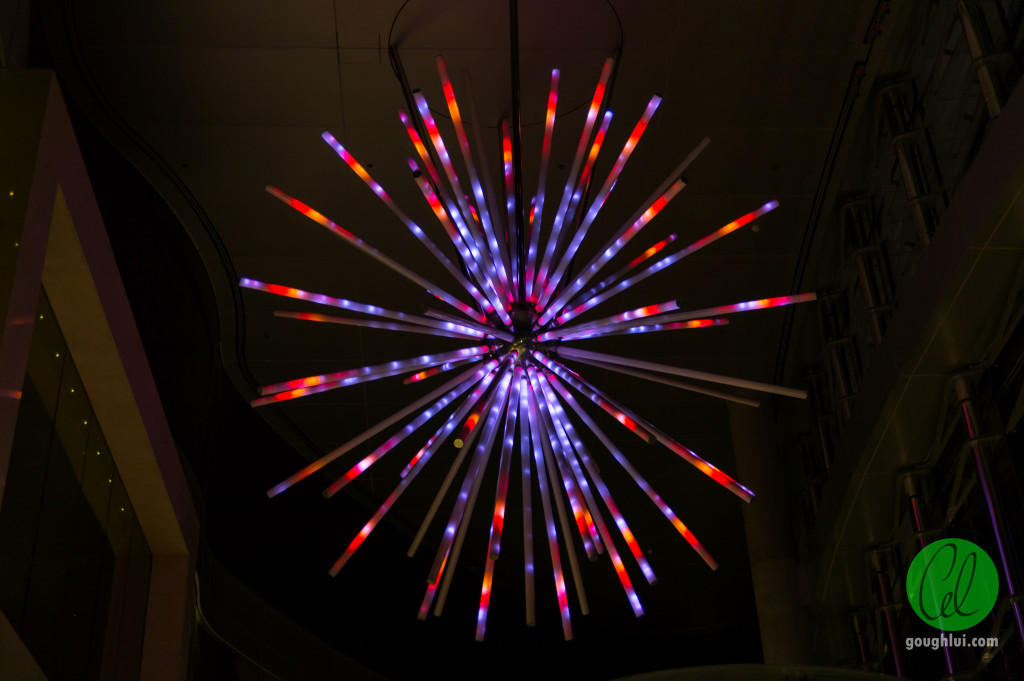 A Side Track
It wouldn't be me if I didn't get a little side tracked at some stage. That being said, there's something literal about this side track.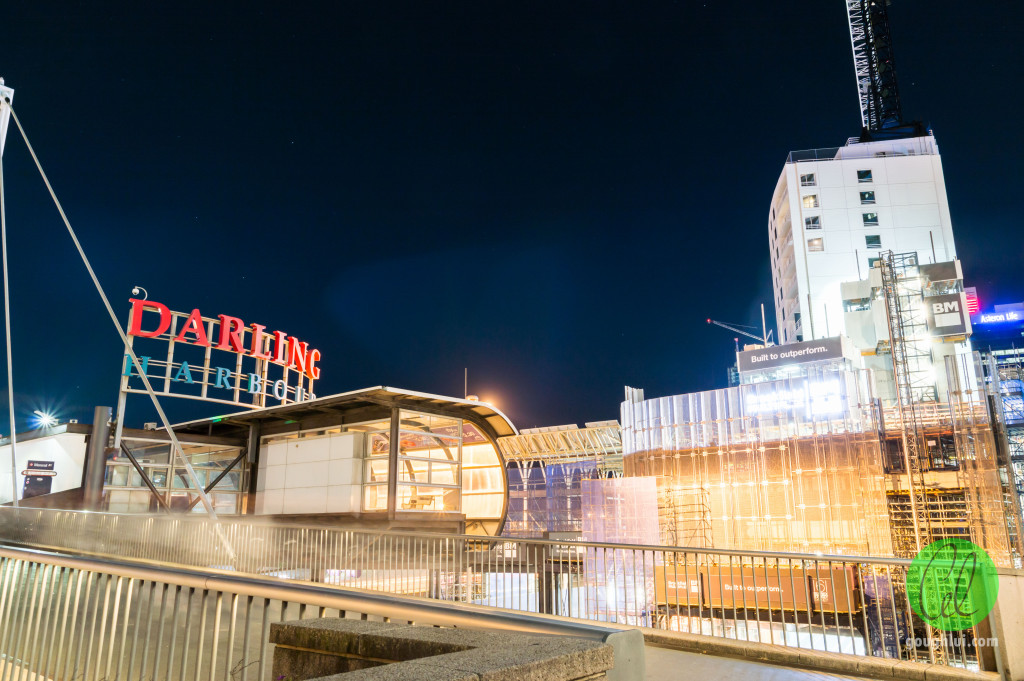 While walking into Darling Harbour, I saw the familiar sign from my childhood, along with the remaining portions of the disassembled monorail station. The lights were out, and the track was gone. Right next to it, and all around Darling Harbour, you can see the new development slowly "overtaking" the old. Its as if this piece of heritage may soon be taken away as well.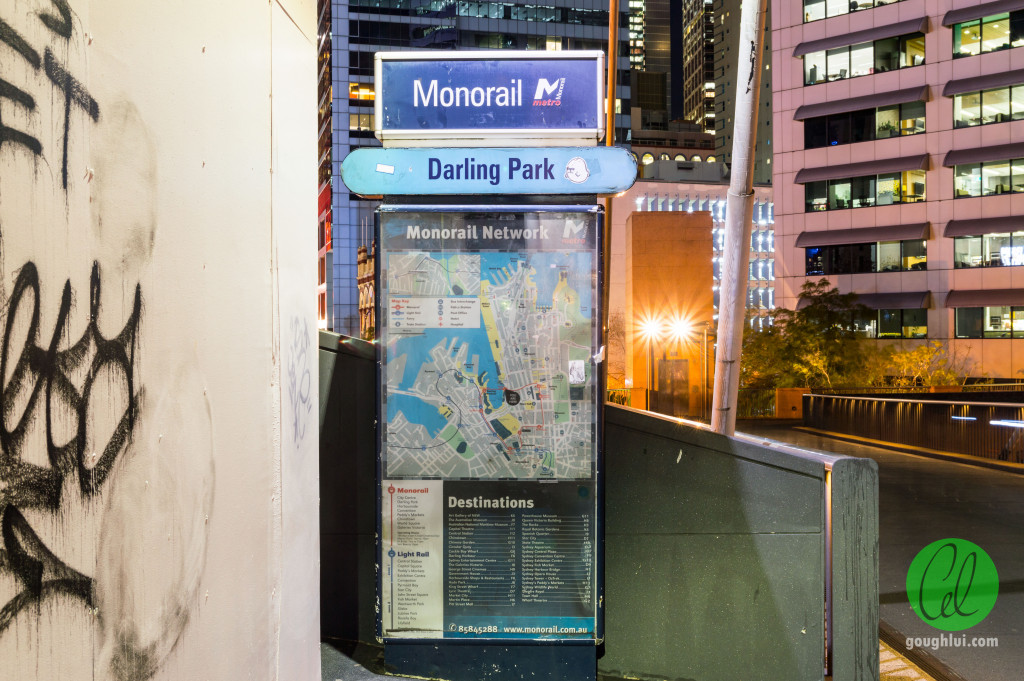 Standing in front of a painted board, with some graffiti, I set up my tripod to capture a picture of the monorail signboard and map. It was then, I heard the familiar sound of a shutter. I turned. The person quickly ran.
As it turns out, I proved to be a perfect street photography target, in a well lit area, in front of a blank canvas, caught "practicing my craft." Initially I felt panic – who would want a picture of me? And then I remembered, the person that took a picture of me must be quite experienced to have seen the opportunity and have taken it. I salute them for doing it, and my panic quickly subsided as I realized that I might have made the subject for someone's day.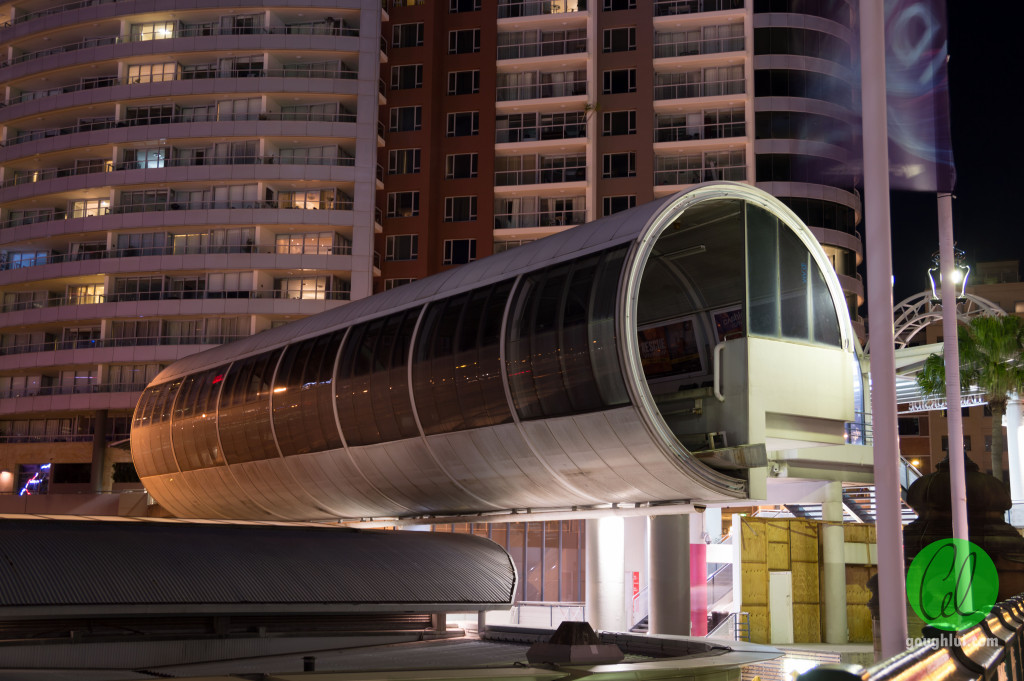 Anyway, this is not the only monorail station in the area, the next one along is the Harbourside station. This one is a tube attached to a shopping centre.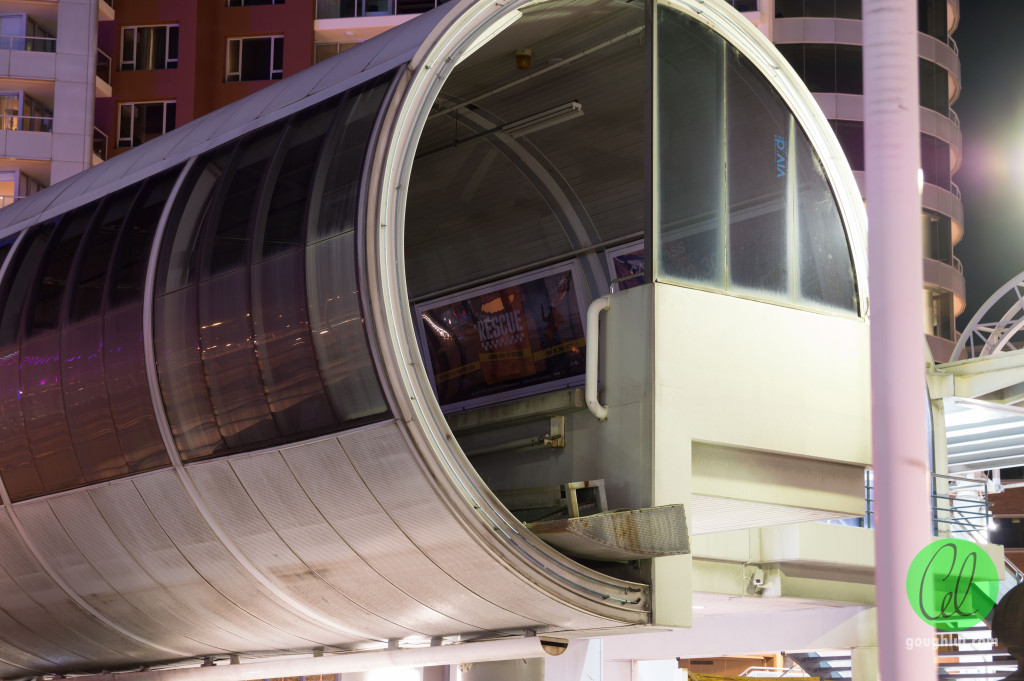 Again, the lights were out, but the familiar Vivid logo remained. There was a Vivid logo inside the end window of the tube. It was from Vivid 2013, just two years prior. What memories. Inside, advertisements still plastered for Maritime Museum exhibits, untouched since the closure of the station.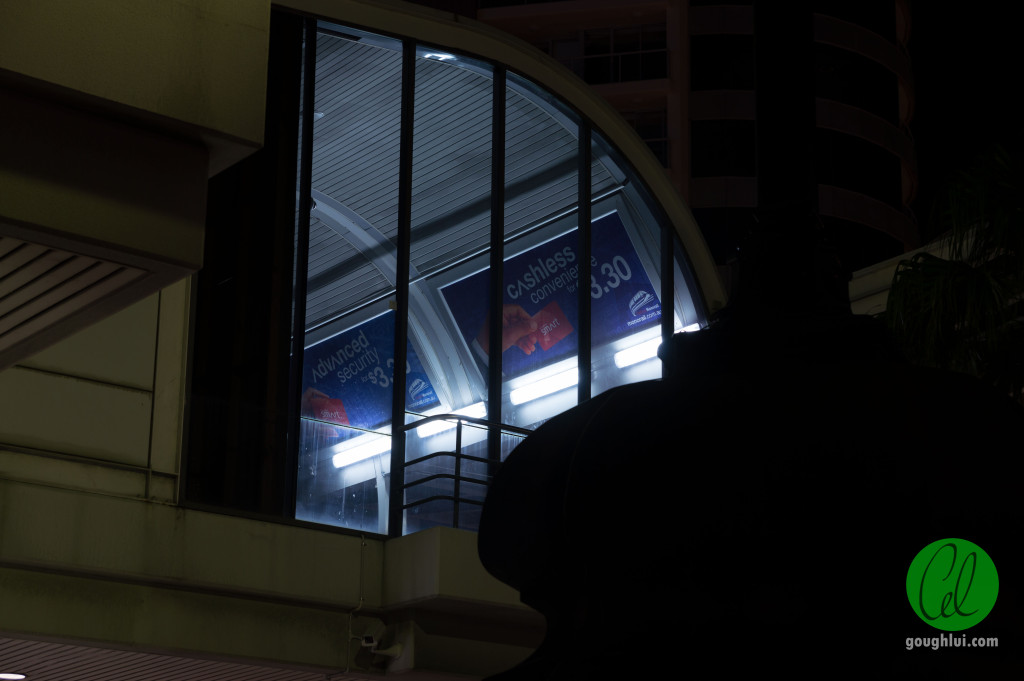 The adjacent side area still had its lights on, and we can see the advertising for the Monorail smart card, a cashless travel card not unlike the Opal, intended for monorail use only. I think what most disappoints me is that it was a tourist attraction and now it's gone. But it's not completely gone either, with some of it is still left around, to elicit a feeling of nostalgia and sadness in remembering something that once was.
At least, I've managed to take the photographs, before they too will disappear.
Conclusion
Vivid is bigger than ever, and with its popularity also comes the pain in trying to navigate the event without getting a tripod knocked over, and without being too frustrated that you're standing in a pack of people making no progress whatsoever. Instead of taking "photos first", I decided I would vet the exhibits and try to enjoy it along the way, and take photos where I felt the opportunity was there. It took several days of visits, as it always does, but when the crowd isn't there, then life is much easier. Unfortunately, they can't run it for longer – but even if they did, I'm not sure if that would solve the congestion, as there seems to be endless numbers of tourists visiting as well.
I do feel that the commercialized nature of the event is a bit sad, and though I acknowledge that it doesn't cost "nothing" to host such an event, I think it's for the public good and greater public enjoyment if they were to manage it better. Their crowd control strategies are just downright frustrating, especially if you expected to arrive at Circular Quay and have a good night, only to find out you can't.
I wonder what will happen next year – will it be even more crowded? Who knows.