After the marathon post in the last part about analyzing Hong Kong's free-to-air TV signals, this part won't be from inside the hotel. Instead, it's 2nd January and I'm on an outing to Hong Kong Park. This post will be primarily photographic in nature, rather than technical – but the next part will be back to the hotel for some more technical stuff.
The Outing
Hong Kong Park is one of the rare "green-spaces" inside of the hustle and bustle of the skyscraper city and is taken care of by the Leisure and Cultural Services Department. It's situated on Cotton Tree Drive in Central, and has within it, the Edward Youde Aviary. It's apparently a good photographic destination, and because the family friend had scoped out the best way to get around in a wheelchair, we were set.
The GPS plot is mapped in the image below (along with the spurious points).

The first challenge was to get there. The area near the park is quite hilly, and part of the trick is to enter the park from the high-side near the Hong Kong Visual Arts Centre on Kennedy Road. The first challenge was to get a taxi – we were declined by three taxis at the hotel with various excuses, ranging from lack of familiarity with this side of the island, unsure of where we needed to go despite a clearly marked map, unsure of parking or stopping areas etc. It was all because it was considered a short fare – one they could have easily picked up the HK$22 minimium fare for. Eventually, one was kind enough to take us, and the wheelchair, along.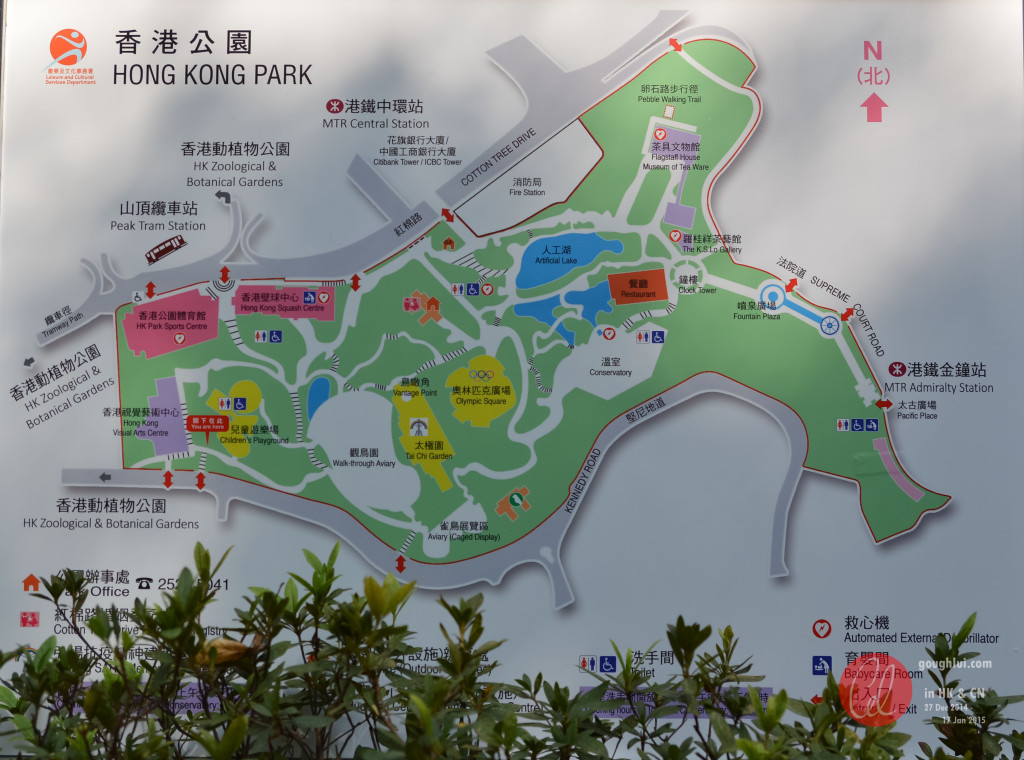 The park is actually quite sizeable, spanning from the peak tram area, to Admiralty. At the Kennedy Road entrance, there are still a few steps that need to be negotiated to get to the path, which was almost all down-hill from there, but negotiating them was more than worthwhile as you will see.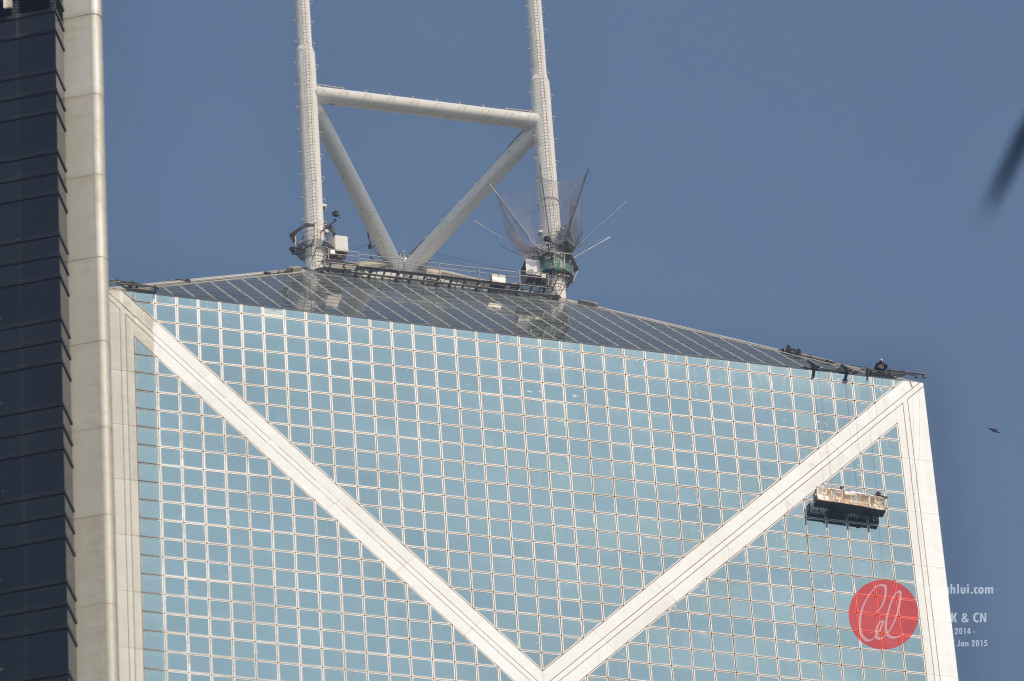 Throughout the park, there are a range of sitting areas – the first we came across was a children's playground. From there, we have a clear view of some of the buildings. I gave my long-lens a try and we can see the window-cleaning crew working away. There also seems to be a strange umbrella fall-arrestor on one of the pylons, probably because there is a lamp replacement crew replacing the flashing lights at the top.
After the quick look-out, we continue down the path, and it is only then that the size of the aviary becomes apparent. A large area, about a football ground or thereabouts, is covered by metal hoops, suspending fine stainless steel mesh. This structure forms the walk-in aviary, named after former governor Edward Youde.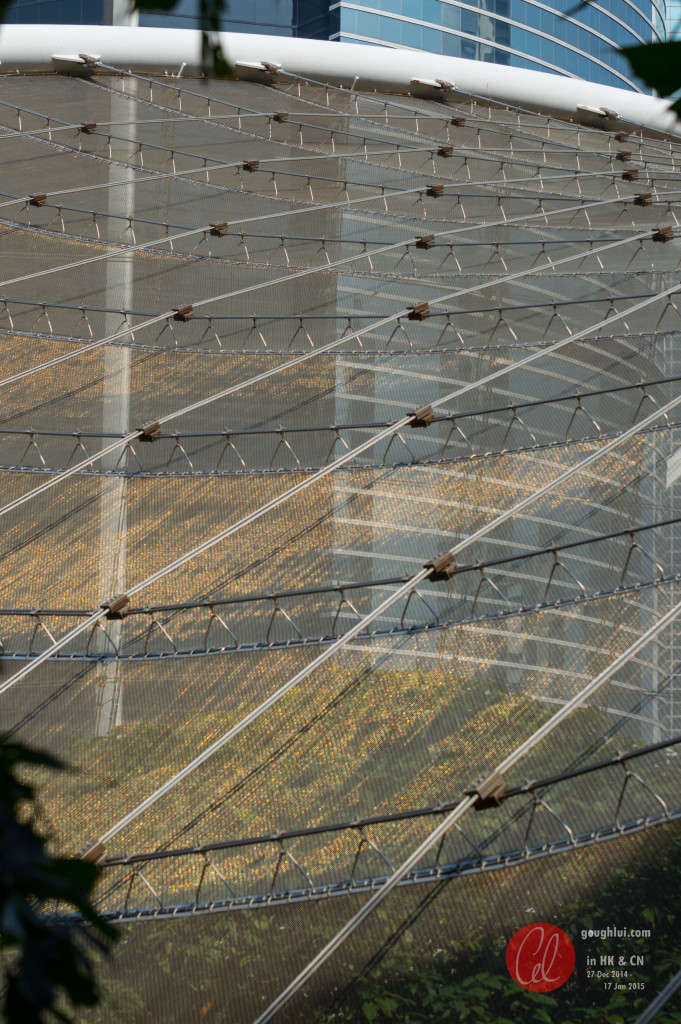 You can see the lovely glint of golden sunlight reflecting off the mesh. But before we visited the walk-in aviary, there was a caged aviary next to it to visit first. Unfortunately, it was quite a sad view in there, because of the fine cage mesh and the small-ish enclosures which the birds had difficulty flying comfortably in. It did yield anything interesting from a photographic perspective.
We then decided to take a visit to the tai-chi garden next to the aviary, which was quite peaceful but not particularly exciting.
There is one exception to that, however, which is the SARS memorial itself, to commemorate those doctors and staff who lost their life to the disease which originated near Hong Kong in 2002 and caused worldwide alarm.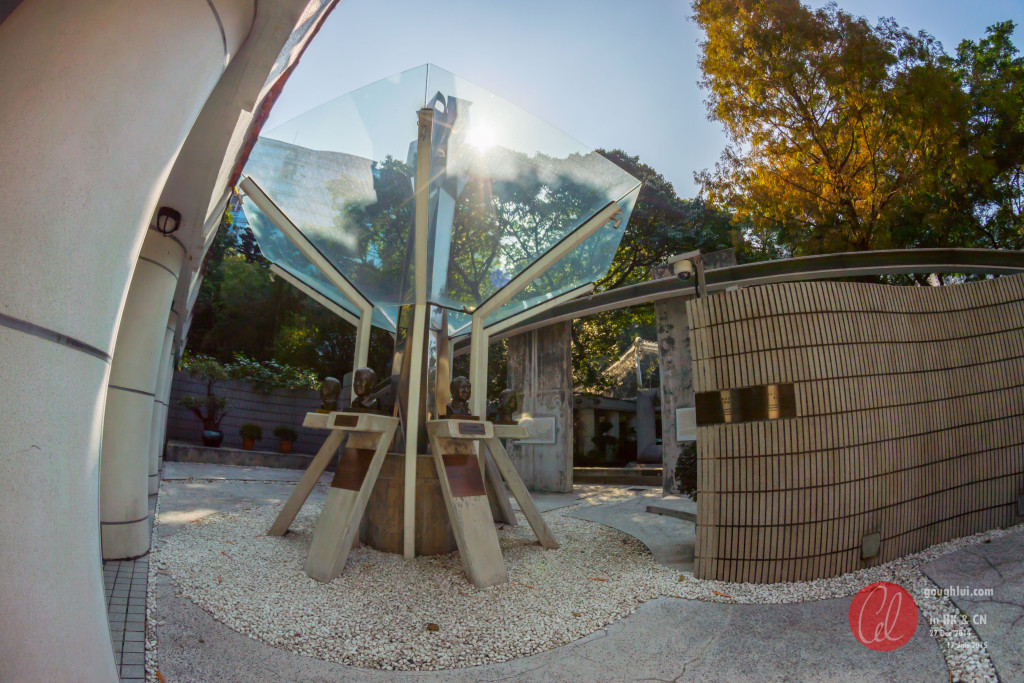 The Main Attraction – Edward Youde Aviary
At last, we visit the enclosed walk-in aviary, after having visited everything on this "level" (from an elevation perspective). Entry is free, and involves going through an "airlock"-like zone, with green plastic chains and floor mats which have an anti-bacterial property. On the entrance, you are greeted by staff and handed a brochure which is quite well decorated and contains a list of the birds which are in the aviary (front and rear pages reproduced below – click for full size).
Another thing of interest is that there is a staff appreciation card, which is shaped like a bird. It seems they really are very specific on their requirements when leaving a compliment/complaint.
The staff were indeed very helpful on entry, but what was most surprising is just how tame the birds were. They didn't mind humans, and in fact, they even grew accustomed to them. As soon as we got in, this crested pigeon decided to give us a pose and held it for a minute so that everyone could get their photo. How polite!
The insides of the aviary were very pleasant and semi-forest like. The wire mesh did mean a very difficult condition for GPS and mobile reception, because it's a makeshift faraday cage. There seemed to be a lot of trees and artificial vines for perching, as well as feeders to attract the birds to the boardwalk. There were sitting areas for people to just enjoy and relax.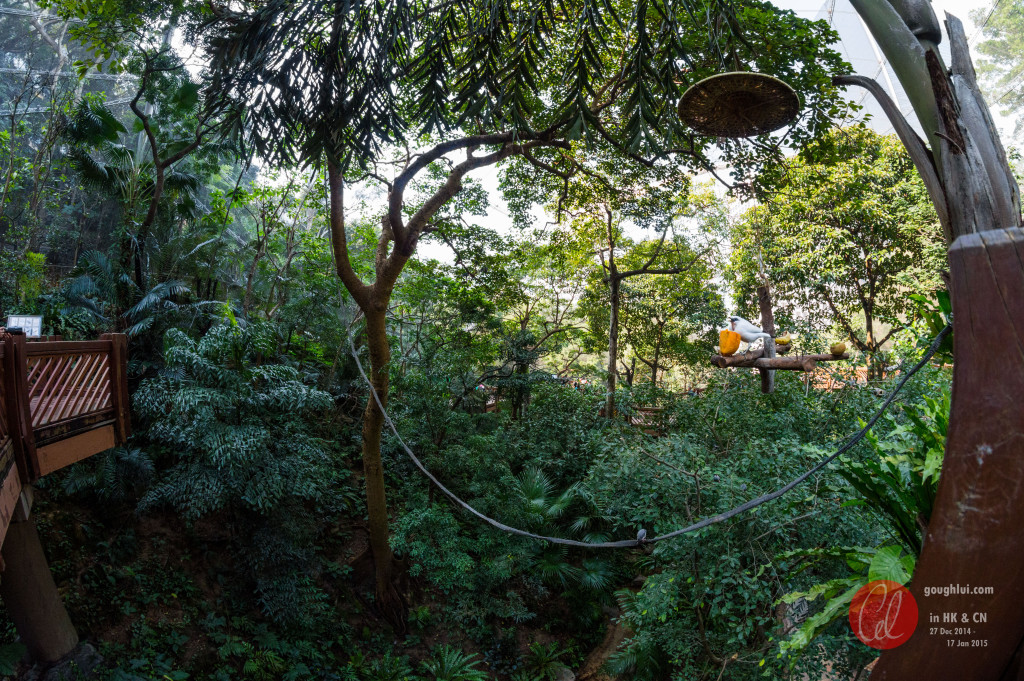 Not all birds were that easy to follow as the one above, with the smaller ones being accordingly more agile. The Java sparrows were always hopping around and never stayed long enough for a good shot.
Of course, if you want to increase your chances of success, it always pays to hang around the hanging feeders – even if they seem like they're nearly empty. Something's bound to come in for a feed! While the information pamphlet lists black-capped lory as the nearest match, it looks like these are some other form of lorikeet. But gee are they cheeky, they seem to have a personality of their own!
The Bali Myna seems to capture everyone's attention as well. I'm not sure if it's just because it looks so clean and pure, with its white plumage, or the very vivid blue area around the eye, but most people seem to be fascinated by them – myself included.
They don't seem to mind getting close to humans, and despite a strict no-feeding policy, some people did try feeding the birds. Of all of them, only these were gutsy enough to take the food from your fingers! Their beaks are very fine and sharp – I wouldn't want my fingers anywhere near them!
Of course, if you stay long enough, you'll be rewarded with sighting something even rarer. Apparently, the yellow-faced myna are very rare sights, but we managed to catch a pair go to the feeder after a few hours.
They have a very interesting black and teal green iridescent plumage. All of these birds I haven't seen elsewhere, but I suppose, that's partly because I don't travel very often.
Other Photos, in and out of the Park
The Conservatory
Another attraction in Hong Kong Park is an enclosed conservatory, which doesn't have a bad view from the outside.

Inside, you will find a variety of plants from different environments being kept happy with the humid warm indoor environment. Entry is free. For those with wheelchair accessibility needs, unfortunately not all of the conservatory is accessible, although the staff are willing to help you get to as many places as possible using their staff-lifts.
Olympic Square
This is a large stadium situated in Hong Kong park, which was just undergoing cleaning at the time we visited, so it spick and span. It is normally used for performances, shows and other events. The below is a 360-degree view from the ground.

Artificial Lake
The artificial lake proves to be a scenic spot, where you can find many red-eared sliders having a sunbake.
One especially favourite picture is of this lonely one, sitting out in the open with no one around. Sort of like me … in my tranquil room …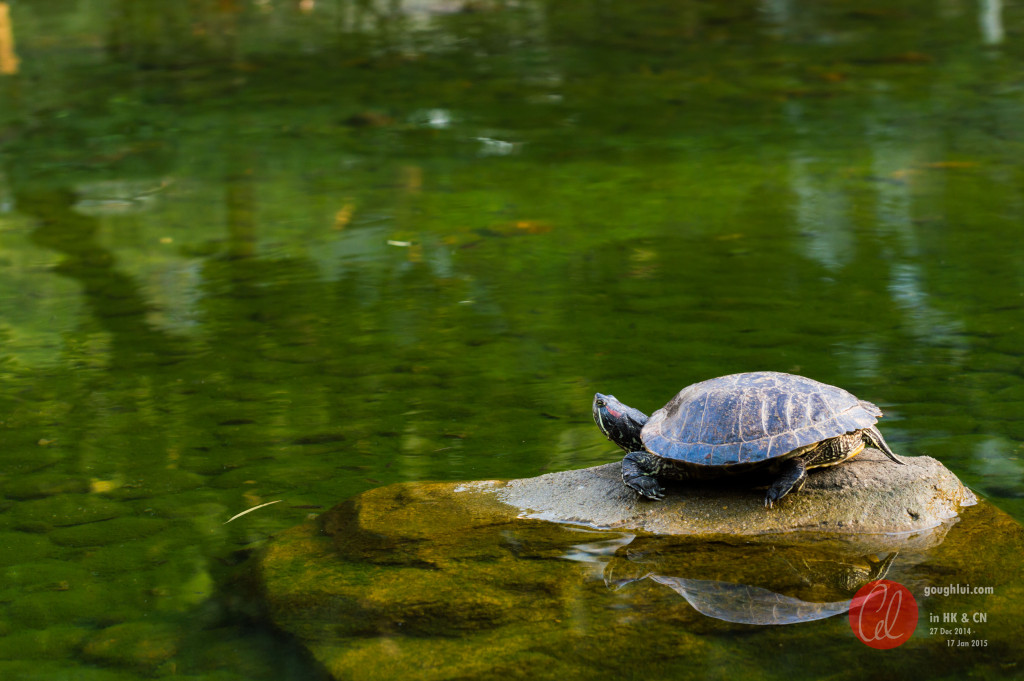 There are also plenty of koi in some parts, with the water so clear, its surprising how close you can get to them especially if someone's been feeding them lately …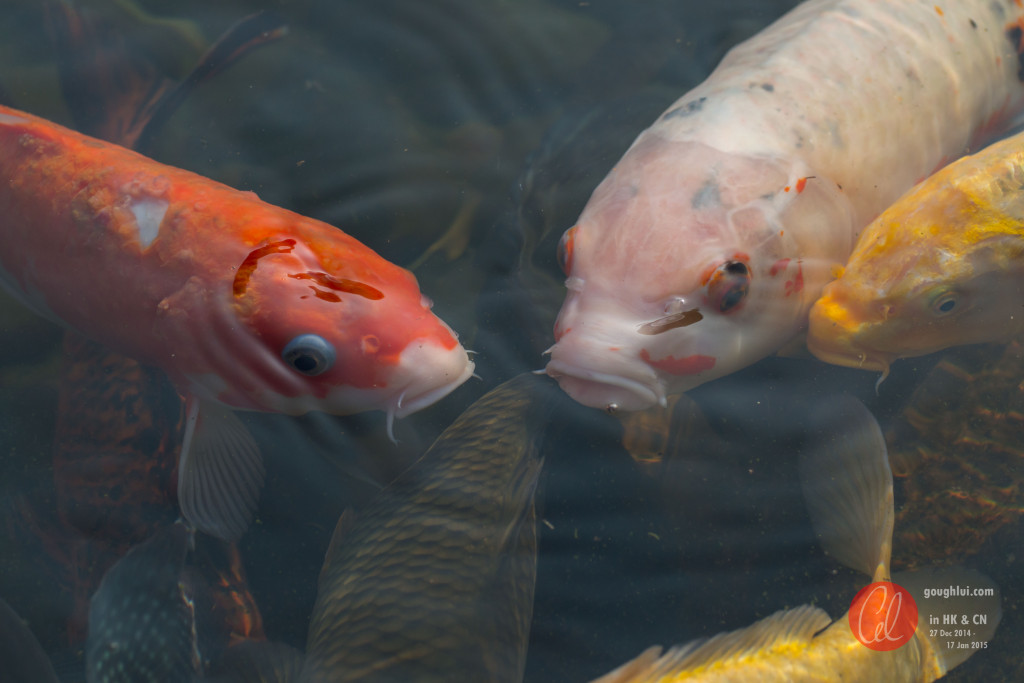 There was also many opportunities for scenic lake and waterfall shots with the afternoon sun giving a very nice light to the shots.
Of course, you're always reminded of the fact that this is Hong Kong. You merely have to look up to know that this is the tiny slice of paradise in the city.
The Entrance/Exit
On our way out, we get to look back on one of the entrances/exits to Hong Kong Park, on the Supreme Court Road side.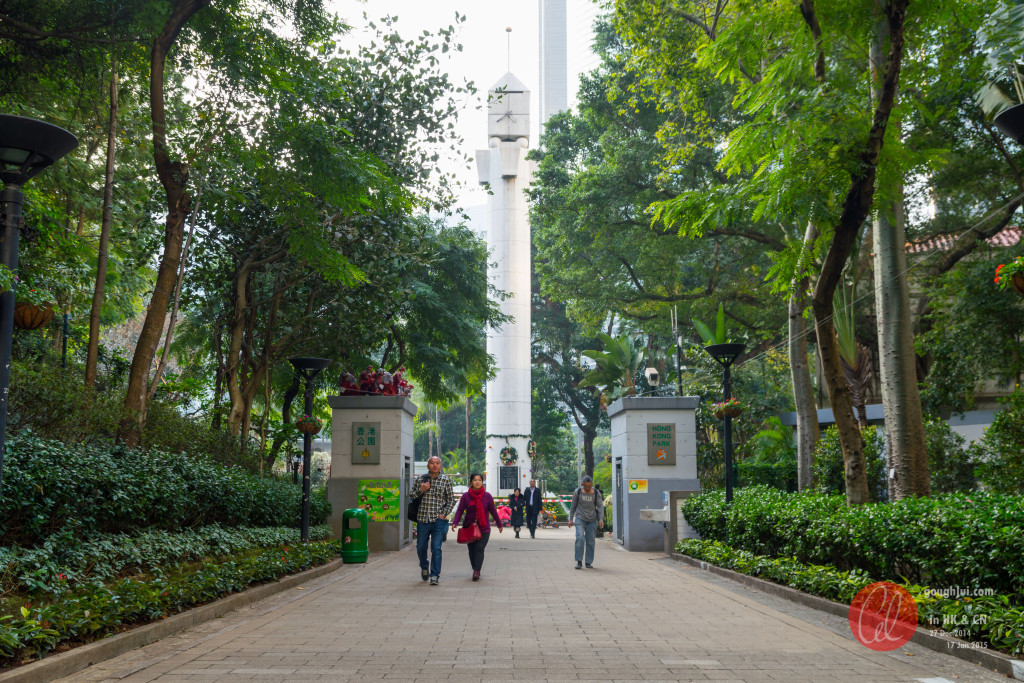 Just outside is an ampitheatre-like setting with a pair of fountains, which is definitely a popular destination for wedding photographers for sure.
Remember the garbage bin signage issue I mentioned back in Part 2? Well this is the fix for it.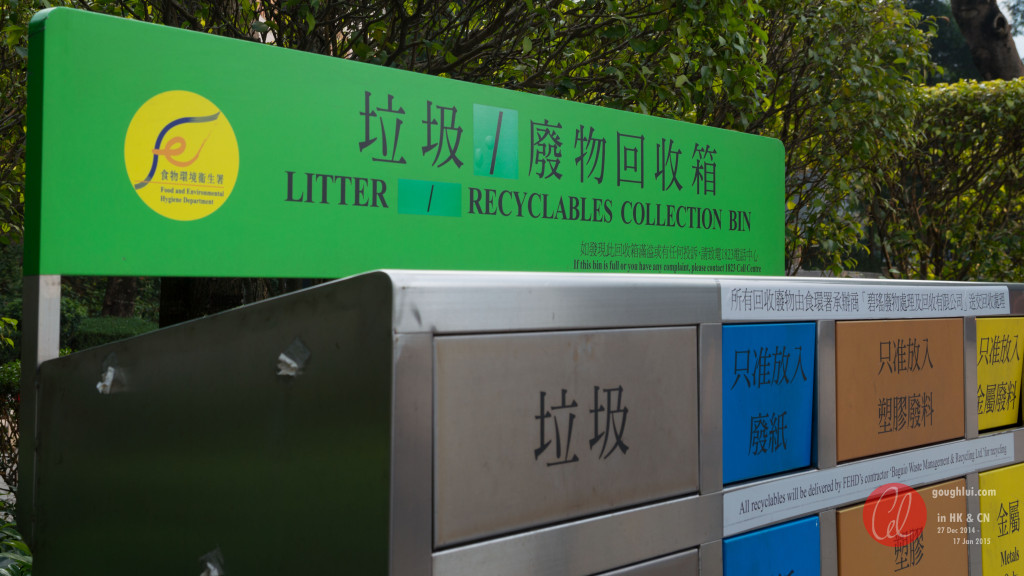 We also strolled across to the High Court building, where there was a bit of a view of the hustle and bustle of traffic and trams over the balcony.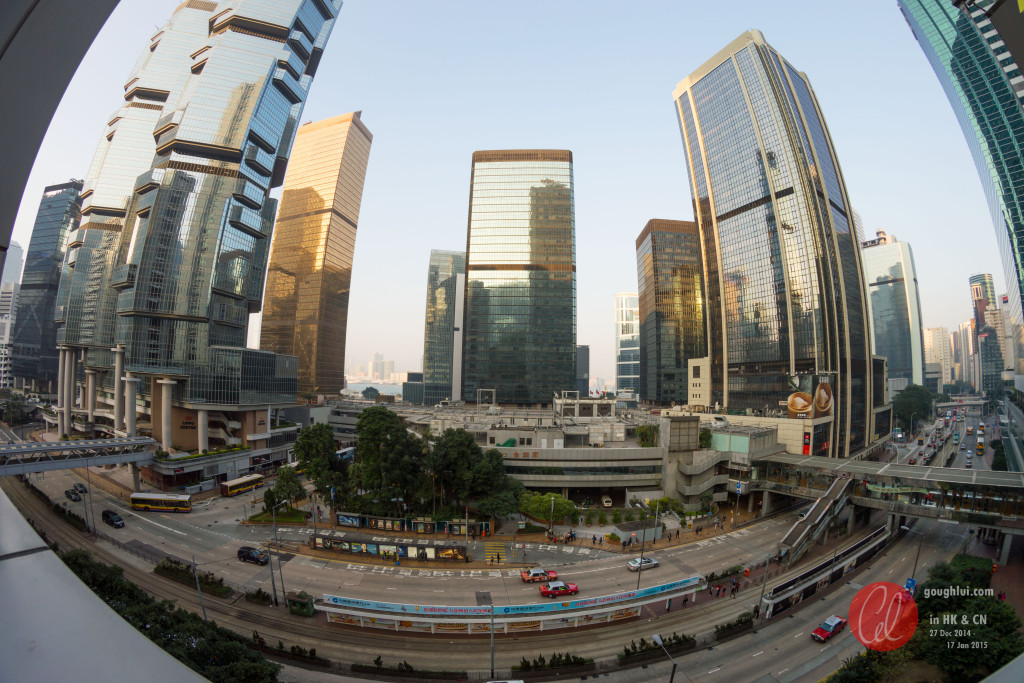 Afterwards, we made a struggle and caught the MTR back to Wan Chai and wheeled back to the hotel. Accessibility of the MTR network is a bit of a mixed bag, and we ended up hobbling many escalator segments because it was too much trouble finding out where the lifts were. The lifts to the MTR platforms were also very slow (likely, hydraulic) units, often with one small lift serving two train platform levels and the concourse, meaning long waits for everyone with baggage or accessibility needs. Unfortunately, these aren't likely to be upgraded due to the difficult civil engineering work required to do so.
Conclusion
Hong Kong Park is a surprisingly large park by Hong Kong standards, and has several attractions which are worth your time visiting especially because they're free. The walk-through aviary is definitely one of the star attractions, and makes for a great photography experience since there are no cages, or wire mesh to worry about. You still have to put in some effort to chase the birds from time to time though. The conservatory, as well as the lakes also make for interesting photography locations. I'm glad I visited.
In the next part (when I get around to it), I'll be back in my hotel room, doing technical things, this time looking at other radio emanations as well, so stay tuned.