This week, I received a very interesting e-mail from an anonymous reader in Europe. The reader had been following the series of posts about well-disguised counterfeit Samsung Galaxy SIII batteries and had something to contribute.
This anonymous reader had put in a lot of effort to document the differences in both batteries and take photos of them. I thank them very much for their information.
The battery is for a Samsung Galaxy SIII phone, and although mine came with EB-L1G6LLU, this report shows a genuine EB-L1G6LLA instead, so some differences are expected.
Both batteries were sourced through European channels, with the genuine on the left and the fake on the right. The major difference is a lack of NFC functionality, as with the other fakes discovered thus far.
According to the anonymous contributor, here are the differences:
Genuine:
Part number: EB-L1G6LLA
Warranty: 2 years
NFC antenna visible on the label and functions properly
Data matrix: GH43-03702A+EB-L1G6LLA+A4
No date code
No Chinese characters
No Chinese logos
Fake:
Part number: EB-L1G6LLU
Fake warranty: 3 months
No NFC antenna, however Near Field Communication is printed on the label
Data matrix: GH43-03699A+EB-L1G6LLU
Text is misaligned
Chinese characters at front and back
Chinese logos
Print and label is in high quality smooth finish, like the genuine one
The battery is swollen too, I replaced it as soon as possible. The battery is disposed properly.
From my observations it seems that the state of fakes has advanced from my prior observations, with a more-closely formatted data-matrix code compared to my EB-L1G6LLU cell, but no NFC antenna! Just compare it to mine in a previous post.
Unfortunately, as the "genuine" EB-L1G6LLA cell is not in my possession, I cannot be sure that even that is genuine, so do take this information with some care, however, we should focus on the copy EB-L1G6LLU which does seem to have some consistencies with the other well-made fakes.
He was even willing to teardown the fake battery and reveal the lack of NFC antenna inside.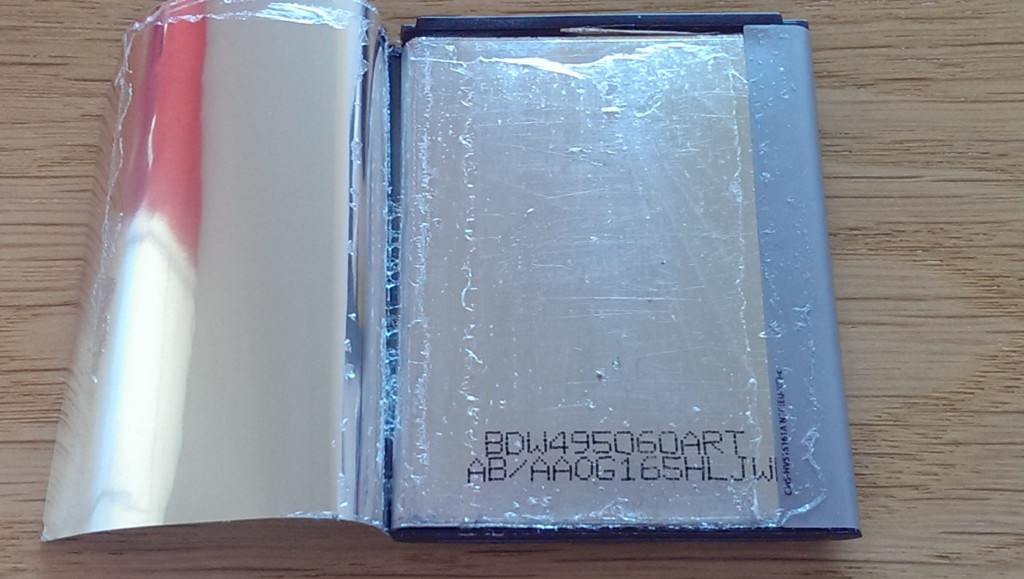 The battery cell seems to be coded with BDW495060ART AB/AA0G165HLJW. The manufacturer could not be conclusively determined by a web search.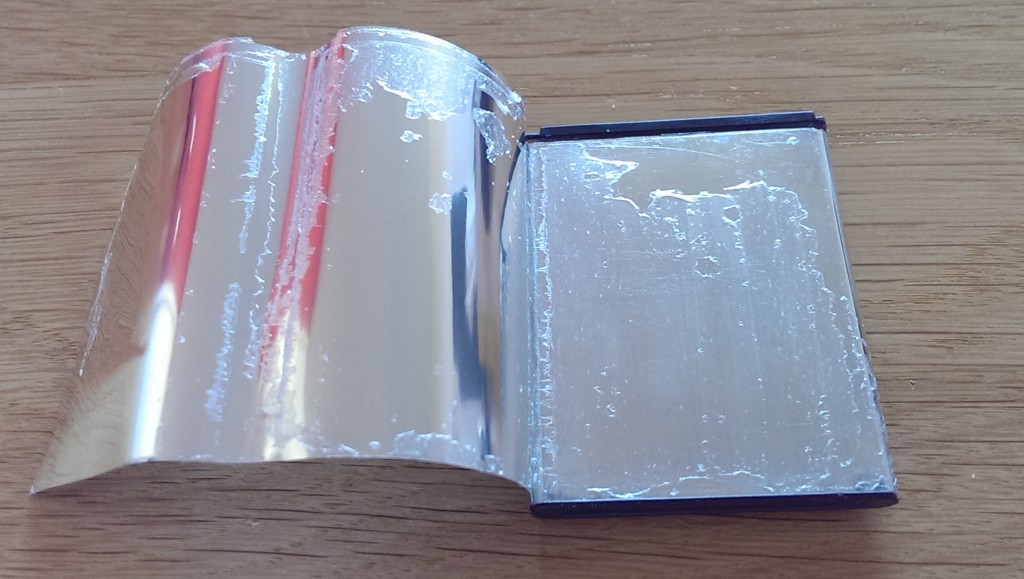 I hope these observations are of use to those looking to purchase genuine replacements – the biggest distinguishing factor is the lack of NFC functionality. When in doubt, give that a test, although some pricey clones may actually carry working NFC.
Many thanks anonymous reader!