It's been a long while since my last random post. While the site might seem quiet, the Gough never stops! Amongst the minefield that is my brain, there are many pages and posts which I've planned and have intended to bring to the site but have not found the time. Unfortunately, given the way my PhD is headed and the number of "other engagements" I have in terms of product reviews and projects "in flight", this is probably going to become a more common theme as time goes on. Regardless, I'll still try to keep some time to write a "load" of posts here and there.
What's Been Happening?
Between the last random post and this one, I've been feeling somewhat unwell with the flu, hayfever and cold attacking me here and there. It's like a bout of the flu which I never quite got over, meaning regular headaches and sneezes – it's extremely hard to be motivated or even think straight under the circumstances.
At one point in time, I considered that my room was probably part of the problem. It's a mess of things, piled on the carpeted floor, almost never cleaned. There was bits and pieces that needed to be thrown out as well, so I went on a full dirt-attack mode for a week. As a result, I pulled my room apart, and cleaned every square centimeter of it resulting in many shopping bags of rubbish and vacuum bags of dust. My room has never been so clean since we moved in! It was a marathon effort, but it didn't end there.
My computers needed their clean too, so I spent a day taking three of them apart and running bits and pieces (e.g. fans, heatsinks, expansion cards, filters) under running water to get rid of the dust. They felt much happier as well.
Unfortunately, having always meant to update some of the sections of my site, especially adding one for appearances/publications/etc., I still haven't gotten around to that … or putting up more VHS clips or sections. One day, I say. It doesn't stop me from salvaging piles of stuff … meaning to get them online for all to enjoy.
In the meantime, I've got several fairly involved hobby projects in progress. One of them is pretty much done, the next is nearly done … I hope to have the time to detail them in the future, so I won't spoil them for you just yet. I also spent some time shopping for bits and pieces in element14's End of Financial Year Sale, snapping up some useful bits and pieces for some other projects in flight. Then there's all the stuff I've also detailed in sections below …
Aside from that, I've been working hard at the data-related aspects of my PhD, and polishing off a paper for publication. Hopefully things get easier as time rolls along, but I have a feeling it won't.
Site Update
Well, it seems Ziphosting continue to be themselves – sometimes their web proxy goes down, other times their database server goes down , so short 5-minute periods of unavailability seem to be the norm. Not much I can do about that one, I'm afraid.
But it is nice to see that the peak Alexa (estimated) website rank rose to an all time high …

It wasn't too long ago when that would have said 2.8 million. Visitation remains fairly solid, so it seems like some of this material comes in handy for reference, which was always my hope.
Facebook Outage
One of the unexpected things to happen to me recently, was the unavailability of Facebook on 10th May at ~10am EST. I started up my machine, and despite trying to log in and out repeatedly, I got this for a period of about two hours. Luckily, it wasn't anything to do with my account getting hacked and or banned. Phew.

TfNSW Live Data Outage
Outages seemed to follow me, on the morning of 22nd April, at 9:37am, TripView Sydney Lite gave me the following warning …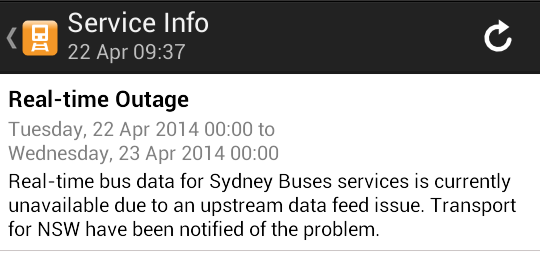 … and for the record, the realtime information really was not available. I suppose that's exactly why Transport for NSW keeps this as a "limited" service to several applications only … but I wonder what was the exact cause behind this.
Later that same day, when I was at Central station, I found out the line-status indicators crashed to desktop. Fascinating, they run a Windows Classic (2000) colour scheme, although it looks like it might be Windows Server of some description.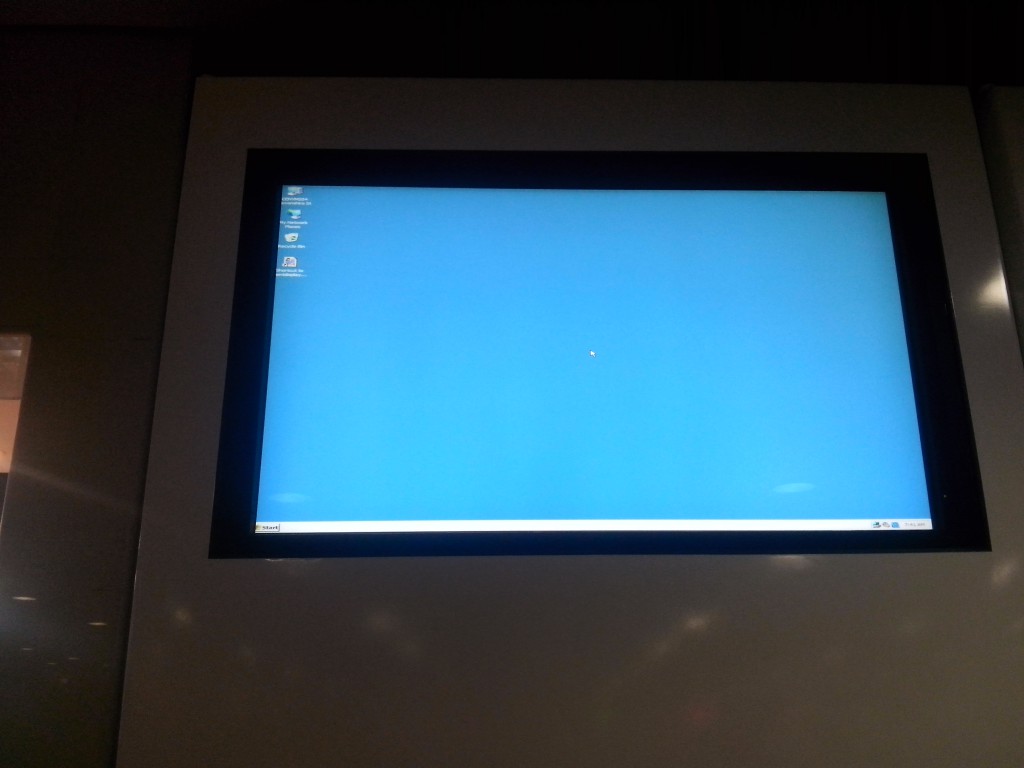 Opal Cards Keep on Rolling Out!
In great news for the Opal card program, buses have now begun to be installed with the Opal readers, despite having the mounts installed a while back. Leaving the uni one night, on the 30th April, I spotted this on the way into the bus (sorry, blurry photo!).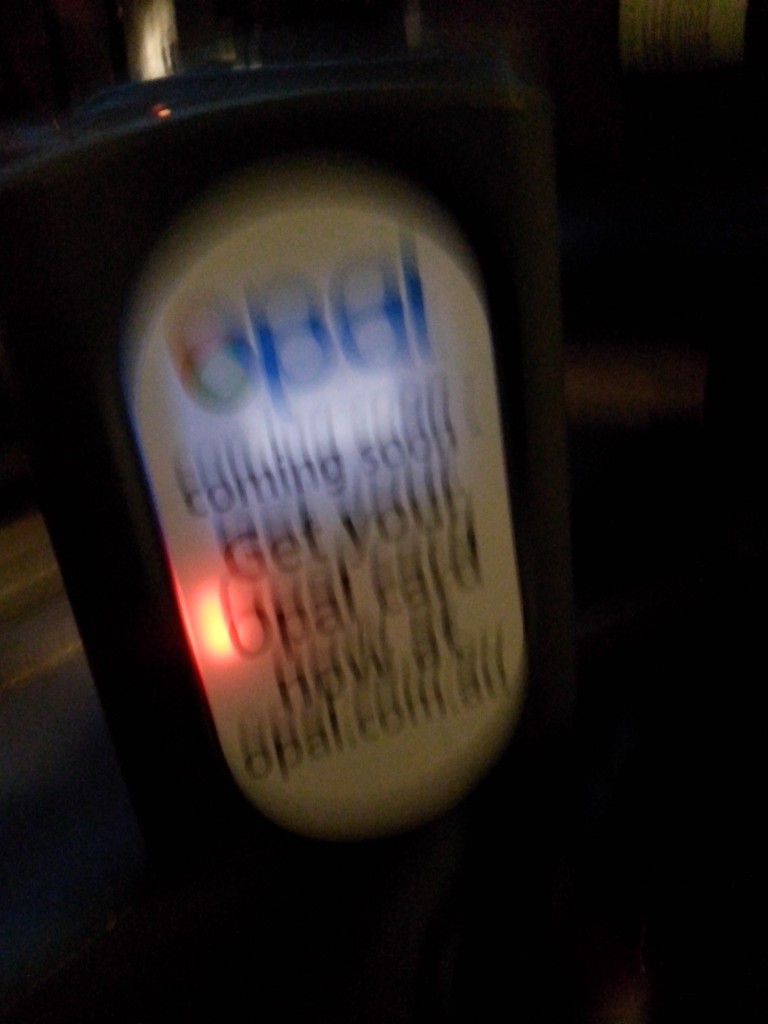 It was a lit-up opal reader, but covered up by a label that says "coming soon". Not long later, on another trip to the uni on the morning of the 6th May, I finally boarded one of the Opal Enabled Sydney Buses fleet. Specifically, it was Bus number 1325, which has had its AES Prodata Datafare2000 replaced with a Parkeon Wayfarer 200.
The unit is fairly chunky and the cut-out has the same sort of shape and size as the other Opal targets. A new label is affixed to the Ticket Readers (TR1/TR2) in red clearly denoting the green dipping machines as Not for Opal Cards. As the bus charges are calculated on distance based charging, while the doors are closed and the bus is in motion, the screen will display Please Wait with a red LED.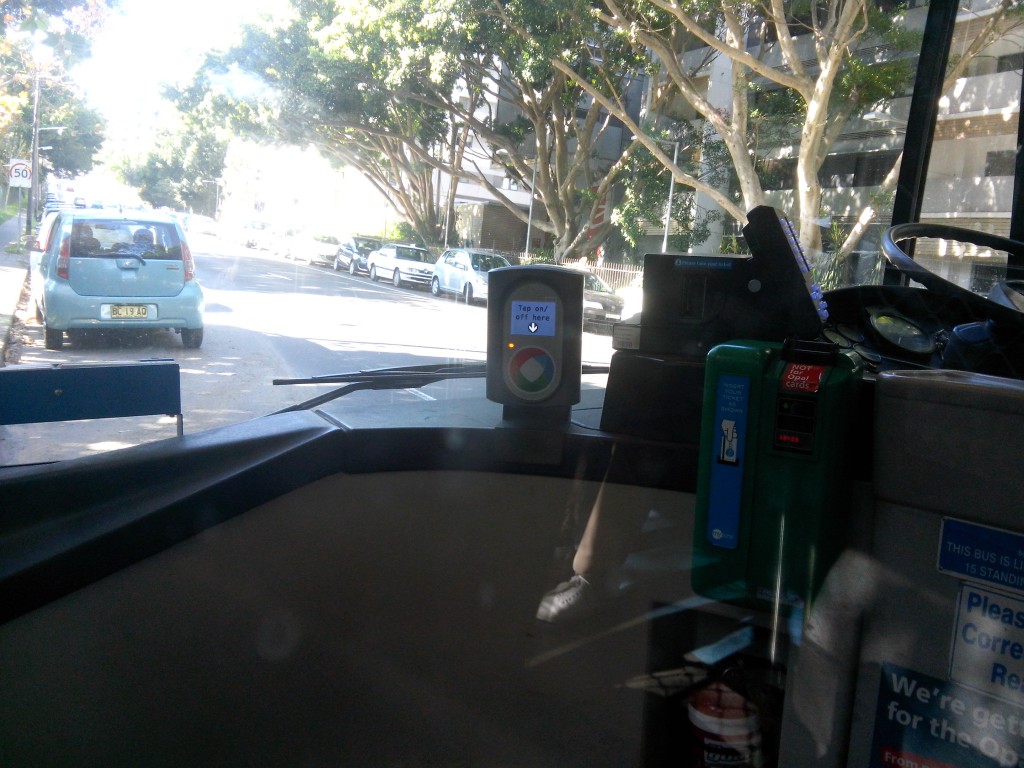 Only when the bus has stopped, and the doors have opened, will the screen change to Tap on/off here with an Orange LED, where you can make the required tap. At the moment, it seems we are under instruction to only board from the front of the bus for Opal Enabled routes and services, but you can leave from either door.
It seems some people seem to be playing the "ignorance" card with the system, no pun intended, claiming to hold an Opal card and not being aware they can't use it on "just any" prepaid bus route service. So much for honesty.
New Opal Cards, Accessories
On the 15th April, I spotted this new signage at Central station proclaiming the availability of the Child/Youth Opal Card. This is a concessional Opal card and is coloured green as opposed to the regular black/grey of the adult Opals. Unfortunately, still no sign of Senior or Student Opals.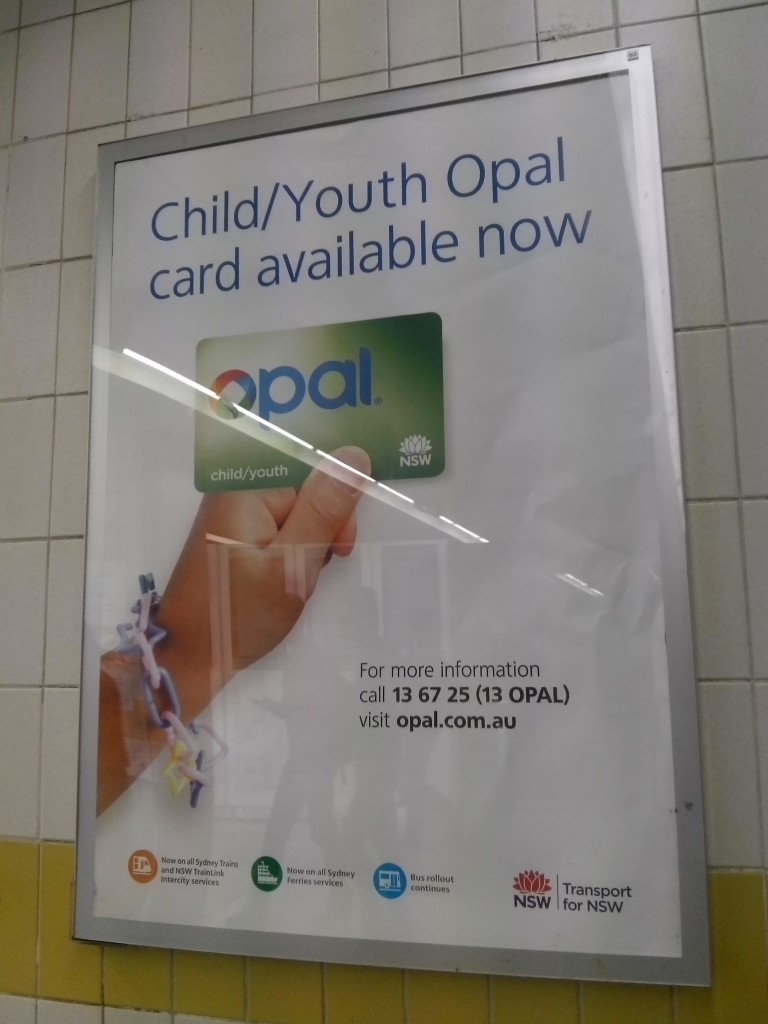 A newer advertisement was spotted at Town Hall in May, that makes it seem like we're all one happy family.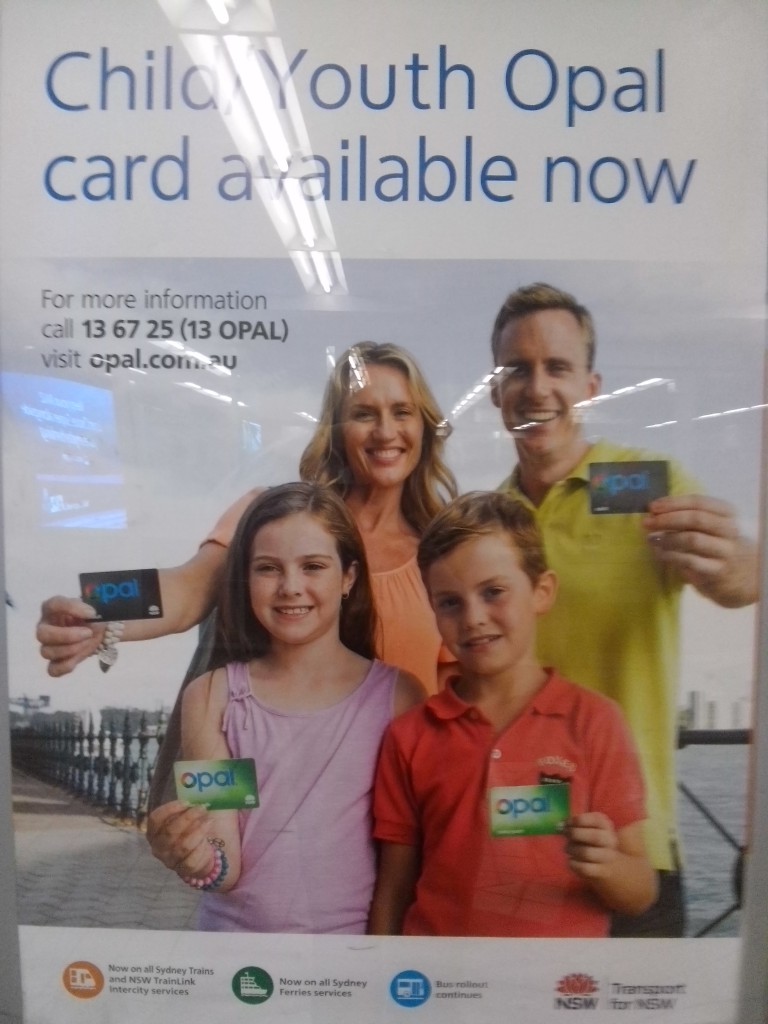 As the Opal card is run by a private company, it seems they're getting in on the accessories market with the Opal shop where you can buy phone cases which hold the card in the rear. I wonder if there's any special diamagnetic anti-metal layer in the case to ensure the cards operate properly …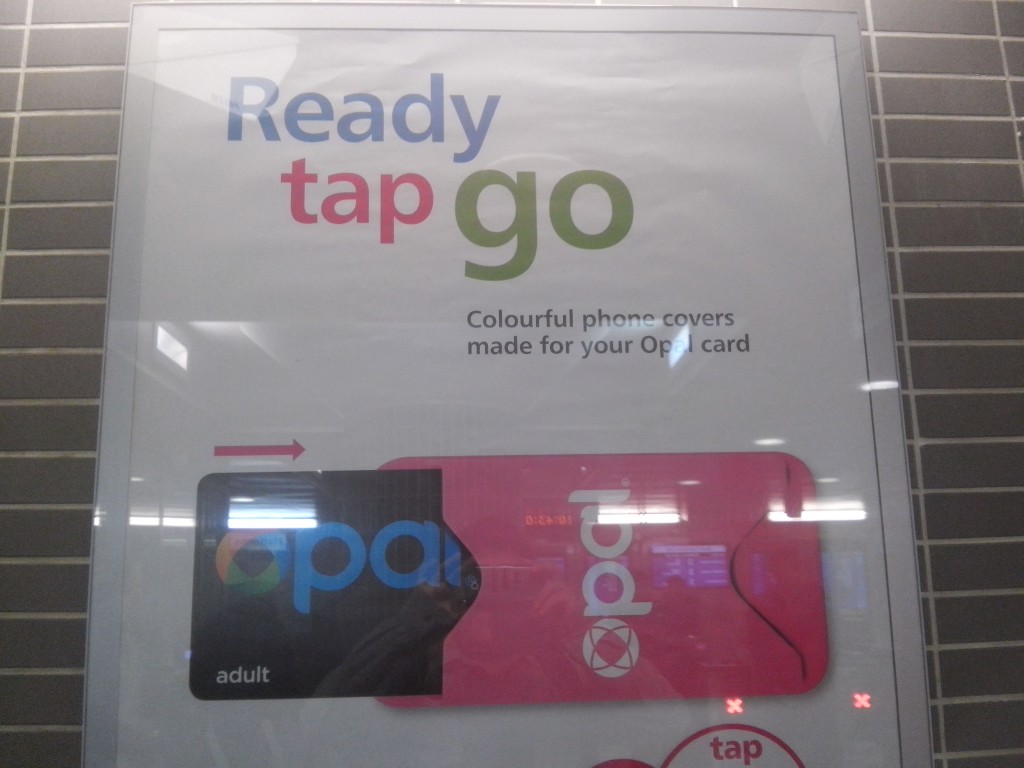 I don't see this as a great idea for NFC capable phones, because their rear coils will always been "registering" the presence of the card and potentially causing more collisions than necessary.
Opal Card Strangeness
While I myself am yet to posses an Opal card, I've watched other people use it and it has been rather interesting and bemusing at times. For example, it seems fairly common to hear the "error" tone go off immediately after a successful tap which is denoted by a beep. Watching the people as they tap their card seems to reveal why.
When the card is placed into the field, it doesn't trigger any immediate feedback. If I had to guess, a sound is only emitted about 300-450ms after the card entered the field, but the ticket barrier's display doesn't show the balance until at least 500ms afterwards. By the time the user has "reacted" to the green screen and the balance, and begun to remove the card from the field and proceed through the gate (maybe a whole 800ms+ after it entered the field), a red screen saying Try Again comes up with the error bong.
It seems as if the lag in the system is quite long, which results in the reader attempting to re-select the card and operate with it after a successful transaction has already been completed without the card leaving the field. I wonder why this even happens – they could easily de-energize the field for 1.2 seconds after a successful transaction, or detect the card's UID and refuse to re-select the same card until it's "removed" and re-inserted in the field (i.e. Halt the card). It's fascinating to think about though.
The other thing I noticed was that some taps which are initiated while the gate still remains open do not complete successfully, or take multiple taps to finally succeed. Really, a properly operating system shouldn't care. Normally us magnetic stripe users "pipeline" our passage through the gates – i.e. we don't wait for the gate to close – as long as the person in front has removed their ticket and has progressed through the barrier, you can insert another ticket and remove and proceed through it before the "open-gate" timeout expires, thus avoiding the delay of closing and re-opening the barriers. I don't know why but sometimes the barriers don't seem to like Opal cards doing the same.
Granville Station Upgrade
It's always nice to see investment into our rail network, even if that means improving the stations. Granville station is one of the many stations getting upgrades. They have spent much of the time steam-cleaning bubblegum off the concrete for a much cleaner look. They also tiled the ramp way on the station-side, closing off half the path each time.
The toilets on Platform 3/4 have been closed, and instead the normally disused Platform 1/2 set is in service. Even the labels on the vending machines have been amended with the new Transport Sydney Trains logo. Talk about attention to detail.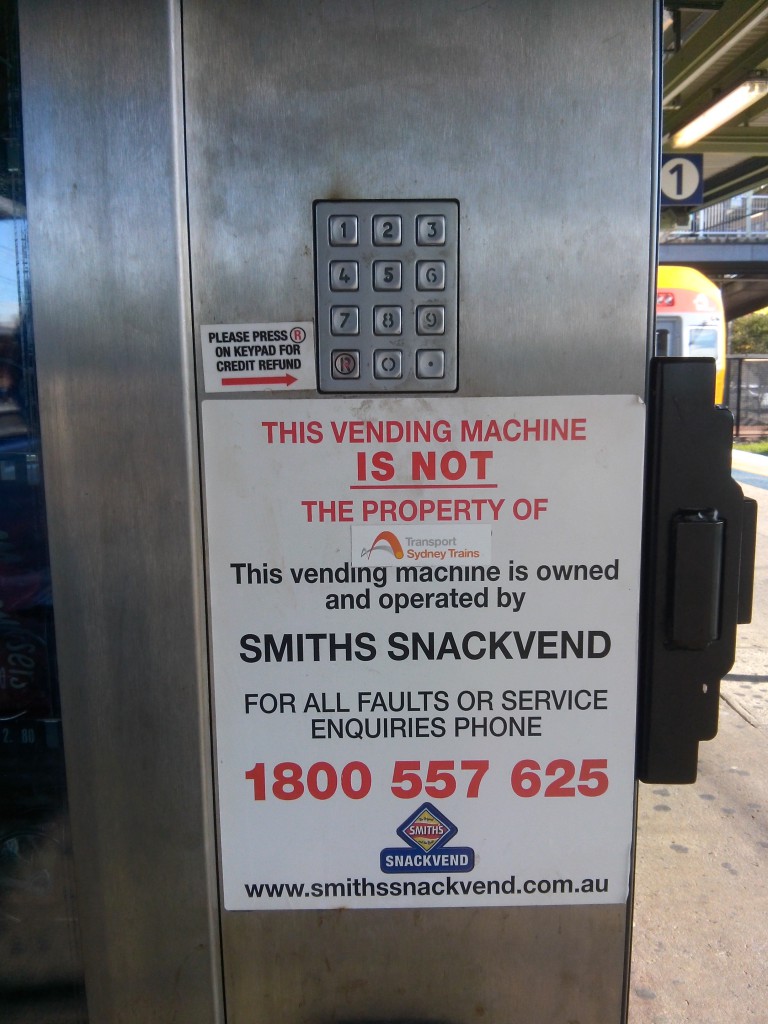 In the meantime, the other rampway and the rather iconic, but mostly disused bus interchange at Granville station has been fenced off, closed and has been mostly demolished. It's a bit sad to see that go, but it is making way for much needed parking and a new toilet block with decent landscaping. It's progress.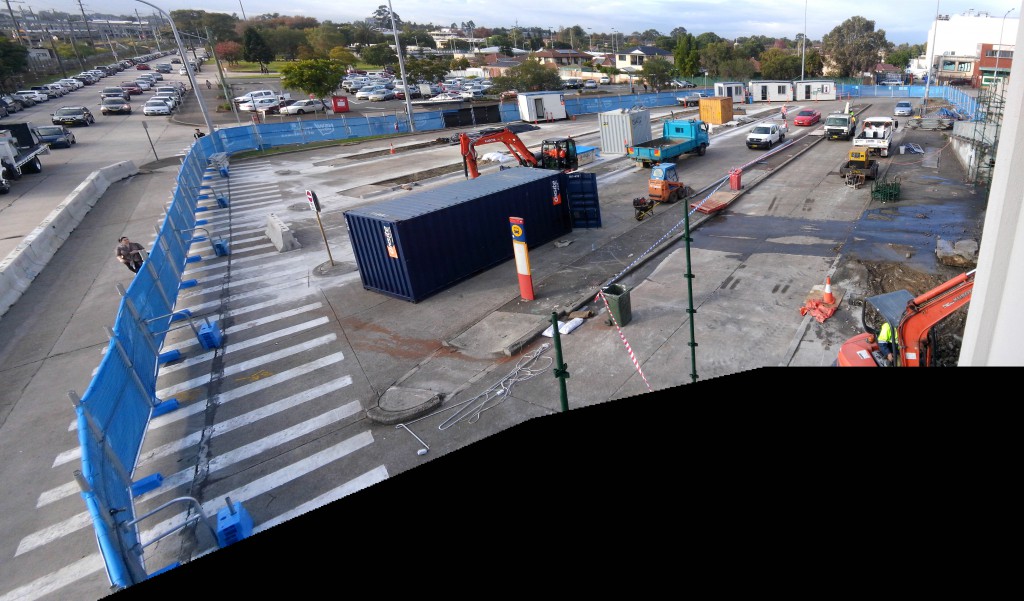 I can't say I've seen the same sort of progress at other stations just yet, but I have noticed Canley Vale getting a completely revamped ramp entrance with new landscaping.
Sydney Trains runs Advertising
I've heard much about this for a long time, but it's never really come to fruition. They did start running internal ads for Countrylink and Tourism purposes inside trains, although honestly, that's a pretty weak form of advertising. Now they've gone full bore with a few trial Tangara sets receiving liveries for Tic Tac Tropical and Devondale Fast Start milk.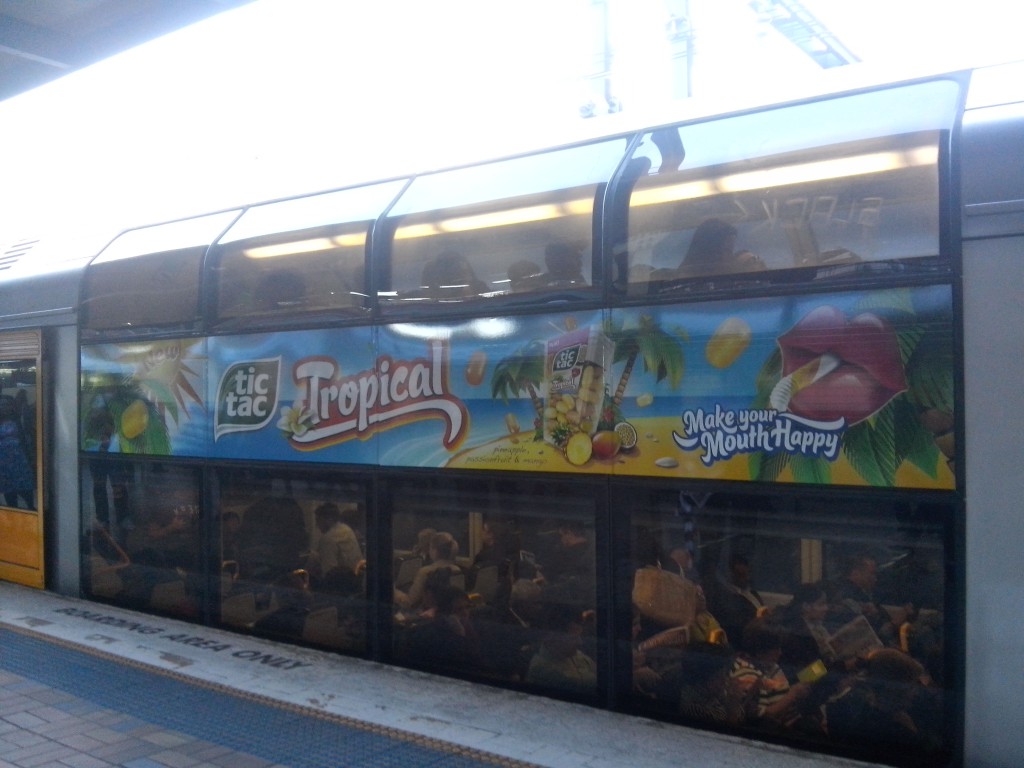 It's not easy to "catch" these trains, but when I do, I'll try to take some better pictures.
Digital Train Radio System
It looks like the DTRS is in full swing. I noticed a "new" site in-between Granville and Harris Park, near the Boral complex and the rail bridge over Parramatta Road. Unfortunately, it was too tall for the camera to take a full shot, but hey, there's the BTS gear.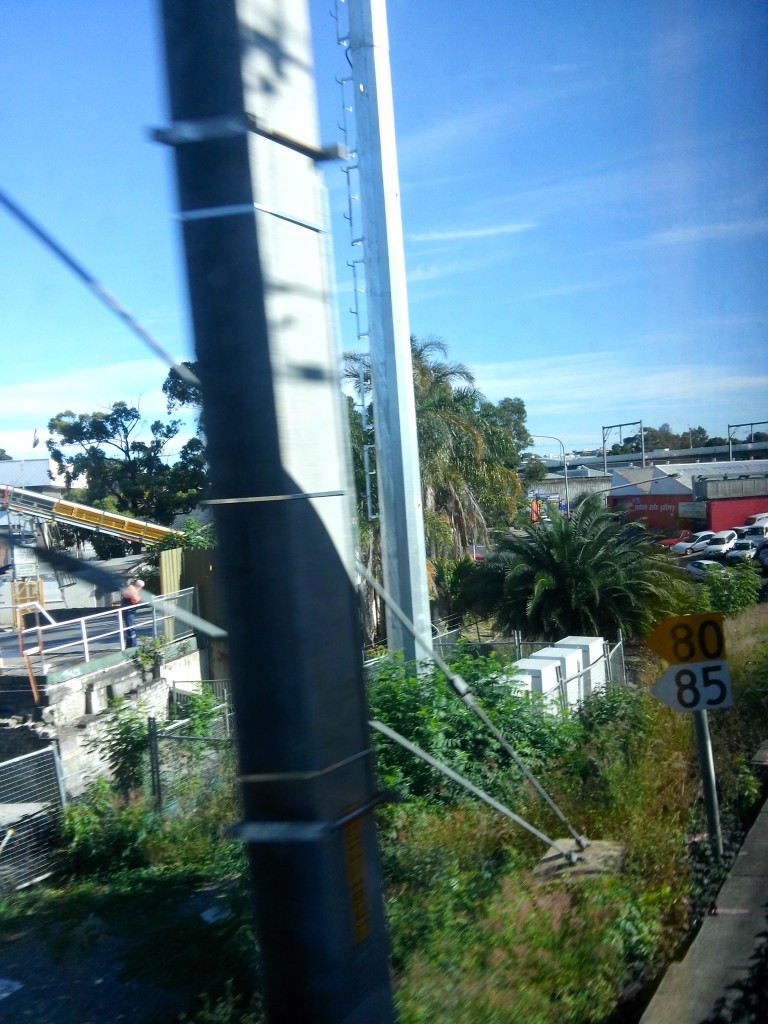 This one has the four cabinets in a row, rather than in a two-by-two configuration, possibly due to the terrain and small land clearance.
Interestingly, they are definitely following through with the full promise of GSM-R to provide automatic train protection. We know this, because I spotted this train in the Flemington Maintenance Centre, from a train running on the Olympic Park Line.

Looks like a regular old V-set right? Well look closely at the labels on the window. It says DTRS Test and ATP Test. In fact, the front of the train also says ATP test on it. Further to this, I spotted a Tangara in the new Clyde/Auburn yard with the same labels on the window. It looks like they're using these trains to do track-survey to check the signal levels and reliability of the system as a whole, so it's likely the base stations are active and emitting signals.
More Transport Random
Well, in a random piece of information, I boarded a bus with a malfunctioning surveillance camera display switcher. While it's common to see the LCD surveillance TVs on Sydney Buses' being filled with noise, garbage and rolling images, I saw one that was static with a company logo. It was BQT Solutions, model BQT200. No information is available online about this though.
I also spotted a double-decker bus with the NSW Government colouration on it. It's likely one of them used on the T-Ways which help get people from the west into the city as quickly as possible, by road. I'm sure the guys out west will be very appreciative of the North-West rail-link when it comes to fruition.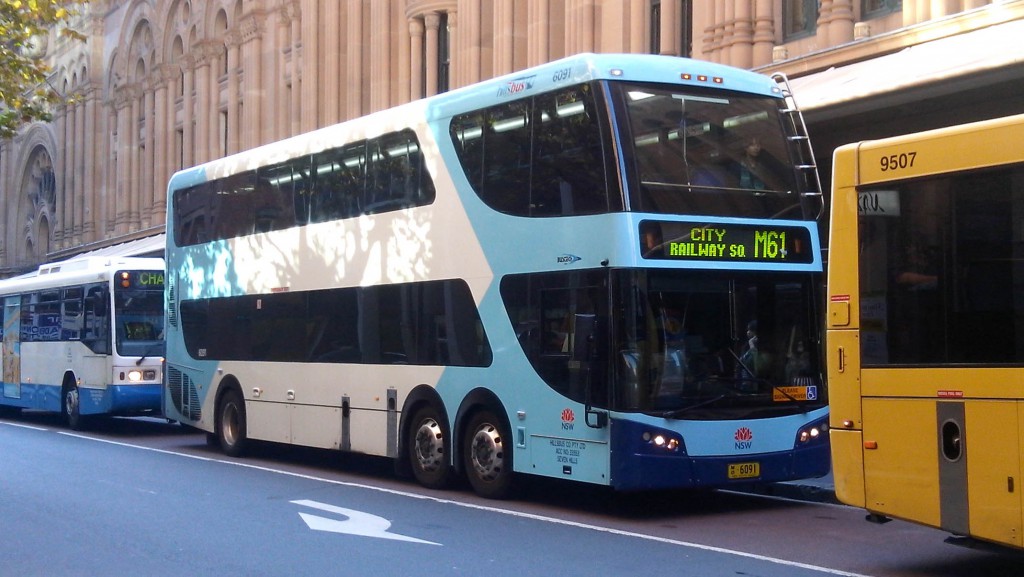 The front upper deck seats would make a killer place to do some sightseeing or timelapse footage! What a nice big windscreen to enjoy the traffic that everyone's stuck in!
I suppose I might shove a random "train-related" picture in here too, of a train driver/guard shelter at Lidcombe with the morning sun shining through it, taken from inside a dirty train with a phone.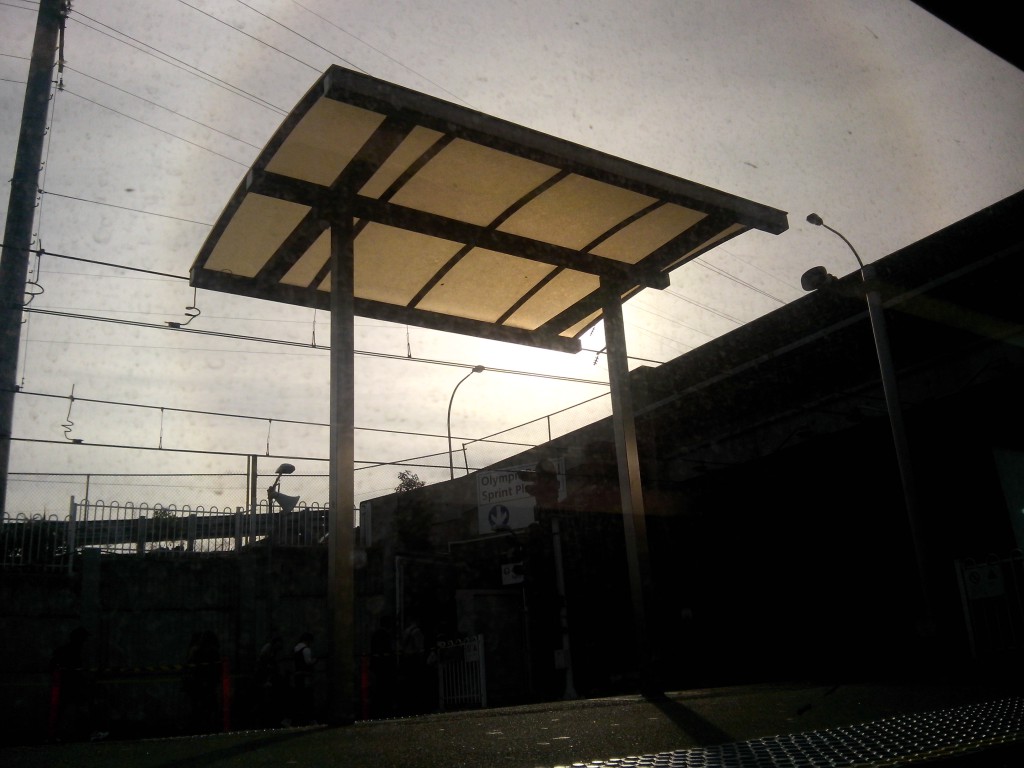 On my way to Olympic Park for CeBIT, I also spotted a few things worthy of mentioning. The first was the Olympic Park station itself.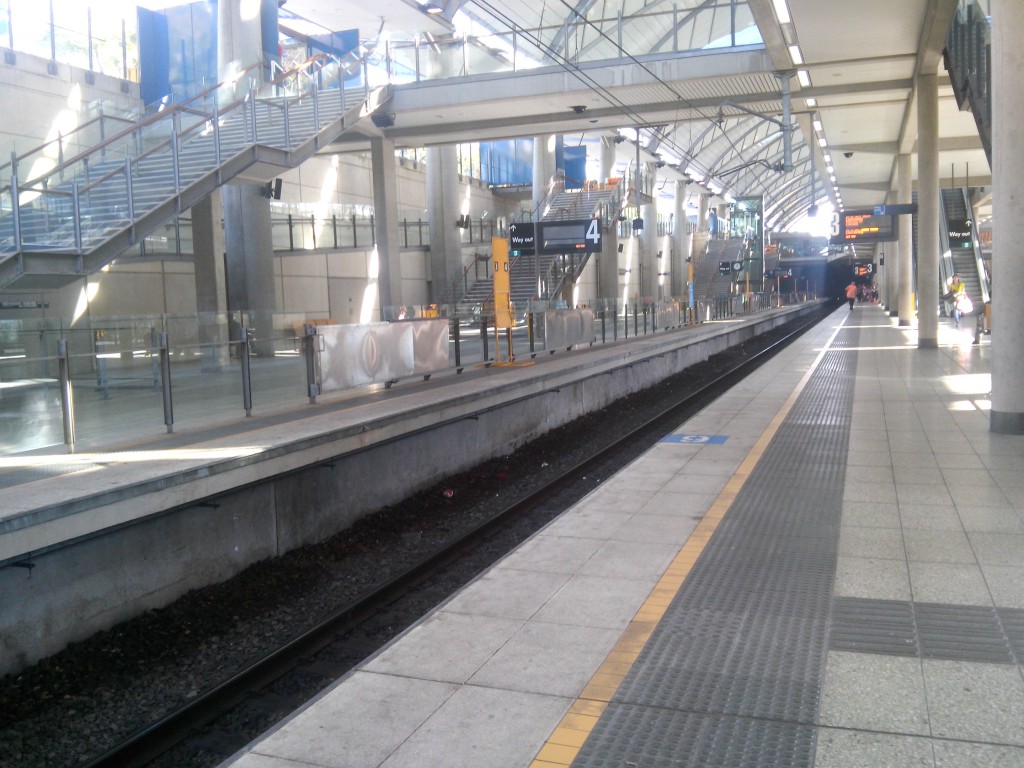 The Olympics was held in Sydney in 2000, such a long time ago, but Olympic Park station hasn't really changed since. It's a unique station on the Sydney Trains network because it's the only station on a loop line, and it's the only station with platforms on both sides of the train, meant for sequential unload-load operations. Considering the station has four platforms, which only run two tracks of 8-car capacity, it's a wonder how this managed to handle Olympic sized crowds in the first place.
The station also has older unique LED displays, which were newer than the Salient "one-line-scrolling" sort, with multi-line capacity, but they also had a unique voice for the station announcements which has remained in place. Unfortunately, the PA system was malfunctioning at the time I visited, sounding like it was triggering protection on the amp, giving the sound a sort of "stutter".
But memory will reveal that CityRail (at the time) was on orders to perform to peak capacity and they truly delivered. Now, the station almost seems deserted in comparison, with the extra platforms seldom being used, if at all!
The other thing was the spotting of an Opal card reader in the Closed state. I've never seen one!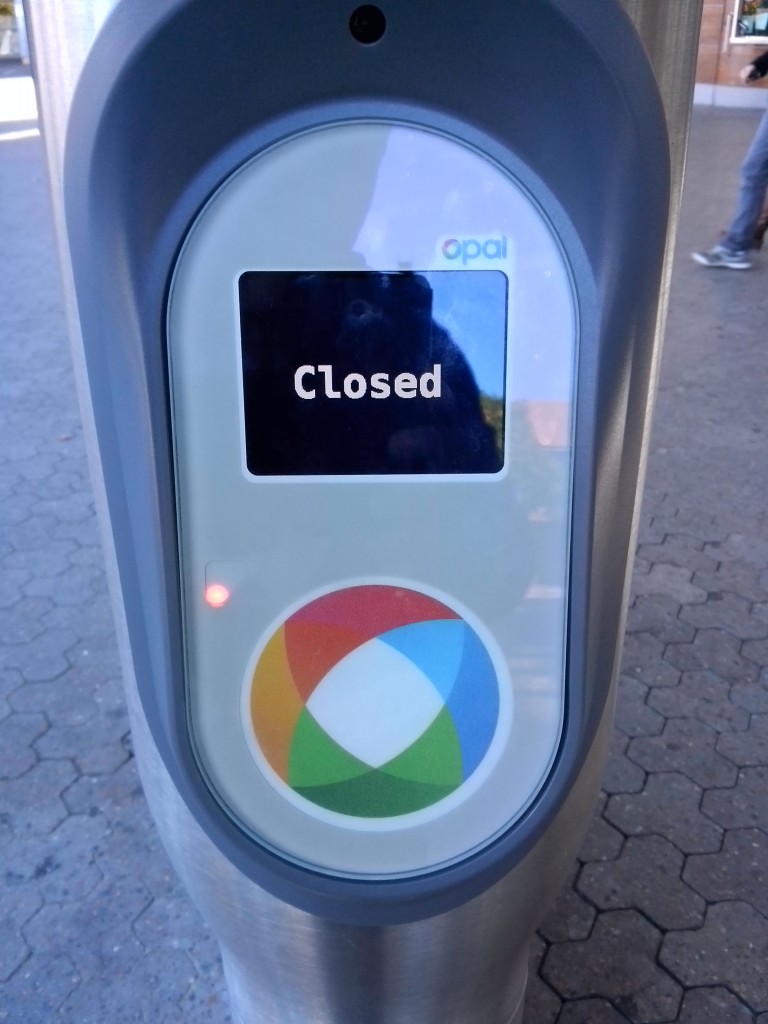 CeBIT
In fact, it makes it the perfect time to mention my visit to CeBIT, which has become a sort of annual tradition of mine. This year, it was held at Sydney Olympic Park instead of the Sydney Convention Centre, as it's currently been demolished for a new building to be built.
I visited on the first day, and spent about four hours on the show floor. It was nice, as always, just to have a chat to some of the more technically knowledgable and technically involved people from the companies on the floor. Many recognizable names were there, although it's still not really a major event compared to other international expos. It was easily navigable, and the precincts were sensibly marked out.
Particularly interesting stands included (at least, those I remember):
Icom demonstrating a "basic" Wi-Fi based Radio-over-IP system, which I know well from having spent a lot of my money on their communications receivers and amateur radio gear.
Belkin, with their acquisition of Linksys (the consumer networking equipment arm of Cisco). They were keenly displaying their "retro-looking" AC1900 router which references the venerable WRT54, as well as their WeMo connected home system.
I was especially surprised to see Blackberry make a large appearance, along with Nokia, both brands which have taken a battering in the marketplace. Best of luck to them, but I'm not particularly enthused about the majority of their products if I'm to be honest.
Firepass' fire prevention system which lowers oxygen content in the air to make ignition of flames impossible.
Xirrus Wireless, with their sectorial antenna, multi mini-PCIe radio based AP solutions for high bandwidth density, with self configured cell-sizing, modular upgradeability, and a host of software options.
Power Parameters, distributor of Hioki test equipment, demonstrating portable battery powered power quality analyzers and data logging systems.
myNetFone and Faktortel, both big name VSPs in Australia, made a presence for corporates. I managed to have a chat to both, especially to myNetFone about the future of PennyTel, which is still "in the works".
WES Components, distributors of the IEC lock cable which I mentioned in previous years.
Rather disappointingly, some of the regulars who have been there for at least the past three years, were nowhere to be found. I won't name the companies, but lets just say, I was hoping to hear what they had to show next.
There was also a very large proportion of start-up company stands, including a space technology start up area where UNSW was involved (and I got to meet a few people I knew and have a good chat). It seems that international interest has also grown, with the Chinese, Korean, German and UK precincts now making up a significant part of the floor area.
Similar to previous years, I did notice that some of the overseas stalls didn't quite make the most of it. I spotted many of them booking out double-wide stalls, but having it mostly empty, cold and uninviting. Particularly concerning was when staff were sitting down on their stools at a small table, playing with their phones, while people (read, opportunities) are walking by. While other stands sometimes overdo it by being too active in approaching people for a conversation, the Asian stands tend to be the reverse, in being too passive. Also somewhat disappointing was the difficulty in communicating with some of the representatives.
A big mistake that some of them seem to have fallen into is not having anyone at the stall at the opening time on the first day. If anything, all the eager people are likely to turn up then, and if they miss you, they might not be back. For example, I only attended the first day, for four hours.
At least, this year, all the companies who wished to scan my badge politely asked before scanning them, rather than just scanning "everyone" and adding them to an e-mail campaign.
This year seems to have seen a reduction in giveaways, freebies and needless paper. I think this is both disappointing (in the way it reflects on the state of the sector and economy as a whole) but also a good sign that people are being more conservative with their brochures and catalogues, instead of indiscriminately handing them out and letting them go to waste. Perplexingly, I didn't see any increase in the distribution of CD-ROM or digital based media or business cards in order to compensate for this.
Despite this, it was at times boring, especially when many different companies start exhibiting the "same sort of thing". How many times do you need to see a 3D printer to be bored of seeing one? I don't think variety was a strong point of this year's showing, and if anything, the floor space seemed a little smaller, although the increase in small-size start-up stalls seemed to even it out a little.
I think it's critical at an expo like this to bring your most technically minded staff who are familiar with all aspects of your products and services. I did have a few frustrating moments at a few stands where, after a while of back and forth, the person admitted that they didn't know even some basic specifications of the equipment they're trying to sell. At other times, people were attempting to sell products on features which aren't ready yet. I'm sorry, but at a technical expo, you can't pull the wool over an engineer's eyes!
Another slight annoyance was the number of attempts at being innovative with new products, without any solid idea of the security or operating principles that underlie the product or networking technology. Would you trust giving every light globe and switch in the house an IP address? Is the system resistant to replay attacks? Does it use SSL? What if the cloud back-end goes down? Loss of Internet connection? Lack of network bandwidth? For example, selling full HD wireless surveillance cameras which use only single band Wireless N, is just a plain bad idea due to congestion and interference on the 2.4Ghz band.
Speaking of which, the start-up stalls were, in themselves, a little frustration. Of course, they're often very limited in staffing, but they're by far the most eager of the bunch. In such small quarters, with such enthusiastic people, it gets quite loud and noisy. The other problem is the attitude some of the start-ups seemed to have. I had the feeling that some were arrogant and especially so to try and induce a sense that they had "already made it", while simultaneously trying to foster investment in their project. At times, this felt a bit repulsive, as if their "grand views" were suddenly being imposed onto me. They're literally trying to convince me that they know what I need most. Sorry, but that's just not going to work on me …
A common theme, as in the past few years, was Software as a Service (SaaS) or cloud based service. I think it's a dangerous precedent to set, with many things which seem better off done locally instead done in the cloud just so "someone can get a subscription payment". I won't pretend that technically competent companies and businesses don't understand the drawbacks of SaaS, however, many of the providers seem to downplay the risks and problems or refuse to even acknowledge them.
All in all, another good year. I'm looking forward to it again next year, and hopefully, it only continues to get better.
MVNO Changeover
I did mention the Aldi Mobile plans change in one of my previous random posts, and in mid-April, my last data-pack had expired. As a result, I said goodbye to the Telstra network, rather reluctantly.
I had little choice as a light-data-user but to go with Amaysim/Optus. Their $9.90/month for 1Gb would be a bit of a squeeze for me, but it's not too bad. So I decided to go back to them, after ranting a lot about their shitty service online back in 2011 when I decided to leave them once and for all.
What a shame, it wasn't much joy. I thought some data would be better than no data, but it turns out when things are half-working, are when it's at its greatest frustration level! It's teasing me, especially around 5pm at Central Station…
The download is congested as hell, the upload is much faster when it's not also being congested. The ping times are pretty "average". It would be nice if it was consistent, but it's not.
In short, Optus is still just as crappy as it was on 3G, whether you're dual-banding or single-banding at 2100Mhz. Maybe I'll have to go back to the data-free life.
A Month of Broken Things
Aside from all that, it's been a frustrating month of broken things. One of my friends visited with his firmware bug-riddled Seagate 7200.11 drive. It's a known issue, with a firmware update released to supposedly patch the problem. If applied before the SMART log grows to a certain size, the drives will perform properly, otherwise they will suddenly either display 0LBA size, or be stuck frozen in a busy state.
What I didn't know, was this friend's hard drive was actually shucked from an external hard drive casing, so it wasn't eligible for the firmware update. Well that kinda sucks. He wanted his data back though, so we set forth with this list of instructions with broken images.
He bought it to me because he didn't have the necessary adapter. I used my 4D Systems Programming Adapter, which was a 3.3v TTL output, just what we needed. We used a piece of cardboard under the head stack pins, but we kept running into this error when we tried to spin down the spindle.
LED:000000CE FAddr:xxxxxxxx
LED:000000CE FAddr:xxxxxxxx
The Fault Address would change on each attempt. Once reaching this output, the drive would be unresponsive to further commanding.
By accident, I found the solution to this problem was to plug the drive in, enter all the commands except the spin-down command and wait for the drive to spin-down on its own before then issuing the spin-down command. That fixed that problem, and allowed the drive to come back to life, although with a pending sector which had lost data (possibly because the G-list had been mangled by the operation).
It was only later, I came across this page which says to "wait" for a certain amount of time, but the answer is really just to wait until it spins down naturally.
Aside from that, we had two Ikea 11w CFLs blow, which is a fairly rare occurance. The bulbs last so long between replacements, it's really a "treat" to see one go. This time, one of them was the one in my room which gave a nice loud pop, followed by several smaller ones and a few embers. Freaky. I powered down ASAP, and replaced it with a Philips 13w LED. So far so good.
Then, I had the HP 2133 Mini Note netbook suffer a sudden motherboard failure. Mid-work, the screen went purple, the speakers went pop-pop-pop and that was it. From then on, no post, no display, no beeps. A CMOS clear didn't fix it either. I suppose it was destined to happen, as it was already a replacement. I won it from an APC competition, but the first one they shipped me had a purple screen of random death within the first few days. I promised them a review of it, but because it was ultimately poor from a performance, battery life, reliability and weight point of view, I found it hard to say anything good about it, and I preferred not to make HP unhappy when it "still commercially mattered". It was, however, very good when it came to its 1280×768 screen, in 10″ – I wished more netbooks had this.
Next was a spare Acer Travelmate 230, sporting an old Intel Celeron 2.2Ghz CPU and old DDR memory. Another motherboard failure, along with a battery failure too.
Just when I thought I had suffered my share of failures, I discovered one of my two Asus Nexus 7 (2012) models has developed a whole row of pixels that now only shine red or black. Great. So I decided to try Ubuntu Touch on it, only to find it very slow and crashing every time a sound was played – that could even be one of the notification/alert tones. That was a big waste of time.
Oh … and my Windows 8.1-based Acer Iconia W3 threw me a BSOD coded SDBUS_INTERNAL_ERROR as well. I suspect something bad might be happening with the onboard eMMC.
Other Things
In the period I've not been posting, I spotted a broken down Coca Cola vending machine with a service tag attached to it. Never seen that before.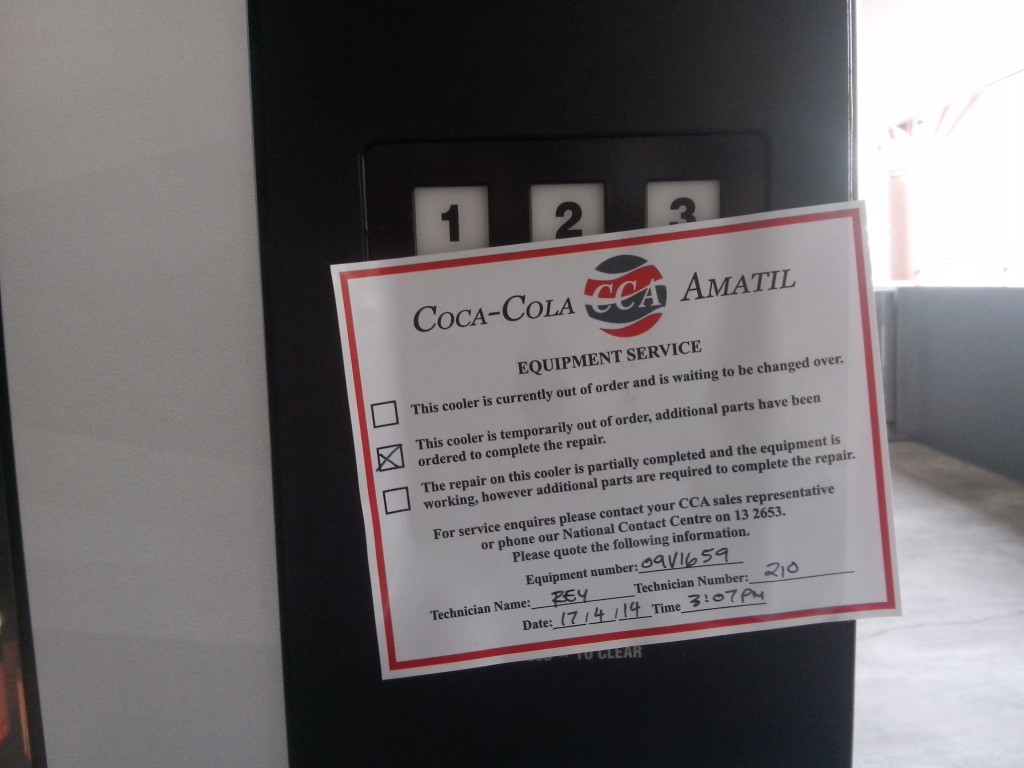 Meanwhile, the drive-by-download style ads seem to continue, this time I can see how easily someone who is less technically competent could fall for this one.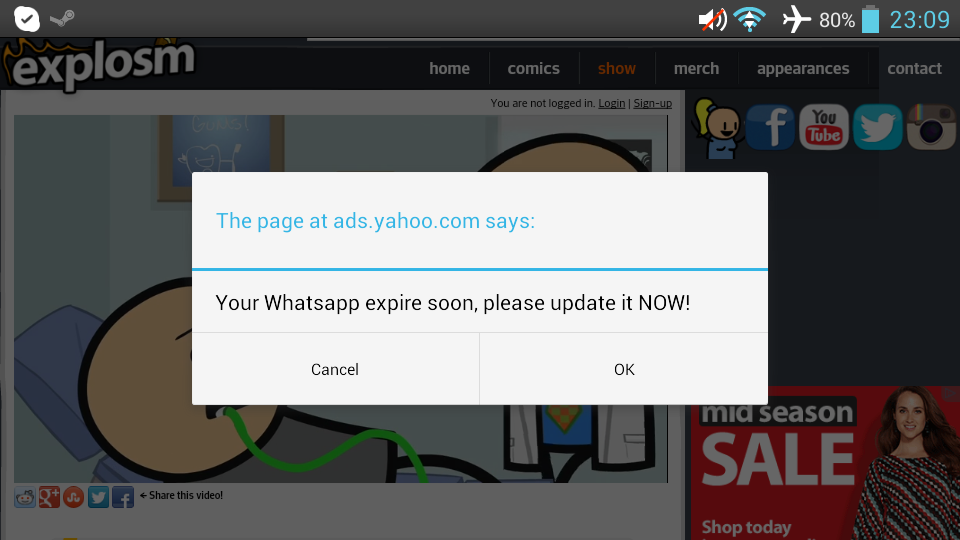 Also making news was Virgin Mobile having a network meltdown for post-paid customers, not long after Virgin and Optus had a network meltdown two months earlier. The CEO actually made a public address and decided on compensating customers by giving them free calling, texting and MMSing for two weekends, and reimbursing a day's costs to the contracts. Unfortunately, there's not many options in the market nowadays … Telstra is always going to be expensive, and Vodafone is trying not to price themselves too cheaply.
And aside from that, the Budget has been released, to much furor. I'm not a fan of it myself, as a research student it doesn't really do me any favours, aside from the other nasty and silly things it's doing. But on the other hand, it does seem to show that we're not as well off as we would like to think we are.
That's about it from me, and brings you up to date with my random observations made in the past month! What a post!