Background
Early in 2013, when it was announced that Acer and Asus (two of the biggest OEMs in the market) would stop producing netbooks, I was rather disappointed. I had always intended to write a blog post about it, but I never got around to it – and having "missed the boat" timing-wise, I thought I would just sweep it under the rug.
But today's product review gives us a good reason to revisit the netbook era. Having purchased one of the defining models of the Netbook revolution (the Asus eeePC 701), as well as being an owner of an MSI Wind U100, Acer AspireOne and HP 2133 mini, I personally saw the market get created, evolve, improve and die. In fact, it's reminiscient of the tablet era now, except for the fact that the tablet era is still going and the netbook one has "finished".
The big claim to fame for netbooks was a very basic level of performance, acceptable battery life and low weight in exchange for a low price. It was intended as a convenience computer – for surfing the net, writing a document – single-tasking. It was born of compromise. They all had "lousy" specs compared to their contemporaries at the time – the Asus eeePC701 began from a humble Celeron M 900Mhz underclocked to 630Mhz, with a 7″ screen that only had 800×480 pixels. It was like buying a 10 year old PC, except you could more easily carry it around. Originally intended to be a design targeting the underprivileged as part of the $100 laptop style of approach, it never met the price target and instead became a toy for the developed world.
It worked though. And it spawned an entire industry which adopted and gave the Intel Atom series a home and impetus to develop. The industry was cut-throat, and prices fell to around AU$250-350. Specifications improved too – 8-10″ screens with 1024×600 became the norm (which, while not great by today's standards, was a lot better than 800×480). People were enamoured they could achieve so much with so little – financially, and performance-wise.
Towards the end of the netbook era, battery life went from "acceptable" 3 hours to 6 hours and even to 8 hours. Weights remained around the 1kg mark, much better than the 2.8kg "cheapies" which still dominate the low end of the market. CPU performance improved so much that the Atom could even challenge the "former" king of the hill – the Netburst Intel Pentium 4. The Windows XP-only specifications gave way to some netbooks which could run Windows 7. It seemed the netbook had matured, only to be "too little, too late" as consumers started to turn away.
The netbook was a victim to more expensive ultrabooks with higher performance, and equally expensive but more restrictive ARM based tablets. There has been argument that the consumer essentially wanted both and the netbook didn't deliver in either arena. But financially, the netbook was inexpensive and great value – for single tasking, experiments, travel computer, I still very much believed in the premise. After all, I was convinced that the ultrabook was born from the OEM understanding that the netbook race-to-the-bottom pricing had hurt them all – so none of the OEMs had incentive to provide a truly good deal on ultrabooks.
In fact, that drove me (this year) to buy the last netbook I could find new – an Asus R011CX, based on the Atom Cedar Trail platform. It performed much better than any netbook I knew of, and I was very happy with it because I understood the limitations and I worked within/around them (replacing the hard disk with an SSD makes a lot of difference). You'd be insane to spend $300 and expect $1000 performance. The R011CX really wasn't noteworthy enough for its own review especially since the era of the netbook is firmly in our past, maybe it will come back for a review in the future as a tech-flashback.
That brings us to today's review – the Acer Iconia W3, an Intel Atom Z2760 Clover Trail platform based 8.1″ Windows 8 Tablet. In many ways, the W3 is the harbinger of good news, in my opinion, it carries the torch and legacy of the netbook. The netbook has been reincarnated!
The Tablet Space

Early attempts to make tablets based on x86 architecture CPUs fell laughably short of the mark set by ARM-based tablets. In fact, the iPad is often cited as one big reason why netbooks failed so quickly (among other reasons). Early Windows XP x86 tablets featured large sizes, laptop weights, desktop OS boot times, spinning drives and fan grilles and was an adaptation of the laptop. While Microsoft was earlier to the punch in bringing practical tablets to market, the user experience and technical limitations of CPUs, batteries and screens at the time consigned them to be the underdogs. And so did their high prices relative to the laptops they competed with.
ARM-based tablets running Android and iOS currently set the "gold standard" by which new market entrants are judged. Being a multi-platform user with a variety of devices, I am well familiar with the conveniences and limitations that an OS, built from the ground up to be a tablet OS, has on the user experience. For the most part, people seem to be happy with what they are getting out of their devices despite the limitations, leading to tablets outselling PCs by the end of the year for the first time.
ARM-based tablets have given us tablets weighing between 325g for 7″ up to 680g for 10″ (roughly) with battery lives of 8-12 hours generally, a nice IPS screen with resolutions between 1024×768 to 2560×1600. They also often bring us a multitude of sensors – GPS + GLONASS, ambient light, magnetometer, gyroscope, accelerometer, barometer, temperature, humidity, NFC. Wireless connectivity via Bluetooth and Wi-Fi are standard, with 3G options available for some models. Connectivity is limited, with a microUSB OTG port being normal, external HDMI featuring on some models (via MHL or dedicated ports) and a headphone socket being normal. MicroSD expansion also features on some models.
It will be by these conveniences that we can gauge just how successful the Acer Iconia W3 is.
This Tablet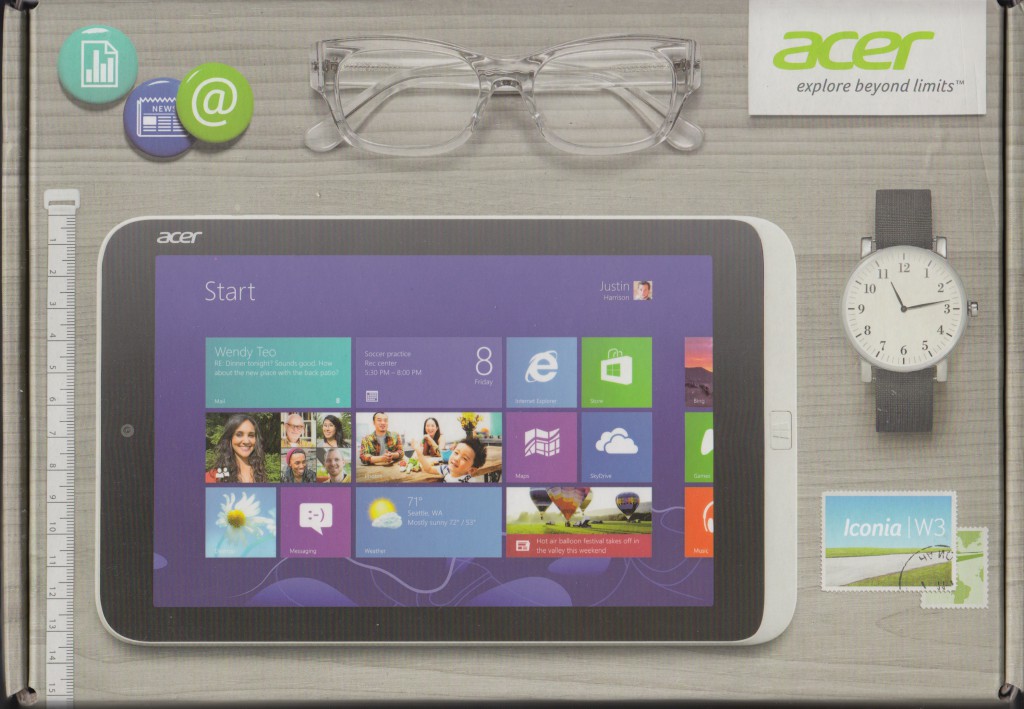 The first thing I will say is that I didn't purchase this tablet "new". I got it used off OCAU forums from someone who "didn't need" a tablet. It cost me about AU$360 total, which is a netbook kind of price. As a result, I haven't paid much attention to the unboxing, as I'm not sure whether this is "as supplied" by the manufacturer.
As we can see from the front of the box, there is a picture of the tablet (in general) on a desk, although the picture is deceptive as the representation on the box is smaller than life-size.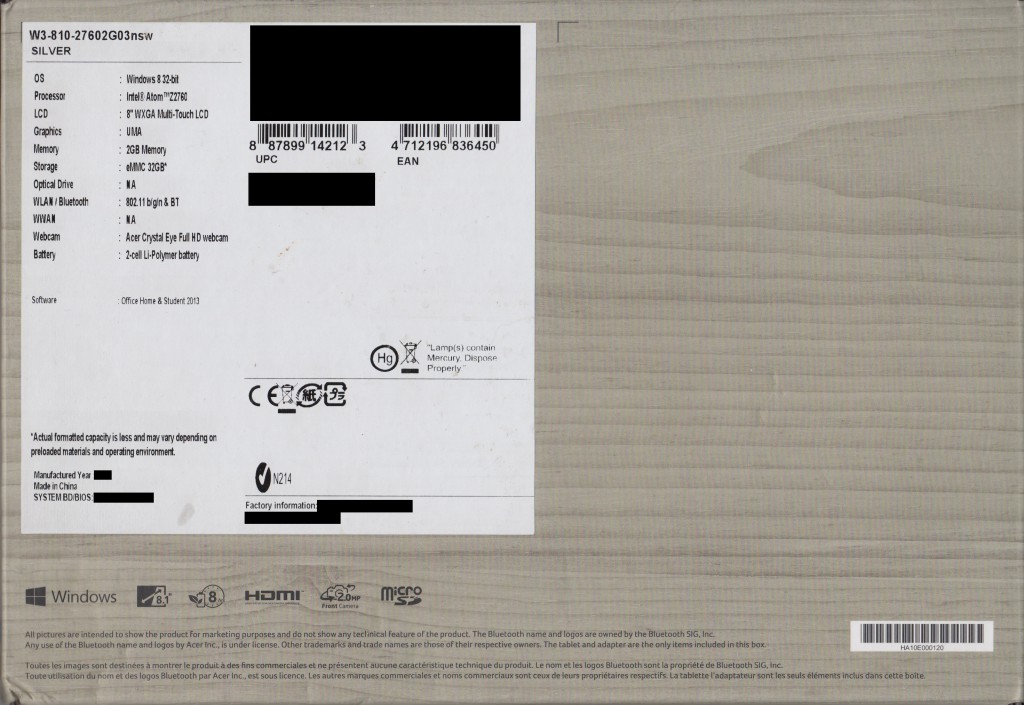 The rear of the box is unusually spartan, unlike the boxes of many other products like motherboards, power supplies etc. It has the specifications listed – Windows 8 32-bit OS, Atom Z2760 CPU, 8.1″ WXGA (1280×800) Multi-touch LCD, 2Gb RAM, 32Gb eMMC, Wireless B/G/N and Bluetooth, Full HD webcam and a 2-cell battery.
It doesn't list here on the carton, the presence of a microSD card slot for expansion, a micro HDMI port for video out, a USB OTG port that functions as a full USB 2.0 host, front and rear web-cams (2MP), headphone socket, 12v DC charging port. There's also an orientation sensor and an ambient light sensor. The weight is 500gm, with a claimed battery life of eight hours.
Compared to ARM-based tablets on paper, it's a bit heavier than most of the tablets of this size, and the battery life is a hair shorter but within the same ball-park. It doesn't have as many sensors as most ARM tablets – no GPS being one of my main disappointments. The cameras are also fairly poor compared to modern tablets and smartphones, but their presence is appreciated.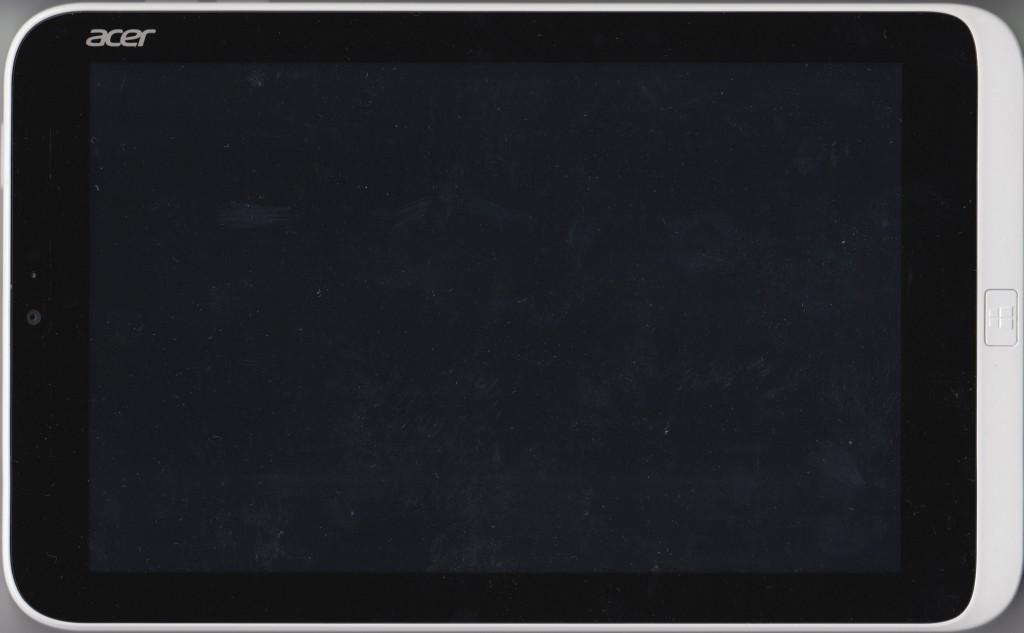 So, yes, I just plonked the tablet on the scanner. It was scanned at 300dpi – if you get out the full size image, you'd have a pretty good measurement of its dimensions. It's extremely spartan, but with a thick border around the screen. Unfortunately, this makes the tablet a bit big for my pocket (the Nexus 7 fits well). The tablet is also thicker than most.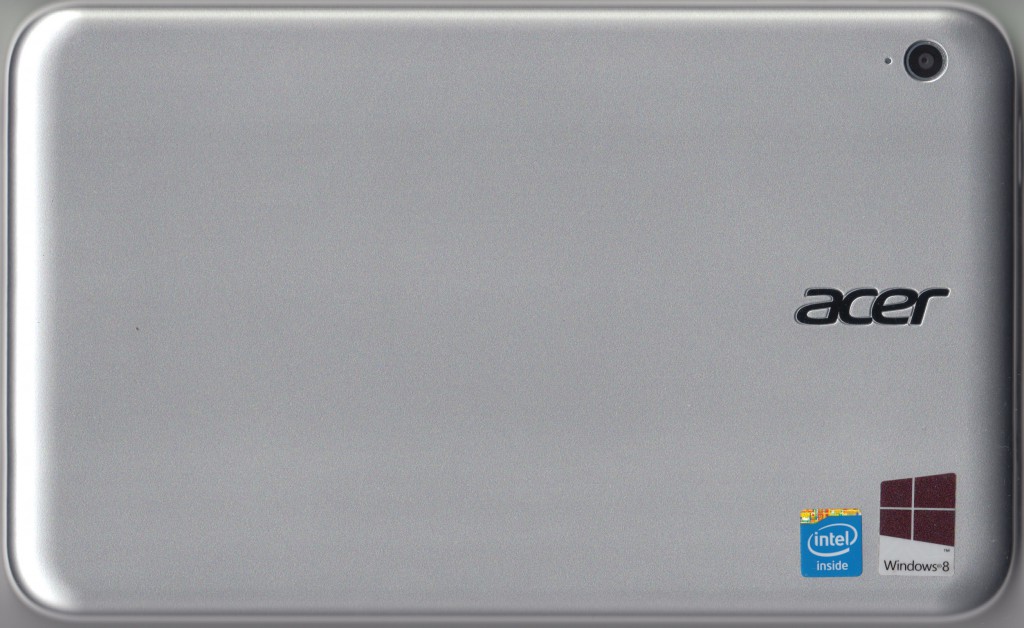 The rear is adorned with an Acer logo, and stickers for Windows 8 and Intel (which, if you want to remove them, do take some effort to get the adhesive cleaned off).
The box includes a license for Office 2013 Home and Student (which is worth about $149 on its own), a restore DVD, a few brochures (quick start, warranty, etc), a charger and a USB OTG lead to use the microUSB port as a host port.
Lets Get it Started!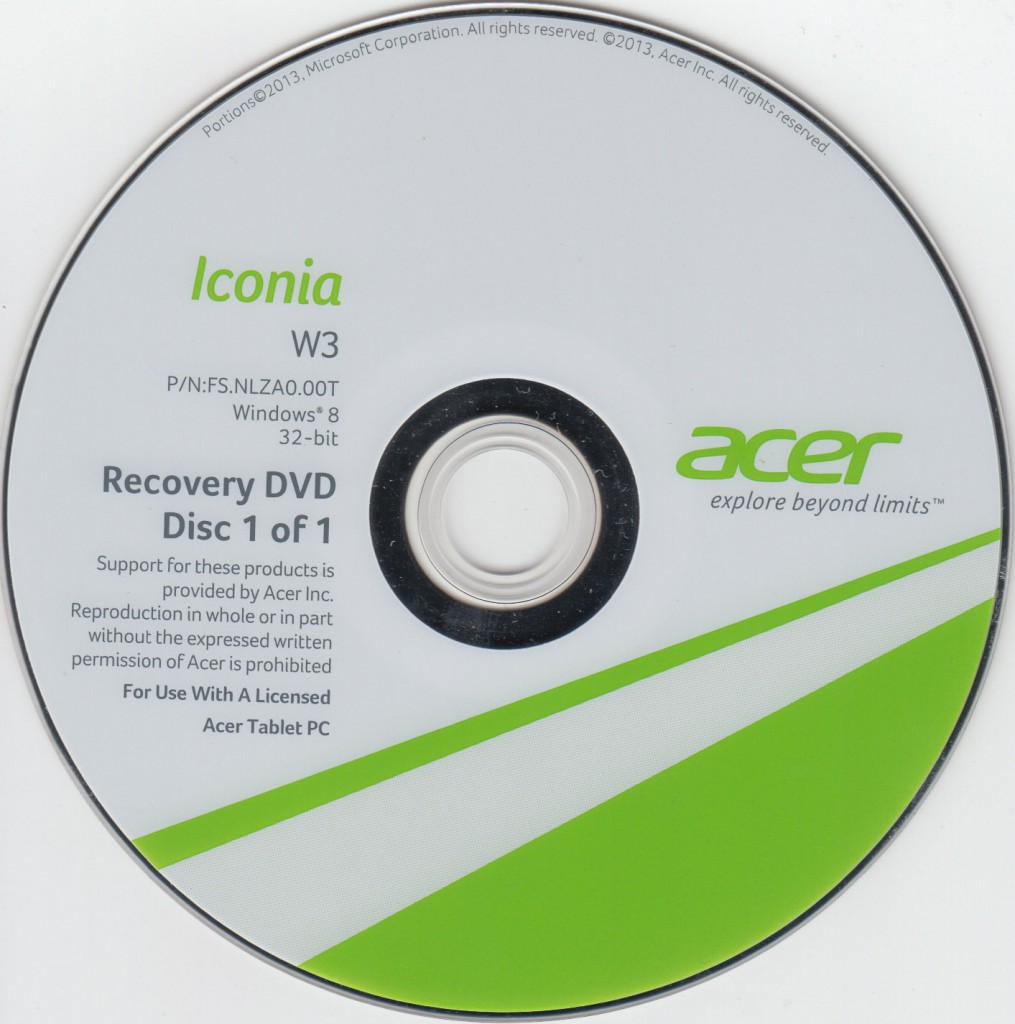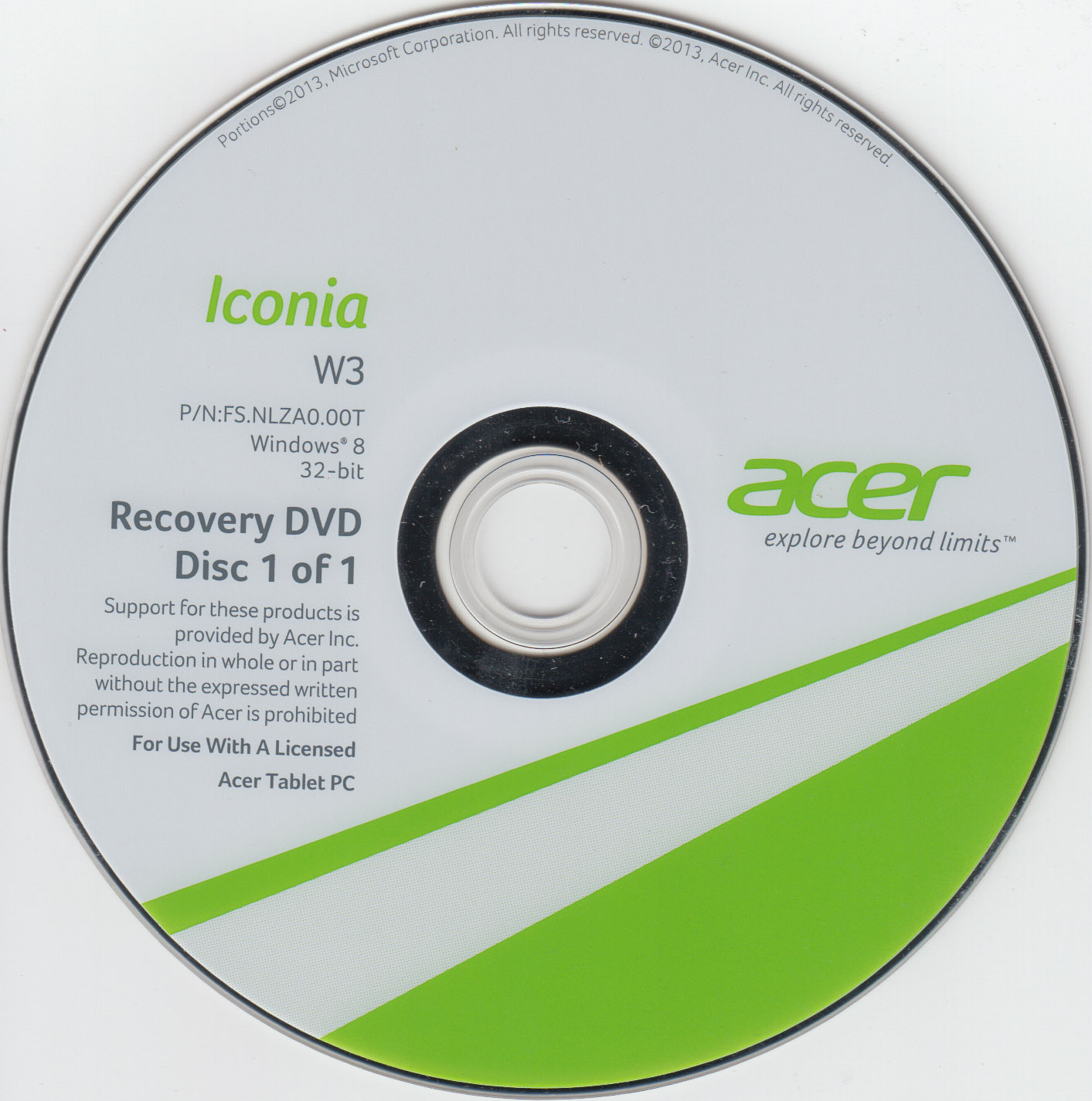 As I did get it second hand, the first step is to clear it all off and restore it. If only it were as easy as it sounded. As a hang-over of the netbook days, the restore media is on DVD. The first step is to find a USB DVD drive to restore it from.
It's annoying. Maybe they should ship write-protected bootable USB flash keys in addition to DVDs.
You may plop the disk in and have no joy at first – this is because of an obscure need to set a password first inside the Insyde H20 UEFI BIOS to disable secure boot to allow you to restore from the USB DVD drive (looks like the support link answer was removed). Further to that, this disk is not recognized by Windows 8 for repairing the OS and restoring it to defaults either as it is a proprietary Acer Restore environment.
The restore environment gives you two options. The option to restore to factory defaults requires the boot drive to be blanked, but since the BIOS refuses to boot any of my drive partitioning tools and the boot disk itself is an eMMC, I was not able to use this option. Instead, I had to use the first option which only restores the data in the boot drive.
After the restore, we get errors on boot about certain "C:\OEM\Preload\Command\AlanuchX\AlaunchX.exe" complaining "A referral was returned from the server" which I have not been able to solve aside from removing and disabling the start-up entry. The post-install tasks were not correctly completed either – Office 2013 Home and Student wasn't installed. I had to enable viewing hidden and system files and navigate to C:\OEM\Preload\office2013\office15\x86\15.0.4454.1510\office\data\setuphomestudentretail.x86.en-us.exe and key in the license on the packaging and wait for it to download in the background in order to get it to work.
The Good, the Bad and the Ugly …
Pros
It's like a laptop which you can carry in your hand. It runs all the x86 applications you know and love, although with some limitations (see cons). I can even manage to run RTL-SDR with SDR# at 1.024MSPS rate! The CPU can't do much more than that, but it was better than my expectations of not being able to run at all. You can run Firefox with all its glorious plug-ins and Office with EndNote! Remote control via UltraVNC is no trouble. It's exactly a real PC!
It's fast to boot up – Windows 8 has been very well-optimized for eMMC usage such that it boots up faster than any of my iOS or Android devices from cold.
Battery life reaches its advertised values under web-browsing loads at low brightnesses. Much better than what I was expecting given the expectations of netbooks in the past and the "2 cell" in the advertising.
USB OTG port allows for full USB experience – all peripherals supported under Windows can be used, as Windows drivers will load happily. Adding a hub is no trouble and throughput is very decent for a tablet. Unsigned drivers require some work though.
Volume up and down buttons provide fine granularity of control – perfect for headphone users.
Cons
Horrible screen. It's been commented upon all over the internet – it's basically like a regular screen with a matte coating trapped under a touch-screen digitizer. This gives the pixels some sparkle like a cheap Nokia's colour screen. It's not IPS either, so viewing angles are a bit terrible.
Speakers are a bit tinny, but as expected from this size of device.
Mixed portrait/landscape personality. Windows 8 seems to work best in landscape in my opinion – using the on-screen keyboards and desktop apps work much better when they have the resolution offered by landscape. You can lock the rotation in software, but the webcam on the front is placed in a bit of an awkward position for landscape use.
Productivity – it's good for productivity when you have your keyboard and mouse, but the on-screen keyboard is a bit limited, even when reverting to the traditional layout and the touch screen takes a few goes to get it right since the touch targets can be quite small. A stylus does help quite a bit. A major drawback is that the on-screen keyboard does not automatically invoke just by tapping into a text field – you need to manually tap the keyboard icon to bring it up. You'll grow tired of this after a while. The keyboard uses a fair size of the screen making it hard to get everything in-view.
Live Tiles Interface – I absolutely hate all of the live tile nonsense Microsoft has put into Windows 8. I look forward to the Windows button coming back to the Desktop Mode. The only tile I need is Desktop. That's it. I don't even like widgets in other OSes as it's a background battery and data chew nightmare, especially if one of them crashes. Metro-style full-screen apps require the mastery of a few gestures and add little to the whole thing. If you can work desktop apps which provide you the best interfaces for many tasks, why cripple yourself with limited apps which are more like toys?
Microsoft Store – still no apps worth my interest really. Took a quick look through the top apps lists, and really, I'd rather stick to desktop apps thanks!
Mixed touch-screen behaviour – as many legacy apps weren't invented when touch was, the touch behaviour can be mixed. When dragging your finger, this could initiate a drag (in a non-scrollable window), or a scroll (in scrollable windows). When tapping with your finger, this can produce a single click (in some apps) or a "hover" and reposition the mouse (in other apps). Luckily most modern apps have this done sensibly, but when using Lubuntu in Virtualbox, it's annoying to need to quadruple-click to get a double-click, and it's also annoying in Photoshop to need to size the canvas less than the screen size in order to draw (otherwise, it's scrolling the canvas). Pinch to zoom can have unpredictable effects (e.g. in Firefox, it scales everything larger while keeping the canvas size the same, resulting in a very screwed up layout – just like CTRL+scroll wheel).
Space – while 32Gb is advertised and Acer "pretends" it's superior to other tablets (see head2head tab) on the market, the fact is that Windows 8 consumes most of it, leaving you under 10Gb of it for your own use. You can move the C:\OEM folder to another storage device to gain some, and do clean-up on Windows Update files using Disk Cleanup Tool. Aside from that, you might even resort to NTFS compression to make it through the day.
Performance – it's not exactly a con, but it's not that fast. It's an Atom, how fast can you expect it to be? Most apps are responsive until you make great demands on them, and even with 2Gb of RAM, you can get a decent amount of apps running simultaneously. Unfortunately, some bloated apps (Adobe LightRoom) will complain and close down due to a lack of RAM while processing. Oh well.
MicroSD Performance – while the eMMC nicely chugs along at 70-80MB/s sequential read speeds, the MicroSD slot isn't so great. A 40MB/s SDXC card only benchmarked 20MB/s, so don't expect to get high performance from it even with a good card.
Graphics – the PowerVR based Clover Trail platform graphics seem to be incomplete in driver support. Glitches in scrolling web-pages with heavy graphic content in Firefox are abundant, and instant crashes with Google Earth are expected. Some things just won't work.
It's only 32-bits. The CPU does not support the 64-bit architecture, so no booting Ubuntu (UEFI is 64-bit only). And don't even think about another version of Windows, as Windows 8 is reportedly the last 32-bit edition Microsoft wants to make.
Ergonomic Design – unfortunately, the way it is built allows the power button to easily be pressed, thus waking up the tablet and eating battery unnecessarily.
Connected Standby power management – in order to make things last longer, they have a new type of standby which allows for the tablet to sleep while "remaining connected" to the access point, waiting to be woken up by specific events. This is really only useful for a narrow number of Microsoft apps which make use of the functionality, but otherwise ruins the whole power management configurability. I have set it not to sleep, and yet, the tablet continues to sleep on its own after a bit of inactivity! I can't stop it!
Thermal management is passive, but it also means the space near the Acer logo gets quite warm on heavy loading – it is where all the "goods" are. The rest of it is basically battery.
It's a bit heavy and bigger than some other tablets at 500gm.
You can get BSODs on it (I've triggered one just from pressing the power button to wake it from connected standby sleep just as it was going to sleep). It's just like a real computer.
The UEFI BIOS doesn't seem to allow for easy (or even possible) running of alternate OSes, meaning Windows 8 all the way. It also means that bootable back-up software (like Acronis TrueImage) are not an option, nor is DBAN for data destruction. The platform itself isn't supported by Intel on Linux, and it's quite unique as it is more like a phone SOC than a traditional CPU/Northbridge/Southbridge design. For example, under the Device Manager, you can see the cameras, eMMC/SD cards connected directly (rather than by USB as per earlier netbooks).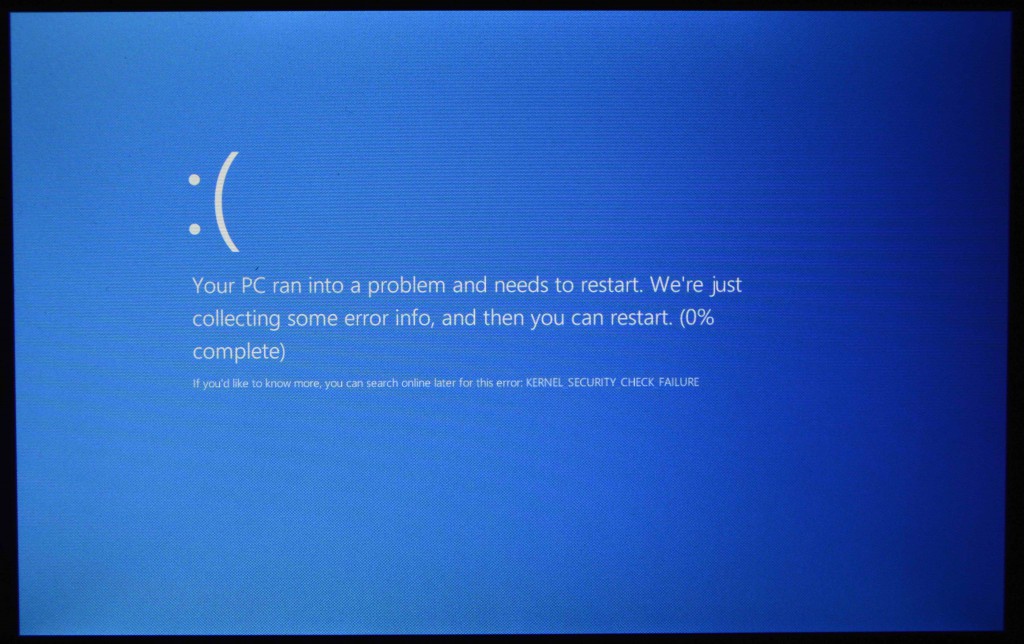 You might see a long list of cons there, but really, the main thing is that the pros are so worthwhile, it makes all the difference. I can't get Wireshark on other tablets, I can't get Office or Photoshop on there. I can't run Firefox with user agent spoofing, ghostery, reload-every, ad-block plus, flash, java, etc.
At least, with this, even if it's slow, you can get it to work! It makes a very good travel photo-backup and net surfing machine, and can even run you any necessary software to get onto particular proprietary VPNs, secured tunnels etc. You can't say the same about every other tablet.
I do like it, it gives me hope. But it's probably not the one for all of you, especially at $465 from a shop brand new, it's a bit much for what you're getting. A large 64Gb microSDXC card is almost a mandatory addition to get usefulness out of it.
Conclusion – a Bright Future?

While the Acer Iconia W3 is, in itself, not a highly desirable device owing to the low quality screen, slightly higher weight, ergonomic difficulties and limited storage capacity, it still offers a compelling insight into the next generation of Windows 8 x86 based tablets from OEMs. In fact, the Toshiba Encore slated to release by the end of the year with the new Atom Pine Trail (based on Haswell) platform looks to be just the thing we were waiting for. That has a quality IPS screen, better performance and a price which is pretty much identical (if not, a hair cheaper than) the Acer Iconia W3. My advice is to wait, of course.
But it also reminds us how restricted ARM-based tablets are. They are really good for the tasks they're optimized for, but the software library and flexibility of the x86 platform is hard to beat. Existing software will be capable of running, although the performance varies for several reasons – having it run is often better than being stuck without.
If you were to ask me to take a single tablet with me – despite all the compromises, I would take the W3 over my Nexus 7 (which I would take over any iPad). That's because I know, with my W3, I have full access to the best interfaces for most web services having run a desktop browser (so less funny rendering and restricted version website problems), and I know I have full access to USB devices (and all drivers), and I can even run Linux in a VM (albeit very slowly) and all of my proper productivity apps – Office, Endnote, Photoshop just to name a few. That is despite, the poor screen, greater size and weight.
Finally, we have a computer we can fit in one hand, carry in one hand, last the day and at a price that doesn't break the bank. Microsoft has done a good job in optimising Windows 8 to ensure quick boot times (which are faster from cold than my Android and iOS devices) even with sub-optimal storage (eMMC is slow when IOPS matter).
In exchange, we have to live with the inconveniences and jarring transition between "metro" full-screen apps and desktop windowed apps. My argument is that the full-screen metro apps and live tiles interfaces rarely are necessary and I would prefer to have the desktop interface ONLY, but that's not a direction Microsoft is headed unfortunately. Slow response and issues with touch target sizes and interpretations of touches are an expectation when you're dealing with desktop apps that are not intended for touch input. Using a third party stylus makes many of these problems less significant.
The lack of a keyboard does hamper productivity somewhat, although having the option to hook one up via USB or Bluetooth allows you to be productive when you need it. I suppose this is an admission of the "genius" behind the Surface's Touch and Type covers … in the tablet form factor it really can make the difference.
It is unfortunate that alternative operating systems are essentially "locked out" from directly booting through the use of Secure Boot, implementation of UEFI BIOS and the use of an x86 only CPU. The reasoning that Intel does not support the platform under alternate OSes is valid, as there have been many changes to the power management and CPU which requires the use of specialized driver and firmware to ensure the best battery life, although, I do hope Intel reconsiders and helps Linux to support present and future Atom platform devices.
I suppose this was what we were all waiting for the netbook to evolve into. It only happened because Intel worked hard to improve power efficiency of their platform, and that only happened because ARM was beating the crap out of Intel in the mobile space. x86 being impossible in a 5w envelope? Think again! The Atoms are now matching ARM in the tablet space for power! Look at just how much good being the underdog is … maybe Microsoft will be inspired with a change of leadership and come to the fore once again.
Epilogue
The more inquisitive reader may be wondering – what happened to my Asus eeePC701? Well, I'm happy to report that it's still alive, and slaved to death. It spent about two years as a "netbook", two years as a dial-up internet server, a year and a half as a web-cam surveillance monitor, half a year as a radio-transmissions decoder and now, is a central part of my PhD as a console to talk to my Arduinos with. After all these years (and having been ripped off, purchasing it at a price of $465 early on), it's still a useful machine in some way/shape or form. Its contemporary full size laptop (a Toshiba Satellite L30 purchased around the same time) was scrapped due to multiple failures (casing, USB ports, charging socket, fourth battery, hard drive), so if the 701 dies soon, it would have served its full life anyway!