I did some quick teardowns of the 5000mAh and 30000mAh power banks previously, and I found that the 5000mAh power bank seemed to be genuine, but the 30000mAh power bank is a bit unknown. One reader reported disappointing performance from the power bank, and I would be inclined to agree after some more extensive use.
But it's hard to find out exactly how good or bad they are, without testing them under controlled conditions. Thanks to the element14 RoadTest program, I was the lucky recipient of a Keithley 2110 5.5 digit USB and GPIB Digital Multimeter which was perfect to run this investigation.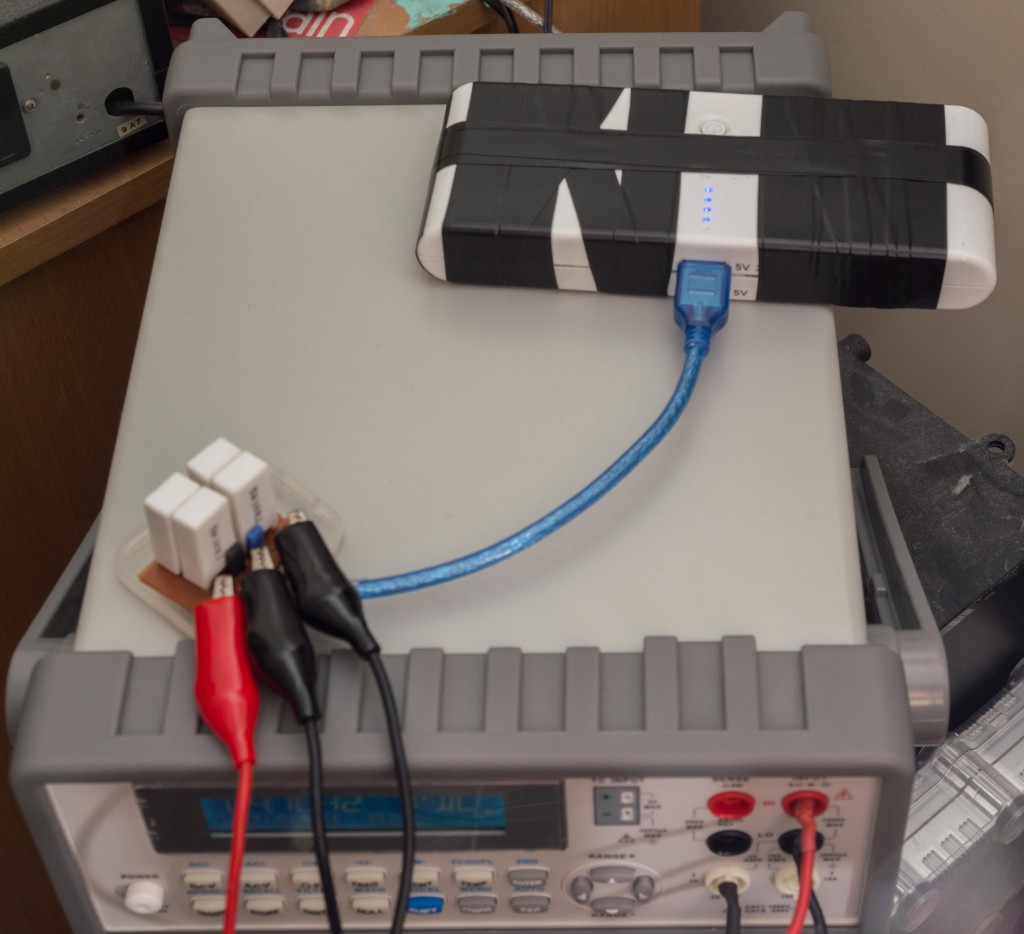 I built a configurable 2.5 ohm and 5 ohm equivalent ceramic resistor pack as a dummy load, hooked to the end of a piece of scrap USB lead. Measurements of voltage and current were taken once a second (roughly) with the dual-measure facility of the Model 2110.
After many many hours of testing, I ended up with a >10Mb spreadsheet from which I performed calculations upon to get to the bottom of it.
Capacity Result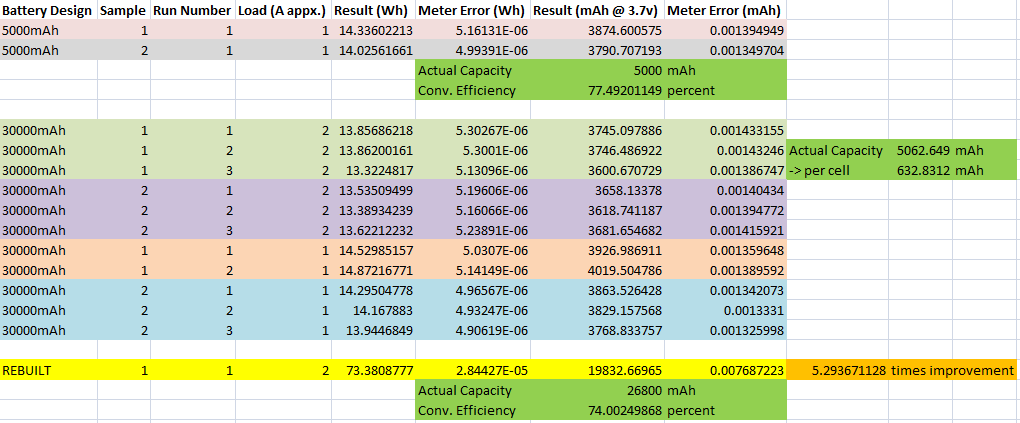 We can see that the error due to the meter itself is tiny, but there is error from the leads. There is also errors due to differences in operating temperature, USB connector resistance, etc – but their effect on the final figure is unlikely to be even 1%. Variation in separate runs is "normal" as most battery packs are only specified to 100mAh accuracy with variation due to self-discharge and charge termination points.
For now, you can ignore the yellow result – this was after I rebuilt the pack (later on in this posting). We can see that we ended up with about 3800mAh at 3.7v for the 5000mAh battery pack loaded at about 1A (the port rated output) – this is due to losses in power conversion as heat (poor design?) and losses in indicator LEDs etc.
But worst of all, the 30000mAh packs loaded at 1A measured about 4000mAh at 3.7v of effective capacity. This isn't much more than the 5000mAh pack! It's physically much larger for no good reason at all.
Loaded at the 2A rate, the capacity drops to about 3800mAh at 3.7v effective capacity! The cells in the 30000mAh pack are literally rubbish!
Also disappointing is the efficiency – it seems that the 5000mAh packs have sub-optimal conversion efficiency at 1A loading. Properly designed DC to DC converters should be able to achieve 88-94% (or thereabouts) efficiency.
Voltage Result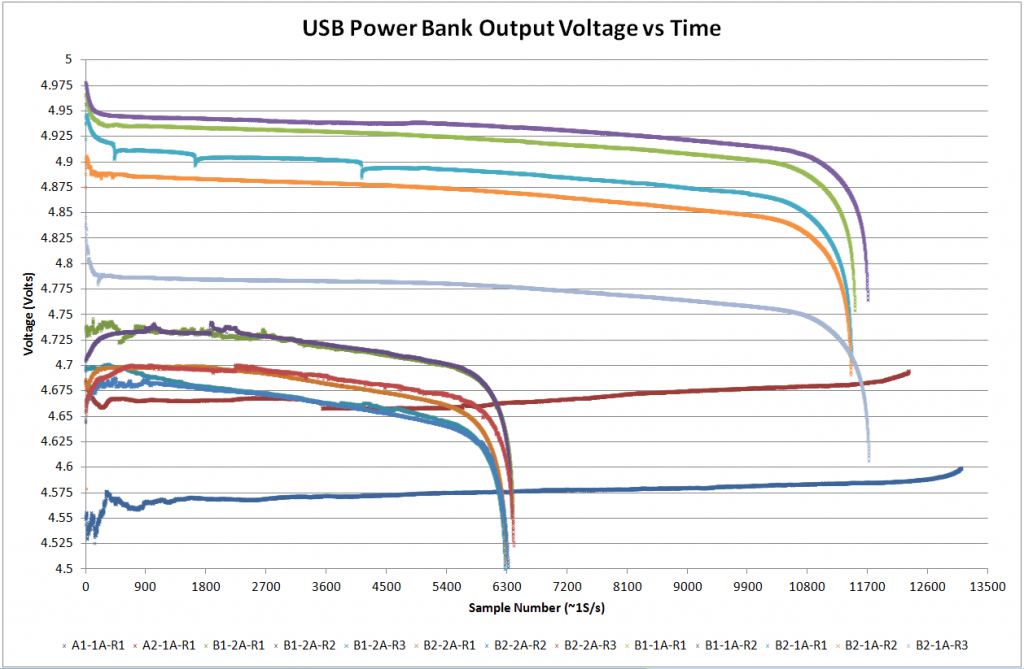 The voltage result shows even worse news. These power packs fail miserably when loaded to around their rated current. Over 2.5 ohms, you'd expect 2A to flow, but instead due to the voltage droop and tolerance, we see only about 1.6A. So this test is already a little generous. The voltage provided by the packs loaded at their rated current (5000mAh at 1A, 30000mAh at 2A) all show voltages below the 4.75v limit (5v – 5%). It's a wonder that devices are so accommodating to even work with them at all.
The 30000mAh pack does provide much better voltage figures when loaded at the 1A load suggesting it was designed for that load. Chances are, the difference in capacity may have come about from the heat evolved from the converter circuit and difference in efficiency as the voltage droop suggests the converter itself is overloaded and possibly noisy.
The legend is coded as follows:
First letter – battery design. A is 5000mAh, B is 30000mAh.
Second letter – battery number – I have two packs of each type.
Load Current – 1A or 2A (approximately, really means load resistance 5 ohm or 2.5 ohm).
Run Number – Some runs repeated three times to gauge accuracy.
Unfortunately, it was also discovered that the 5000mAh pack has a design flaw. It has no MOSFET cutoff at end of dicharge, and so the voltage abruptly drops from 4.6v to 2.3v, suggesting possible over discharge from incorrectly set end-point. Leaving a USB device attached after the pack appears depleted could further deplete the cells and damage them irreversably!
The 30000mAh pack disconnects its outputs to 0v when reaching its termination point – although we do need to determine the actual termination point voltage-wise to ensure safety for our Li-Ion cells.
Rebuilding the Pack
It was suggested that it might be possible to rebuild the pack – now while, in principle, I agree, soldering directly to Lithium-Ion cells are not advisable. I happened to find that it was possible, if one was careful, to solder to tabbed Lithium-Ion cells, so I gave it a go.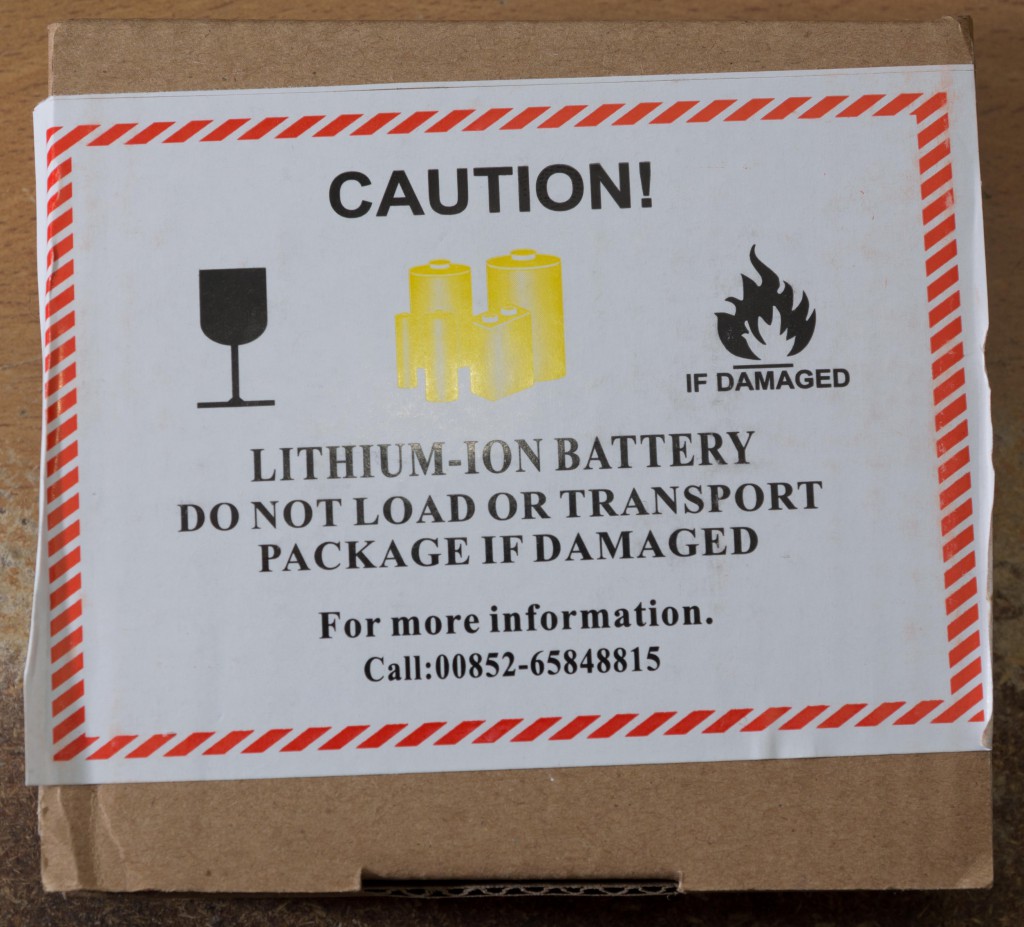 I consider myself an intermediate at soldering – soldering to the cells themselves would be impossible as the cells would sink the heat away and cause damage to the cells. It would be best to use spot-welding, but I don't have such equipment. I took the risk and ordered almost $100AU in Lithium-Ion Cells.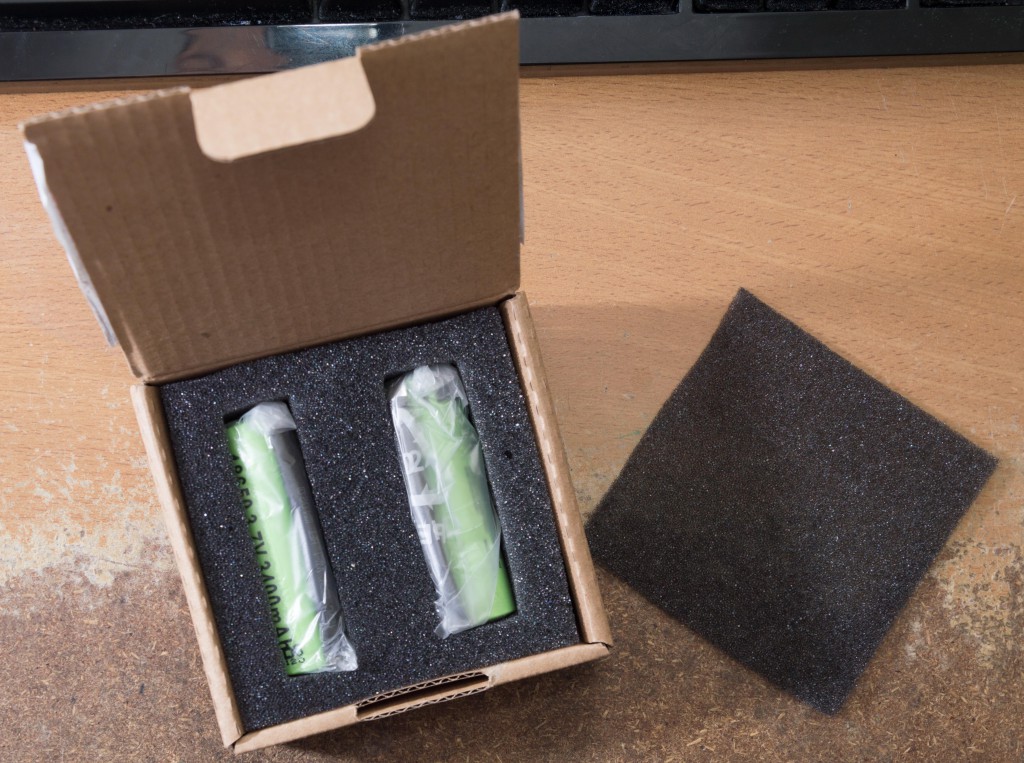 I opted for eight Panasonic NCR18650B's. These are now the world's highest capacity 18650's, rated at 3350mAh each. Even with eight, the best I could expect was 26800mAh – still shy of the 30000mAh it was "rated". Also, the pack would look ugly. Not that it really mattered to me.

After some careful soldering, and lots of electrical taping – I ended up with this monstrosity. It was much heavier than the initial pack, and it takes a lot longer than 24 hours to charge. Luckily, the charger and converter are "voltage sensing" devices, so they don't care about the change in capacity (or so it seems – it is yet to be conclusively determined).
Charging takes almost two days, and the LED indicator does sit on the first bar for almost a day, giving the impression that nothing is happening, but the PCB does get warm indicating the charging circuitry is working …
The improvement in run-time was phenomenal. The gauge now is inaccurate, displaying the single bar for a long time. As I soldered to the ends of the tabs, there was much less mechanical rigidity in the pack, so I used some Nitto electrical tape to bolster it. Since the solder is proud of the tab profile, I needed to bend the plastic slightly to shoehorn the whole thing in. But it works.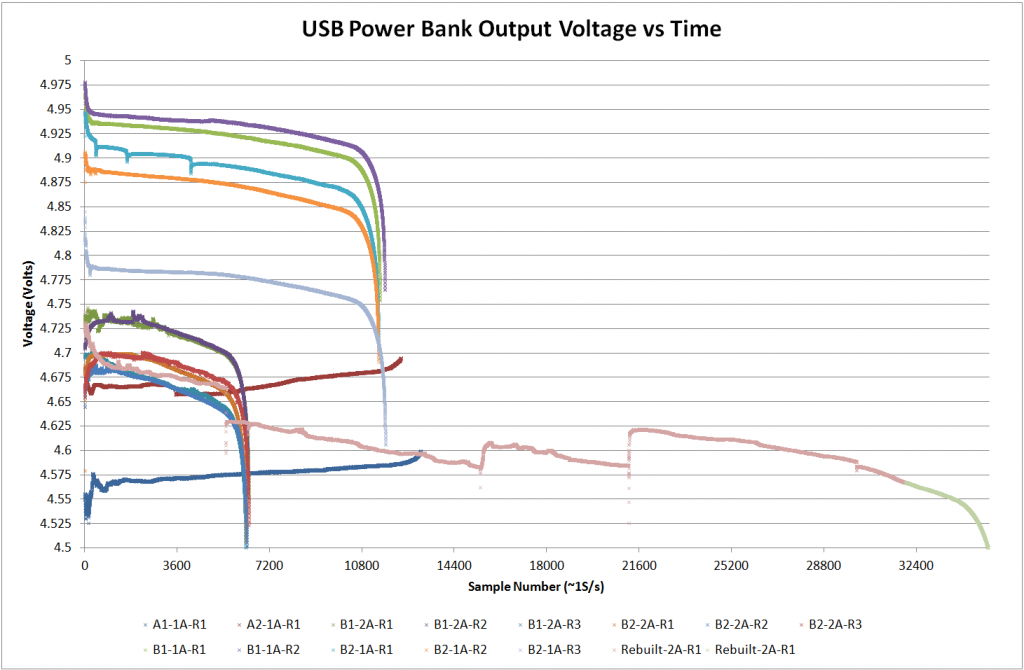 The output is a bit lumpy, but it blows the competition away at the 2A load rate. It took almost ten hours at the 2A (1.6A) rate to finish it up. At the 1A rate, I could easily be waiting for a bit longer. I think it's obvious why I couldn't afford to make multiple runs – there has been much interest in this subject, so I wanted to get the word out as soon as possible.
I'm not quite sure why the output is lumpy – this could be sudden changes in contact resistance in the USB connector when heating/cooling, and or it could be discrete stepping of the duty cycle/frequency of the switching converter (although, I would expect much smoother steps in properly designed converters). Interestingly, both packs seem to eschew the use of more conventional dedicated IC drivers, and seem to utilize OTP microcontrollers to do the work – so this "mystery" may come down to the code and or limited PWM/output resolution.
If you head back to the capacity result table, you can see that I've used the nominal capacity of the Panasonic cells (I trust them) to derive a converter efficiency percentage for the 2A rate. Applying this to the existing eight cell pack gives me a reading of 632mAh per 18650 cell in the original pack. Waste of space!
Checking out the Original Cells
Since the original pack was so worthless, I decided to take it apart and grab a cell to pull the wrap off, hoping there'd be some clue as to who was behind the mess.

But the cell is naked. I'm sure the manufacturer isn't proud of what they've achieved.

There is one difference to the cells – the ring that sits on the positive terminal is made of plastic rather than paper. Hmm.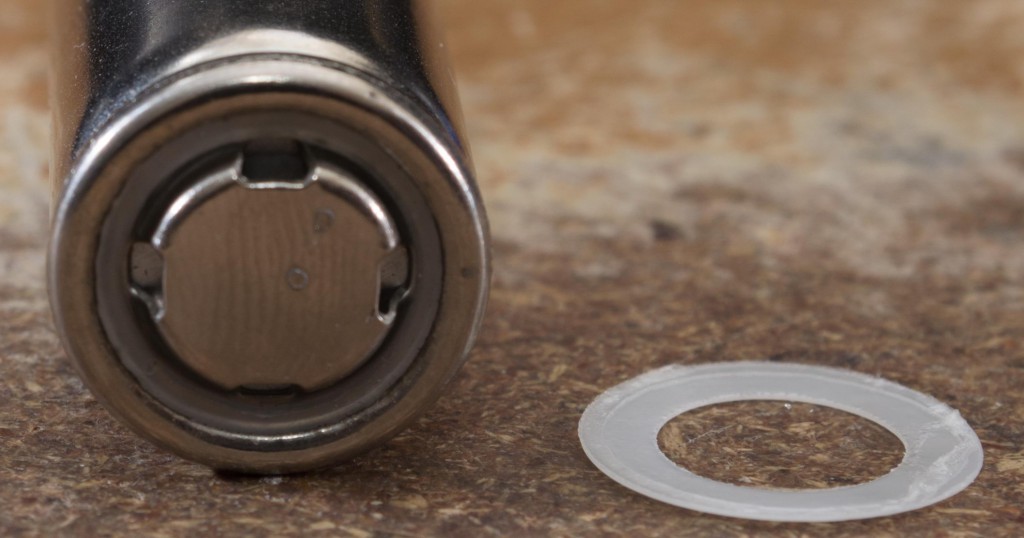 So there is such a thing as too good to be true. And it can be even worse than you were expecting, even if you were expecting a lie. Never underestimate the power of lies …