I guess today, I'm going to try and do a two-in-one post because the circumstances just so aligned. Another one of those UNSW Electrical Engineering salvage runs turned up this gem – a Pioneer CT-W430 dual cassette deck!
This was an Australian model with 240v input, and so the manual I found online didn't correspond one-to-one with what I was seeing.
When I saw it, I knew, I just had to have it. I'm not sure if some of my readers would be old enough to appreciate why this unit was so worth my while to salvage – so why don't you stare at the front panel for a little while and see if there's anything that catches your eye?
.
.
.
.
.
.
.
.
.
.
.
.
.
.
.
.
.
.
Okay, time's up. So what did you see that caught your eye?
Pioneer badge – well that was kind of obvious. But Pioneer was a highly reputed Japanese audio equipment company. This isn't going to be a "normal" average cassette deck.
It's a component system – it might be hard to appreciate but component systems were miles ahead for quality compared to their "boombox" and integrated counterparts. This included better transports, better signal-to-noise ratios due to no "hissy" amplification, as well as higher quality heads with better head-gap sizes to make high frequency playback and recording a possibility.
Dual Decks – always a handy feature for relay play, and tape-to-tape copying. High speed copying? Actually, that's not necessarily a good thing…
Level Meters and a Record Level Slider – do you remember having one on your cassette deck? If not, well then it wasn't a real cassette deck. Without a level meter, it's hit and miss when it comes to setting record levels on your tape – and this can mean the difference between a perfect recording, one that's severely distorted from over-driving too much, and one that's dominated by the hiss of the tape. Or worse – an AGC (automatic gain control) circuit used in voice-recorders that keeps changing the recording levels which screws up all the dynamics.
Tape Counter – this is another semi-common feature that's not really useful. Every counter is somewhat different, and sometimes they fall out of alignment too – so using it to index your tapes is a futile attempt. But worth a mention due to its mechanical nature.
Three Position Tape Selector – this is getting a bit exciting. I'm not sure how astute my readers were when it came to buying cassettes, but there were actually several types. Type I, also known as Ferro, was very common and cheap, but it was also fairly nasty when it comes to hiss and high frequency response. Type II, known as Chrome/Chrome Dioxide, was less common but was a common compromise for those who want better quality audio. Type IV, sometimes known as metal, was fairly uncommon due to its high expense and high coercivity, making it difficult to record on many cheaper decks. Type II and Type IV tapes required different bias (70uS) compared to Type I (120uS), and many decks were really only capable of Ferro only. Playing back Type II and Type IV tapes in those decks resulted in exaggerated highs.
Only the best decks have this kind of selector. Many intermediate decks only had two positions – one for Type I, and one for Type II/IV. There was a Type III but I have never seen it, I was told it was a mixture of Ferro and Chrome called Ferrichrome. Better decks use the notches at the top of the cassette to auto-select – unfortunately this one doesn't.
Dolby B, C and HX PRO – now this is exciting. Dolby nowadays is synonymous with an audio encoding (Dolby Digital) and surround technology (Dolby Surround), but their real expertise was in Noise Reduction.
Dolby B was a common form of noise reduction employed on pre-recorded cassettes and worked by companding the higher frequencies where the hiss would become intrusive (i.e. pre-emphasising on recording to increase a signal above the noise, and then de-emphasising on playback to reduce the signal back to the regular level, thus reducing the noise as well and improving signal to noise ratio at the expense of dynamic range and artefacts from companding especially when adaptive).
Because of the way companding worked, the recording with the pre-emphasis needed to be played back on a player with the same Dolby de-emphasis to sound faithful. Many of the cheaper boom-boxes which were common did not have such Dolby circuitry, thus all Dolby recordings sounded somewhat tinny as a result. (This was their claimed compatibility – that Dolby B emphasis wasn't so strong as to make it too annoyingly tinny, thus was compatible with "non Dolby" playback. Dolby C was "equivalent" to two Dolby B systems back-to-back, and so made things worse when played back "non Dolby").
Dolby HX Pro is something different altogether – it's a system which helps extend the headroom on tape (and is thus useful only when recording). This means that it can allow for higher loudness peaks to be recorded faithfully, and works by adjusting the bias (normally a fixed AC level supplied to the heads which "loosens" the magnetic media by overcoming the magnetic hysteresis so that the audio signal can be faithfully recorded, but the bias signal itself isn't retained by the tape). The technology recognizes that in "loud" transients, the bias signal wasn't really necessary as the signal was "self biasing" to an extent, so the bias current is turned down in those parts to improve the recording of loud transients.
All that being said, it was a university tape deck, so it probably had a very hard life in a lecture theatre somewhere, and it wasn't a Nakamichi (the "gold" standard for cassette decks)! But it was still worthy of my admiration – after all, the next best unit of mine is an old Technics deck with only Dolby B, slightly fast capstan drive and broken bias generator on one channel.
So lets take a peek around before we start reminiscing about the Compact Cassette …
A quick peek around the back reveals the flex power cable, input and output RCA connectors (with quite oxidised shells) and the regular patent licensing blurb that all products incorporating Dolby have.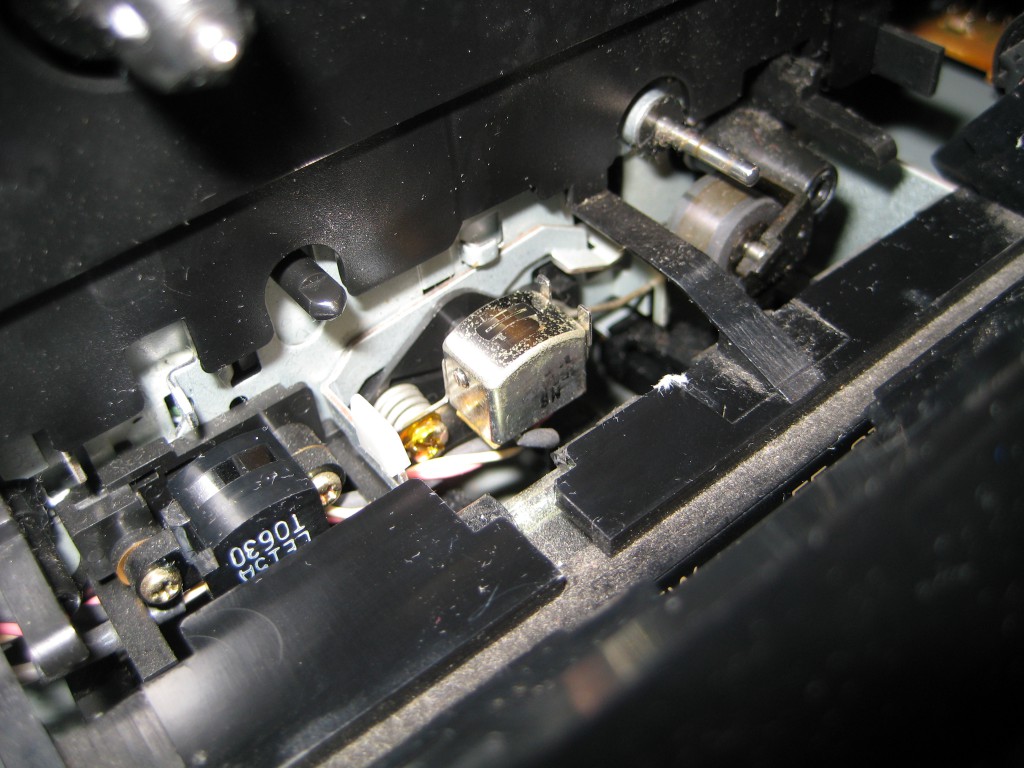 A peek inside reveals that the tape guide on the erase head seems to have fallen off and is rattling inside. I took it out since it's metal and could cause shorting. But a look at the head seems to show that the smooth surface of the head is long gone, instead, replaced by oxidation spots. No amount of rubbing with ethanol could get rid of it – but it wasn't rough enough to concern me. The pinch roller has seen better days, the oxide stains show just how much tape this machine would have "processed" in its lifetime.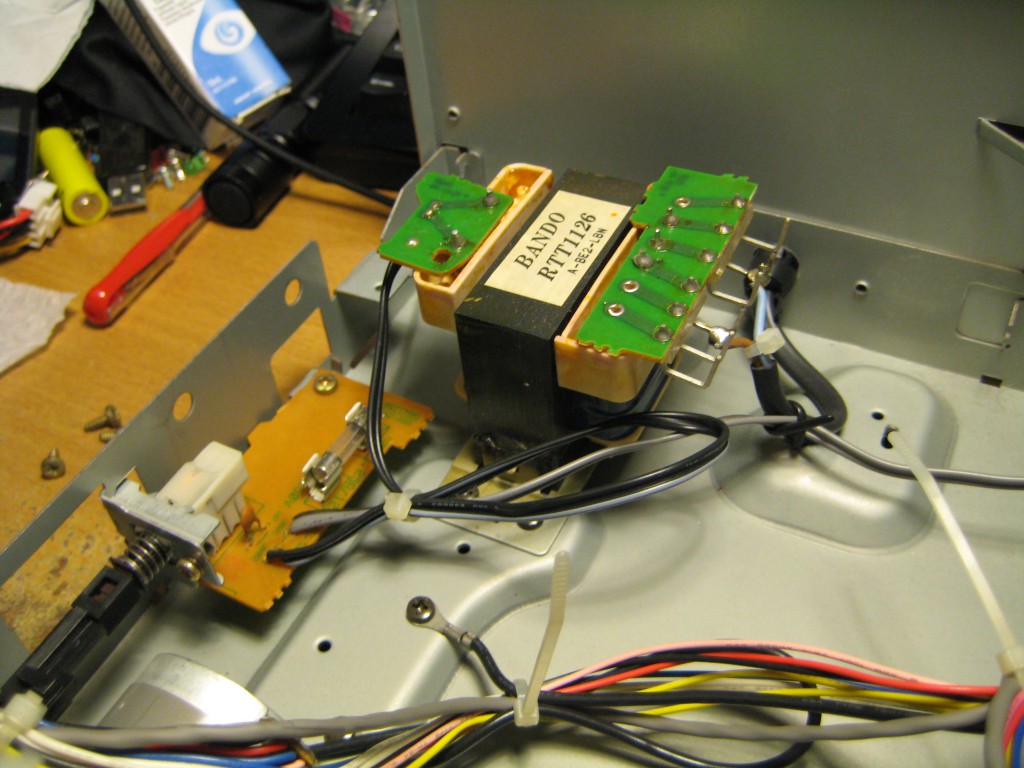 The power input is very unusual. The mains flex is directly connected to the primary of the transformer – without a fuse or any intervening device. Seeing that the transformer looks fine, this deck is pretty much safe and ready to go! The fuse pictured is on the secondary, and is intact. Another good sign.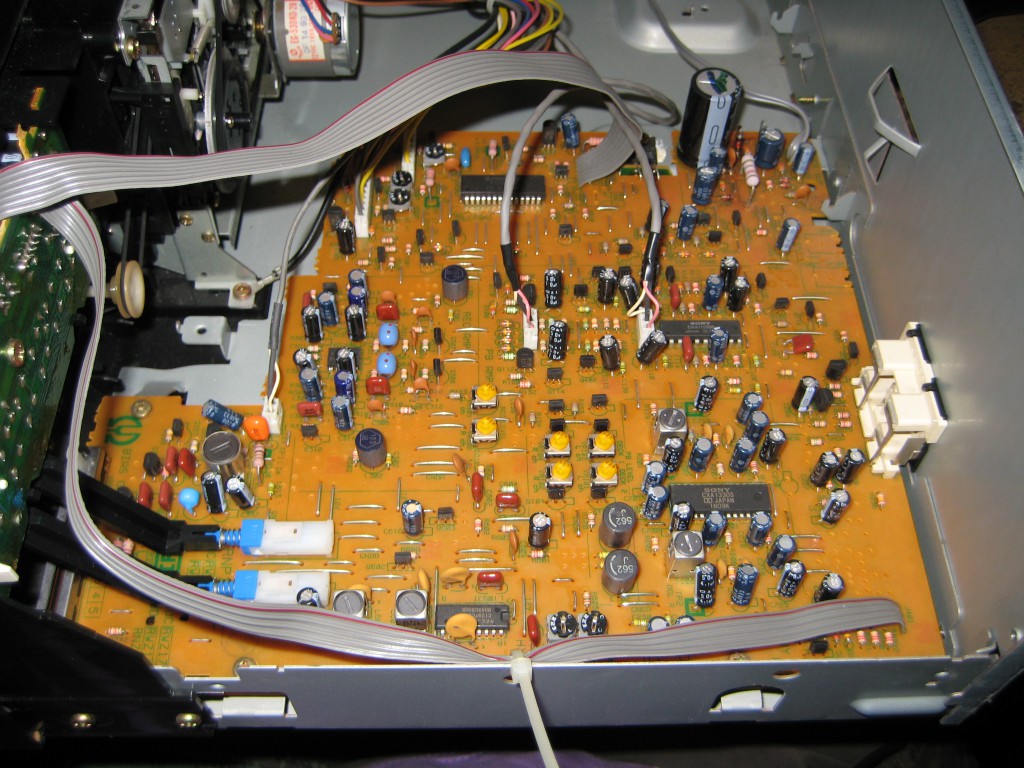 Inside is mostly empty, single PCB containing a few Sony and NEC branded chips. The Sony chips have the Dolby symbol on them, so I guess that means the intellectual property is in the chips.
The front decks have independent DC motors (other units have used a single motor to power both mechanisms). The belts are easily visible, and definitely need changing – just look at the dark residue from the worn belt. The deck hasn't been used much, so the belt itself is slightly lumpy which may manifest itself as "wow" in the audio (i.e. subtle instantaneous variations in tape speed).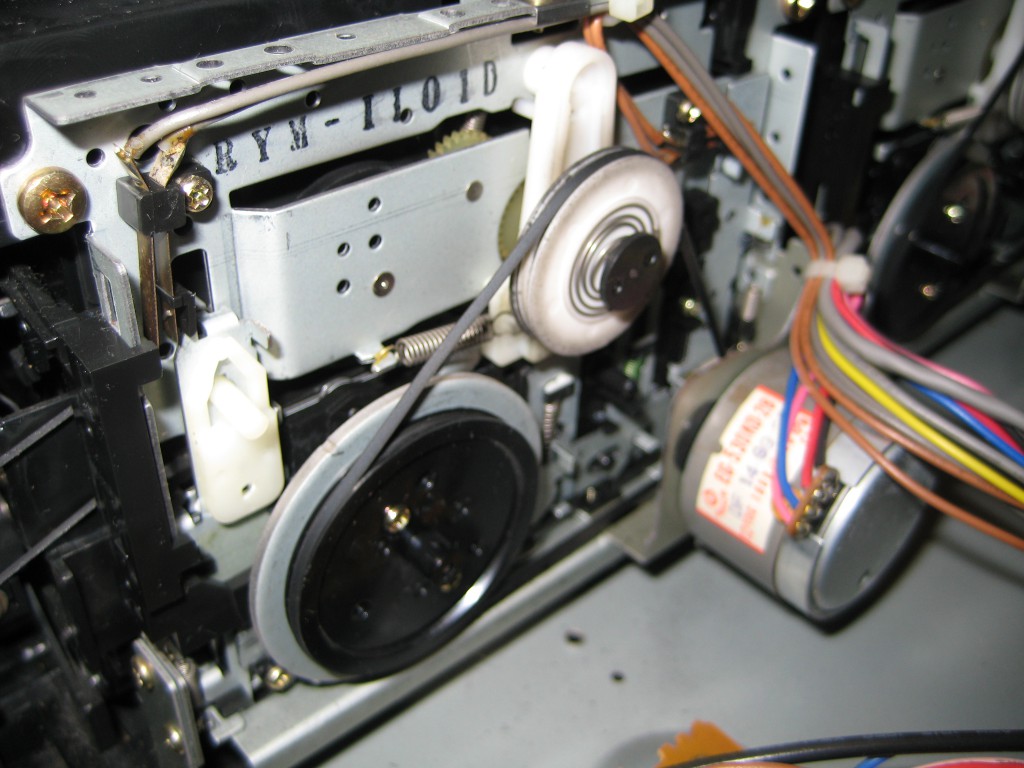 Compact Cassettes
Now it's time to go back a bit to the media used – the Compact Cassette. I grew up with them, and I'm no stranger to unscrewing the shell and repairing chewed tape by splicing. Many different brands of cassette existed, the shells and the outsides having unique design. In fact, I even scanned some of my cassettes to contribute to Project C90 – the project to collect scans of various cassette shells!
They were initially made for dictation purposes, the small magnetic media size and slow tape speeds were nothing compared to reel-to-reel (apparently). But not having experienced the "inconvenience" of threading reel-to-reel and the quality of reel-to-reel, I can't judge. But what I do know is that the Compact Cassette wasn't great, but it was definitely suitable for music in the end.
In fact, being the change resistant type, I actually stood steadfastly preferring the Compact Cassette to CD! I valued the ability to conveniently record, erase and re-record my media inexpensively. I also valued the ability to listen to my media on-the-go – unlike discmans, walkmans never skipped, although if they did, you probably had a chewed tape and need to get out the splicing kit and screwdriver.
The generational loss from copying, the constant hiss, and the poor frequency response were all good reasons to hate the Compact Cassette, but it really took online file-sharing and CD burning to start making the Compact Cassette irrelevant. Sometimes, I still like to use it for dictation because when the batteries run out, at least you don't lose your recording.
Of course, nowadays, even audio CDs are beginning to lose relevance, but I can definitely say (as a codec tester as well) that compressed digital music sometimes really sounds like trash.
It is only now that I realize that my criticisms for Compact Cassette are probably because I only had boomboxes and Walkmans, and almost exclusively used Ferro tapes! It's the same as criticizing digital photography for being rubbish when using a $20 camera.
So we must feed it good stuff. I've been saving this cassette for a long time, but today, I regretfully am unwrapping it. It is a limited-edition TDK Super Avilyn (SA) Type II Chrome cassette. In fact, nowadays, good cassette media is very difficult to find – good media can fetch high prices, even used, on eBay. Maybe I should clear out the shop I where know still has some stock of these … Generally regarded as "good" media, though maybe not as good as their marketing blurb wants you to think (and not as good as SA-X and Type IV cassettes).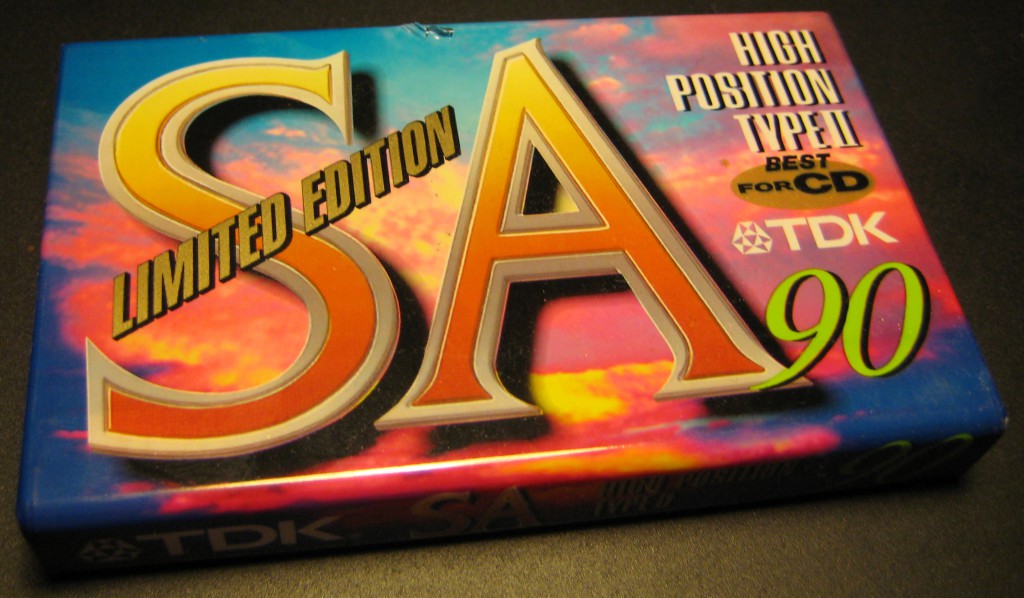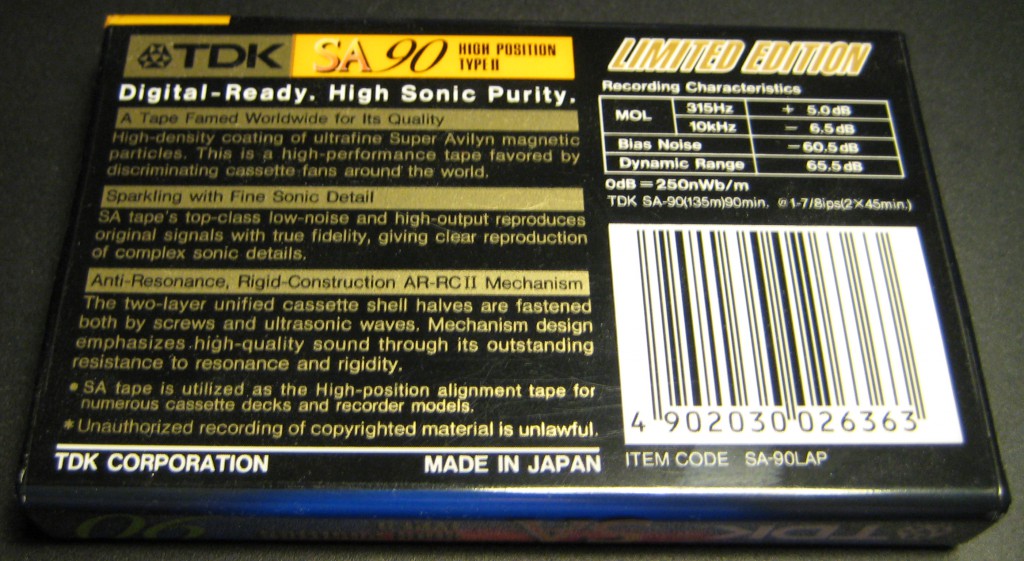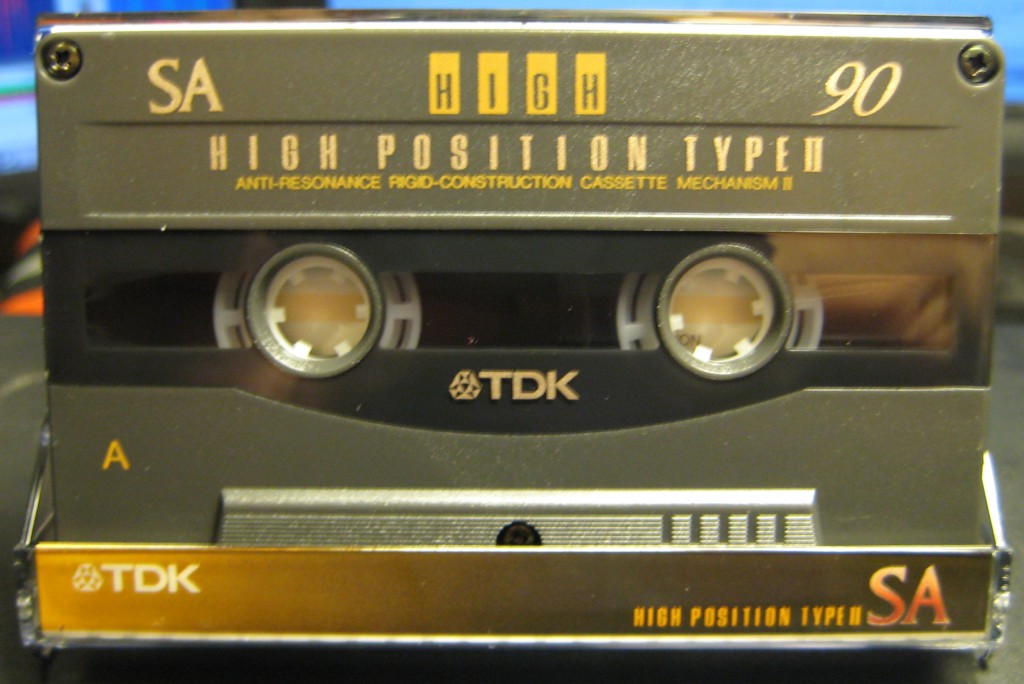 Of course, if one still had the choice, I'd be happy to choose Maxell, That's, Sony, TDK, BASF as quality media to use.
So why don't we try an experiment?
Here are seven samples of an excerpt from Skrillex ft Ellie Goulding – Summit. Sorry for the choice of music – I'm no fan of dubstep. There's a good spectral and dynamic distribution in this particular excerpt which would make it better for this experiment.
Of course, I will say here that this is non-commercial (I pay to run the site, and the ads are a futile attempt to cover the costs of running the site, but don't yet seem to be successful) – ultimately, I believe the 44 second excerpt qualifies for fair use for educational and illustrative purposes, and it is ultimately the reproduction of the song from different media with different settings that is the art, not the song itself. Of course, I could have used test tones, but who would want to listen to them all day?
Now, buried in these seven samples is the original version. It is quite easy to differentiate. There is a "low anchor" of a simulated Ferro cassette – which should be quite easy to identify. The others are Dolby B, Dolby C, Dolby B playback on non Dolby deck, Dolby C playback on non Dolby deck. See if you can identify them all?
All of them have had their average volume level tweaked so that they are all identical to reduce bias due to volume level changes, but there are subtle length differences due to cassette speeds being inconsistent. If you want to do it properly, ignore these and don't use a spectrogram. Everything is in WAV so there's no compression artifacts to colour the results. I will give you all the answer at the end, so don't worry!
So, listen to them all and decide which is which. Decide what sounds good, and what doesn't. The answers may (or may not) surprise you!
.
.
.
.
.
.
.
.
.
.
.
.
.
.
.
.
SPOILER ALERT!
.
Okay. Time's up. The answers are:
Sample 1: Chrome Cassette with Dolby C and Dolby HX
Sample 2: Chrome Cassette with Dolby B and Dolby HX
Sample 3: Chrome Cassette without Dolby (but with Dolby HX)
Sample 4: Chrome Cassette with Dolby C but played back as non Dolby
Sample 5: Chrome Cassette with Dolby B but played back as non Dolby
Sample 6: Lossless Original (but scaled for volume)
Sample 7: Simulated Ferro Cassette (as I would have experienced from my Boomboxes/Walkmans)
One thing you would have noticed is that I didn't do a good job randomizing the samples. That was almost deliberate. You would have expected me to randomize them … but I didn't. Call me lazy.
But if you listen to them all, it is clear which the original is, but it's also clear that chrome cassette with its matching Dolby mode sounds pretty good. Hiss isn't audible, frequency response is decent to 17-18khz. When it is played back as non Dolby, the exaggerated treble is somewhat evident. The simulated Ferro brings back memories though – that's how I thought cassettes were when I was young – but they are better than that.
Going through this experiment, it was clear that despite the hard life this deck had, the deck is still serviceable though in need of new belts. Recording levels are definitely important – for Dolby, one must remember to peak at +3db rather than at +0db. Aside from that, it was a good salvage and a reminder of just how good proper cassette decks can be.
I guess this is a fitting send-off to another old piece of technology – the Compact Cassette.