Kogan Mobile is one of the hottest new-entrants into the mobile virtual network operator (MVNO) market. There are many MVNOs on the Australian market, including Virgin, Amaysim, Boost, Crazy Johns, Dodo, TPG, Pennytel, Live Connected, Red Bull Mobile, Lebara, Lycamobile, GT Mobile, Hello Mobile just to name the ones I am aware of from the top of my head. All offer discounted rates to compete with the big ones – Telstra, Optus and Vodafone, and many offer special discounts for within-network calling and or cheap international rates (by offloading calls over their own VoIP network).
Kogan Mobile distinguishes itself from the rest of the market by being on the Telstra network. Traditionally, most MVNOs are on Optus and Vodafone as the Telstra NextG network had firmly been closed to resellers until only recently. Despite being on the Telstra network, the prices are extremely competitive. Here's an extract from their website: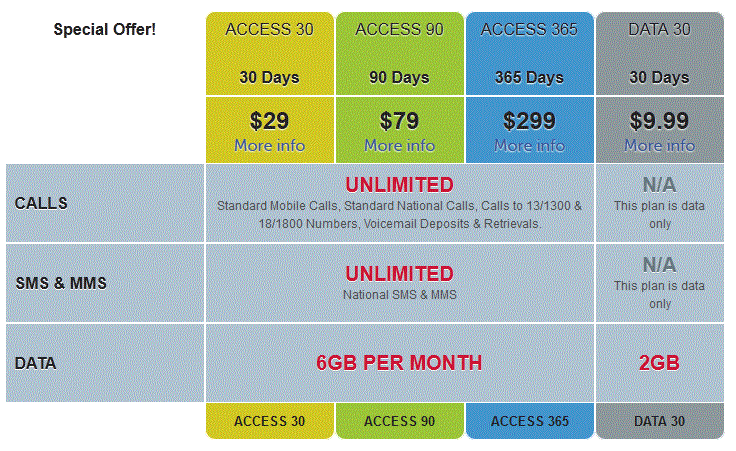 Those opting to pay for a year in advance will see about $25/month in costs for unlimited calling and texting in Australia with 6Gb of data (more than enough)! Those only needing it for data will see $9.99/month for 2Gb which is cheap. Consider that Amaysim charges $9.90/month for just 1Gb over Optus, which I had lots of drop-outs and poor throughput on. The cheapest Telstra offering is $180 for 12Gb in a year, giving you 1Gb/month for $15.

Before anyone says anything – no, I am not paid to advertise Kogan. I just think this would be of interest to many of my tech friends, as 3G data has always been rather expensive and is something I consider a necessity whenever I'm out.
So, with all good stuff, comes a few catches:
Waiting for SIMs can be a bit of a trial. It takes about a month, if the backlog isn't too long. I had two SIMs lost in the mail, and it took a significant amount of persuasion and dispute-raising with Paypal to get a response from them. And I find out now, it'll be another month till I get my two replacements. At least I have one.
SIMs are available in mini and micro combination (for most people) or nano (for the latest Apple users) – you have to be careful to order the right one!
The SIM may be free, but shipping and handling is $4.99. And if you order multiple, there is no discount – and they'll send it in the same envelope. A bit of a rort, but at least they include some starter credit – 100 minutes calling, 100 free SMS, and 100Mb of data (over 7 days – this latter fact is not widely advertised!)
Support is the bare minimum – people have reported slow porting, slow responses to support requests. Of course, if it works, who needs support? Most actions are self-serve online, or via phone – and in general, it works and balance updating is fairly snappy.
Activation requires more information than every other provider I've tried (and that is many). You need to enter your driver's license, medicare card and credit card numbers during activation.
Activation is decidedly manual – you submit your activation online, and it takes hours for them to activate your service. They claim 1-4 hours, but if you're like me and decide to activate it at 2am because you can't sleep, you'll have to wait till morning before it's done.
Recharging is via credit card or PayPal online. There are no vouchers for Kogan to my knowledge – but seeing as Visa Debit and PayPal are fairly popular, this shouldn't be a problem for the more tech-inclined. Auto-extend service is on by default – if you don't want to have your service automatically renew, make sure you untick the box.
Data is charged in 1Mb sessions – so don't keep turning your data sessions on and off to avoid eating up your credit.
It has been said, but not confirmed that resold NextG services are speed limited compared to Telstra's offering. It has been mentioned that this limit is 7.2Mbit/s, and there is no provision for connection in 4G mode.
You must choose to port in the initial signup, otherwise you will get a new number.
If you get a new number with them, you don't get to choose your number. You'll be told what your number is in your activation e-mail.
Prices are special offer – many MVNOs do this, they set a price, and they grab the customers – then they change their prices. So don't be too disappointed if this "deal" doesn't last forever.
So, what's the biggest consideration you ask? It's whether your phone can use the Telstra network at all! Blame it on the cheap mobile phone manufacturers – many of the cheaper lower end phones only support a limited number of bands on 3G/UMTS mode. To utilize Telstra services in 3G mode, you really need a UMTS 850Mhz capable handset. Most Optus handsets are only capable of UMTS 900Mhz/2100Mhz and will instead connect to Telstra in EDGE mode resulting in excruciatingly slow data speeds, however, calling and texting will still work as normal. Of course, if you're rocking the newer, more premium smartphones, you may have a world-band setup (850/900/1900/2100Mhz UMTS) so you don't have to concern yourself.
According to Kogan, these are the APN settings:
Combined Data and MMS setting
Name: Mobile Data
APN: mdata.net.au
Proxy: (blank)
Port: (blank)
Username: (blank)
Password: (blank)
Server: (blank)
MMSC: http://mmsc.mdata.net.au:8003
MMS proxy: 10.1.1.180
MMS port: 80
MMS Protocol: WAP 2.0
MCC: 505
MNC: 01
Authentication: (blank)
APN type: default,dun,supl,mms
It's obviously not telstra.internet which is what you would expect with a Telstra service. It appears they may be operating their own APN.
So what if you're already on Telstra, with a Telstra Wi-Fi modem? Can you go to Kogan? The answer for me is YES!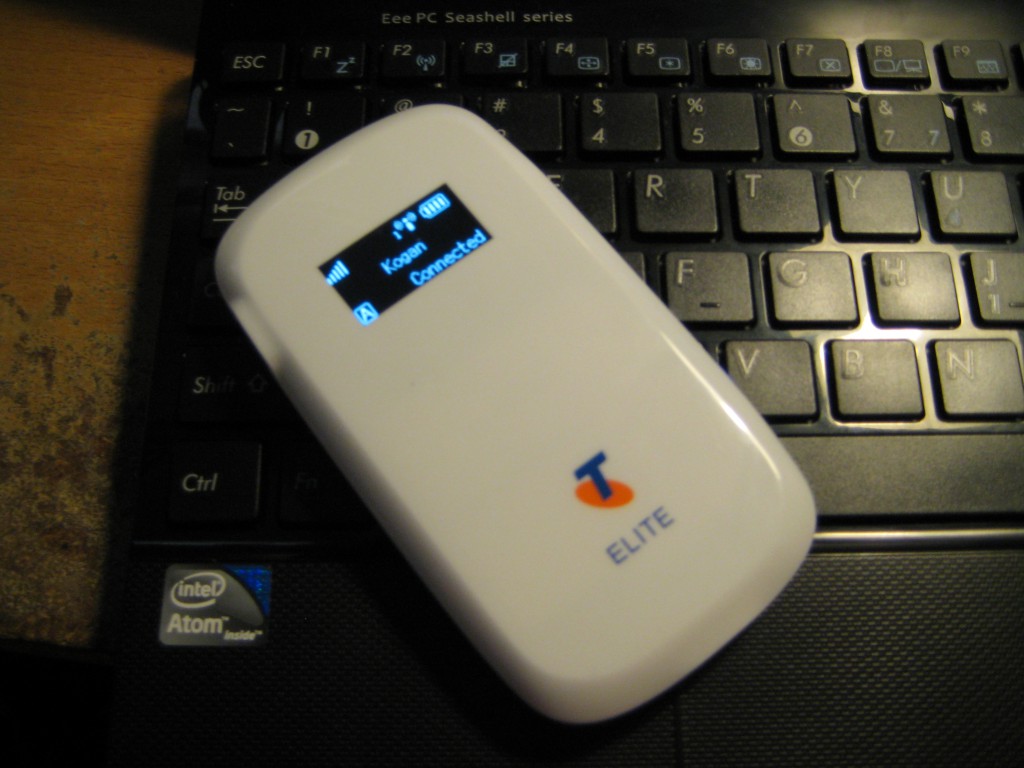 In fact, I didn't even need to reconfigure my modem – it connected with telstra.internet as the APN with no problems, and the accounting on Kogan's webpage updated accordingly. The modem is supposedly locked to Telstra – this indicates the modem has been network locked, but not sub-net locked – so if you have a locked Telstra phone or modem, by all means TRY out Kogan Mobile!
Of course, in the future, the ability to access the internet through the telstra.internet APN may change, but one can reconfigure the APN on these modems by first logging into the modem's webpage, manually disconnecting the connection, creating a new APN profile, and making it the default. This even seems to work with locked modems.
In fact, I guess it's not a bad deal to pick one of these modems up from ARC Computers for $69, with 5Gb of data (seems like they're out of stock), chew up the data and then move to Kogan.
So lets take a look at performance:
Telstra is on the left and Kogan on the right. Modem used was the ZTE MF60 as above, 21Mbit/s download capable (in theory). Testing client is the iPad (original) running the Speedtest.net app, server manually chosen to be Telstra Sydney. Note that Telstra is still faster than Kogan, but Kogan is pretty usable. The large difference in latency is replicable over several testing runs – and the tests were performed from the same location within minutes of each other. I can't say I'm disappointed because Optus is much worse – 1.2Mbit/s download is common for me on Optus via SGSIII tethering.
On Kogan, the IP address allocated to me for that session was 101.171.42.167 with no reverse record. On Telstra, it was 101.170.255.226, also with no reverse. The closeness of these IP ranges suggests that Telstra is managing the service and providing it all the way from customer to the transit point.
The increased latency, however, suggests that Telstra may be passing the traffic off to Kogan's own APN to handle, but the allocated IP blocks suggest otherwise. I guess we will find out more as time goes on.