It's been oddly quiet around here for a bit, but don't think for a second that I've been slacking off. As blogging is a leisurely activity of mine, it means that I've been too busy for a variety of reasons to put anything up – and as a result, this is going to be one of those mammoth random posts. This time around, the majority of the focus will be on Transport Sydney stuff, which many people might not be interested in so they're towards the end. That's why I've made the headers nice and bold as well ;).
Alexa Statistics
It's not like I've done anything particularly special lately with this site, but interestingly, my estimated Alexa rank has jumped quite a bit, peaking below 750,000, a figure which was much better than I expected. It might be a sign that I'm finally accruing some inbound links!
element14 Webinar
The webinar I was scheduled to hold on the 1st April at 1pm at element14′s offices in Chester Hill went rather well for the most part. It seems that people have enjoyed it, with it making Electronics News' front page.
The recording of it is now online here, where you can watch it if you missed out or want to re-watch it. Unfortunately, due to limitations in the system and the camera used, the image quality was a bit limited. The audio also was via Cisco Webex via telephone, so again, the quality isn't perfect. I did initially get distracted and started staring into the corner (as there was some live-comments from viewers) – probably shouldn't do that next time!
Anyway, it was a rewarding experience, and there might be more to come! I should really start up a section on this site with my publications and appearances – I'll get around to that one day!
element14 Store Slow at Night
As I've been getting more involved with element14 over time, especially doing some product research and shopping, I've realized that the site's performance drops off significantly at night in Australia. I'm with TPG, and I know they're not the best, but most other sites are quite responsive. I did a quick traceroute with PingPlotter to find out why.
From the plot, you can see a fair amount of packet loss in the path – the majority happening in the eurorings link between San Jose, California and (presumably) Chicago. Mystery solved, but the answer is basically "nothing can be done" unless I'm going through another internet connection, or over a VPN.
Ziphosting SQL Server Woes
The past few weeks have seen occasional 5-15 minute outages of MySQL service for cloud hosted sites (like this one). Unfortunately, it seems that it can happen quite often at times, so if you can't get to this site or it seems slow, try again later! Lodging tickets don't seem to change anything however … as their status.ziphosting.com.au often reveals it as being down. I'm seriously contemplating a change once my term is up …
Aldi Mobile's New Plans are Live
As expected, the beginning of the month saw Aldi Mobile's new plans go live. A subtle change was made to the accounts section where a new plan selector was unveiled. As a regular user of the 2Gb data pack, this is what my account section shows:
Notice how my average 30 days usage is 1939Mb which is just below the 2048Mb of the 2Gb data pack? Clicking on the link gives me this:
Uh hello? It only comes with 1Gb of data? Pssht. And it's $30 too, compared to the $15 I used to pay. In other words, it's of no help, just as I expected. It does annoy me that I had found something that suited me only to have it pulled out from underneath me. Not the first time it's happened …
April Fools – Google Maps Pokedex
It turns out that April Fools had passed by between my random posts – the most memorable was the Google Maps Pokedex, where you could collect Pokemon by browsing the map and tapping on sprites.
It's mindless, but it's also quite cool to see them putting in the effort to make something amazing like this. There was also Translate to Emoji in Chrome Mobile.
I ended up with 113/150 before I decided to call it a day. Thanks for the fun Google!
OpenSSL Heartbleed
One of the biggest tech news events this week was the discovery and publicizing of a vulnerability due to a coding error in OpenSSL which allows memory segments to be divulged to an attacker. This has the potential to reveal secrets and keys, and is remotely exploitable.
Unfortunately, as is the case with Open Source software, there has never been warranties either express or implied, and despite the chain of reviewers for code commits, the error was missed. Considering it's free software, it would be wrong to expect it to be without bugs or fit for any purpose really, but its wide deployment means that its impact is quite significant.
There has been some speculation that the NSA may have exploted this vulnerability, although they have since denied it. Regardless, it has been suggested that users of affected services change certificates and passwords.
I especially like XKCD's two comics about this: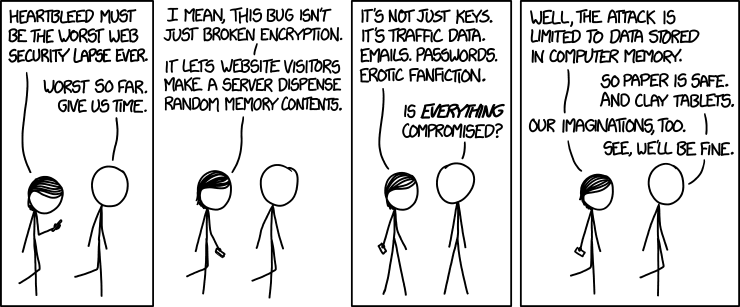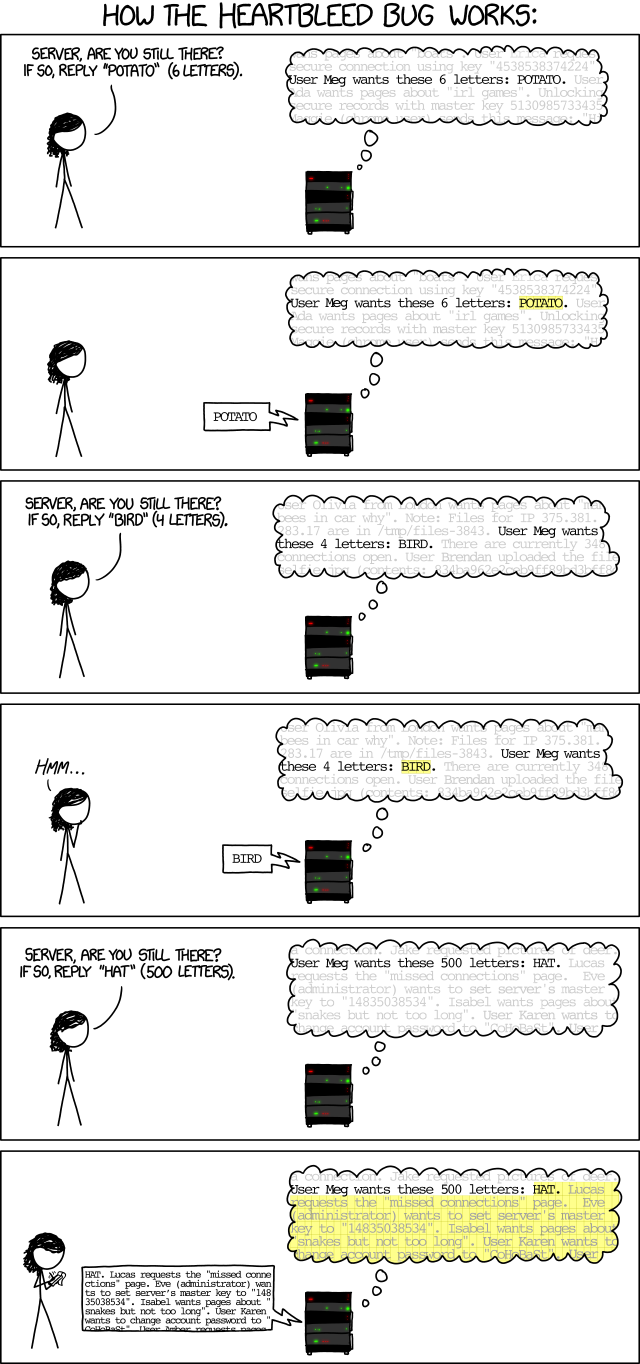 Just goes to show, you can't rely on anything to be bug free, but at least, it seems security researchers and coders are picking up on them and fixing them – hopefully before too much harm is done.
Another AudioTechnica ANC Headphone Dies
Ever since the introduction of the original AudioTechnica ANC7 Active Noise Cancelling headphones, I've been a fan of them for travel since they really do cut down on the noise and makes my public transport a lot less stressful. My first set lasted a good four years, before finally suffering nasty crackling in one ear (not cable related) which meant that it was time to retire it.
It was replaced with the upgraded ANC7b which featured better comfort and higher levels of noise cancelling, however, after just thirteen months, the unit developed a strong hum and whistle feedback in one ear which rendered it unusable. It also liked to pick up and amplify radio frequency signals and impulse noise, as if there may be broken shielding somewhere. As I had bought it "grey import" with a twelve month warranty, this one was also a "throwaway".
I upgraded once more, to the premier ANC9′s. Unfortunately, after just five months, these have decided to go completely dead in one ear, with no sound or noise cancelling, just a low rumble.
I've since had to revert to a pair of ANC23 noise cancelling earbuds, which are less comfortable and less capable (sound too bassy, and also sound like someone has put a treble cut filter on them), but they seem to be working just fine while my ANC9′s undergo the RMA process. I get the distinct feeling, however, that the build quality may be slipping on AudioTechnica products, and it saddens me because they're the ones I prefer right now. They have a clean-ish analytic sound signature which suits me well.
With any luck, the RMA will be completed swiftly, as I miss my noise cancelling headphones!
Another Week at UNSW
It's been another busy few weeks, doing full time research at UNSW. It's not been helped by the gloomy weather Sydney has been experiencing. That being said, there's a few things around UNSW that seem to be interesting.
It's been a while since I've seen fire engines on campus, attending to yet another false alarm. I did mention a video traffic survey, which packed up, but apparently UNSW seems to have its own which involves some PVC plumbing and a round cylinder.
There are also new sensors which seem to be attached by twisted pair cables, which sit overhead popular walk-way entrances and exits from the uni – these might be ultrasonic based pedestrian sensors?
I also noticed a Liftronic-SJEC lift with a broken lift button. Inside, is merely a pair of microswitches, four LEDs and a few surface mount resistors and a diode.
I also managed to find this one under a Telstra Payphone – never knew they had a 21v 2A power supply!
Another interesting thing is the deployment of new Cisco Wireless AC capable APs. The new APs can be distinguished from old ones as the indoor deployments have a more "sculpted" body in the shape of an X, like so. The outdoor deployments feature a new external antenna that has the same profile as the old 3 x 2 antenna deployment but doesn't actually show each individual antenna unit (it's like it's been boxed in).
On the way to uni, at the 7/11 corner Todman Avenue and Anzac Parade, there is now an Australia Post 24/7 outdoor parcel locker! I've been aware of the service sometime last year, but I've never passed by or seen one myself. This is a service which gives you an address you can have mail which is non-signature-required delivered to, for you to pick up 24/7 (but with caveats, of course). Apparently, it's modeled upon how some European postal agencies work.
Opal Card Progress
This Friday was a milestone for the Opal Card, now having been rolled out across the complete Ferry and Train services, covering all the suburban and NSW Trainlink stations. The buses are still under trial on a very select number of routes, for full deployment by end of 2014. Light rail may take into 2015.
I did notice this short-variant of the Opal tap on/off pole deployed at a few stations – I'm wondering why more of them weren't this shorter variant. They could have saved a lot on stainless steel!
Adshel "Digital Network"
There were a few video-signs around stations which were advertising Adshels' new digital network. But what does this really mean? It sound spiffy but it means this …
A large, LED based display board installed at Wynyard but before commissioning. This is driven by a cabinet nearby with a media player, a few fibre-optic ins and outs, and a UPS.
The result is visible at Town Hall.
A sign so blindingly bright that it's hard to ignore. It's literally burning. When the camera has it's exposure adjusted correctly for the sign, everything else seems dark in comparison.
So, in other words, it's just a new electronic signboard which is blindingly bright and will throw you more advertisements. Nothing to get excited about at all!
Station Upgrades
I've noticed that Central Station is in the middle of an upgrade which has resulted in scaffolds around the side, and a replacement of most of the lights inside the concourse with something more interesting. Sometime earlier, they had repainted all of the steel beams as well.
It seems there's been quite a bit of investment into public transport, as many stations are having upgrades. For example, Granville has an upgrade coming for it really soon, via the Transport Access Program. I was handed a colour lasered leaflet about it which states that a new commuter carpark will be built with 40 additional spaces, two of them accessible, new bus interchange with new shelters, footpath, landscaping, toilets and improved lighting and CCTV. Construction of the relocated bus stops will start 14th April, and they will commence service from Thursday 17th.
Granville has also seen the installation of Tap and Go readers at its ticket windows. I've also noticed that near Cheltenham station, there is some new solar-powered LB Foster trackside equipment, likely a lubricant applier of some sort especially as the area is relatively curvy. Interesting to see solar power used on railway applications.
Another thing I've noticed is the use of headlights on trains running in the suburban area. It used to be a rule that they were switched off, but instead, now they seem to be running with them on, rather than off.
DTRS Sites
I mentioned in some earlier postings about the DTRS GSM-R deployments, although upon further inspections, it seems I may have been mistaken. The site at Granville has three antennas by two tiers, the one illuminating up the Carlingford line was hidden by the mast. It seems that there are different configurations after all, but it's easy to tell the GSM-R ones apart by the four-cabinet base station arrangement, the way the antennas align to the lines, and the shape of the antennas. It's also prudent to note there are no "toaster" like MIMO antennas used for 4G on those same masts, and they're always in railway land.
I noticed this one at the wye near Lidcombe and Aubrun the other day, the graffiti on the BTS is very appropriate.
I took a few more trips around parts of the network and I found a few more sites which I've plotted here. One day I will travel more of the network and find more, however, it doesn't seem there are many up north at the moment.
Wooden Escalators at Wynyard and Town Hall
In conversation the other week, one of my friends was talking about the wooden escalators at Wynyard and Town Hall. They seem to be some rare working examples of early escalators from the 1930′s which seem to still be in good working order. I visited them, but wasn't able to get any good photos of them.
There seems to be two long ones at Town Hall and four long ones at Wynyard. It was quite a sight to see them in working order – I hope they remain working and maintained well into the future, even though I have a phobia of long escalators.
TfNSW: Central Station Free Wi-Fi
It seems I'm a bit late to the bandwagon for this one, having been announced 9th July 2013, but normally when I'm around Central, I'm on my own 3G. I remember trying it out when it was announced but it never worked. This time, I decided to give it another shot.
The network itself is a captive portal system, which only requires for acceptance to initiate the session. Unfortunately, I found it to be very unstable, almost unusable, so I reverted back to my 3G.
The terms and conditions were, when I visited, as follows (inclusive of all spelling errors):
Free WiFi hotspot at Central Station

Terms and Conditions
Welcome to the free Central WiFi hotspot (Hotspot) at Central Station.
Access to the Hotspot is provided to you free of charge within Central Station by Sydney Trains.

Logging in and out

You must not use the Hotspot if you do not have the express permission of the lawful owner of the relevant WiFi-enabled device.
You are not required to pay any fee to access the Hotspot. All you need is a WiFi-enabled device.
The Hotspot can only support a limited number of users accessing it at any one time therefore Sydney Trains does not warrant that you will be able to access the Hotspot immediately.
All you need to do to log out of the Hotspot is close your Internet browser or type 'logout' in your browser address window.
You will automatically be logged out of the Hotspot if:
your access is terminated by Sydney Trains in accordance with these Terms and Conditions;
no activity is detected from your WiFi-enabled device for a continuous period of 10 minutes while logged on to the Hotspot;
you are outside the coverage of the Hotspot;
you exceed the upload/download limit of 100 MB per Hotspot session;
you exceed the time limit of 120 minutes per Hotspot session.
Sydney Trains has the right to change the upload/download limit and/or time limit at its own discretion. If you are in the process of downloading a file and you are logged out of the Hotspot, your partially downloaded file will not be recoverable.
Sydney Trains does not provide power, information technology advice or assistance to any user of the Hotspot.

Speed and reliability

The speed and throughput of the Hotspot will vary depending upon:
the capabilities of your WiFi-enabled device;
the location of the WiFi access points within Central Station;
user traffic on the Hotspot and the Internet generally;
wireless signal interference.
Sydney Trains will use reasonable endeavours to provide you with reliable, stable and secure access to the Hotspot, but does not promise that any such access will be continuous, fault free, secure or accessible at all times. As such, Sydney Trains will not be liable for any loss, damage or cost suffered by you if access to the Hotspot becomes unstable, unsecured, slow or unavailable.
Sydney Trains will use reasonable endeavours to monitor and attend to any faults, malfunctions or other problems associated with the Hotspot, but will not be liable if such faults, malfunctions or problems occur and will not be obliged to rectify any such faults, malfunctions or problems.

User obligations and limitations

Sydney Trains, in its absolute and sole discretion, reserves the right to limit or block any websites and/or content that you may seek to access via the Hotspot, including websites and/or content that:
could cause Sydney Trains to be in breach of any law or incur a liability;
could interfere with the integrity and/or performance of the Hotspot and/or Sydney Trains's other networks and equipment;
depicts, alludes to or promotes offensive or illegal behaviour;
contains adult content and/or violence or contains links to adult or violent websites;
uses sexually suggestive imagery or any other inappropriate, misleading or deceptive content;
promotes conduct that is abusive, threatening, obscene, defamatory or libellous ;
could infringe another person's privacy;
promotes an illegal or unauthorised copy of another person's copyrighted work, trademark rights, moral rights or other intellectual property rights;
involves the transmission of 'junk mail', 'chain letters' or unsolicited mass mailing, instant messaging or 'spamming' whether or not in breach of the Spam Act 2003 (Cth);
contains any viruses, Trojan horses, worms, time bombs, cancelbots, Easter eggs or other computer programmes that may damage, modify, delete, access without authority or expropriate any system, data or personal information;
is intended to slow, or has the effect of materially slowing, the download and/or upload rates of other users of the Hotspot.
Access to and use of web content is also subject to such content passing through the firewalls, antivirus and other security systems set by Sydney Trains in its absolute discretion prior to such content being delivered to your WiFi-enabled device.

Security

Sydney Trains will use reasonable endeavours to provide you with secure access to the Hotspot. However, it cannot guarantee the security of the Hotspot at all times. As such, you are solely responsible for any information or data uploaded, downloaded or otherwise communicated via the Hotspot and you are responsible for keeping all usernames, passwords and other security-based information secure and private at all times.
Without limiting any other provision of these Terms and Conditions, Sydney Trains will not be liable to you in any way for any kind of loss or damage incurred as a result of your use of the Hotspot.

Privacy

In the course of providing you with access to the Hotspot, Sydney Trains will collect the following information:
information regarding your web browser type and/or operating system as used by your WiFi-enabled device in order to determine the most effective manner in which to display the requested web content
once you agree to these Terms and Conditions:
the IP and MAC address (including associated DNS entries) of your WiFi-enabled device;
the amount of data sent and received from your WiFi-enabled device while using the Hotspot;
the web addresses accessed by your WiFi-enabled device whilst using the Hotspot;
the specifications of your WiFi-enabled device.
In collecting this information Sydney Trains will do so for the sole purpose of providing you with access to the Hotspot and will do so in accordance with all applicable legislation as well as these Terms and Conditions.
Sydney Trains is in no way responsible for how any third party collects and/or uses your personal information. You are solely responsible for checking the terms of use and privacy policies on each website you visit and determining whether you accept any such terms and policies.
If you have a query regarding Sydney Trains's collection and/or use of your personal information, please contact us via the contacts on Sydne Trains web page.
Limitation of liability

To the extent permitted by law, your access to and use of the Hotspot is at your own risk.
Without limiting the above, Sydney Trains makes no warranties or representations as to the accessibility, security, stability or reliability of the Hotspot and specifically disclaims any liability or responsibility for any faults, failures or interruptions or the accuracy, timeliness, completeness, security or reliability of any communications made using the Hotspot.
Neither Sydney Trains nor any other party involved in developing the Hotspot is liable for any direct, incidental, consequential, indirect or punitive damages arising out of your access to, or use of, or inability to use or access, the Hotspot for any reason, even if Sydney Trains has been notified or advised of the possibility of such damage.
Sydney Trains assumes no responsibility for, and makes no warranty or representation in relation to, and shall not be liable in respect of your use of any third party proprietary software.
Sydney Trains assumes no responsibility for, and shall not be liable for, any damage to, or viruses that may infect your WiFi-enabled device or other property on account of your access to or use of the Hotspot.
Sydney Trains is not responsible for the content of any website accessed or used via the Hotspot. Your access to and use of any website or network connection while using the Hotspot is entirely at your own risk.

Indemnity

You agree to indemnify and must defend and hold harmless Sydney Trains and its personnel, subcontractors and agents from and against all loss, damage, liability, charge, expense and/or cost (including all reasonable legal and other professional costs on a full indemnity basis) of any nature arising from your breach of these Terms and Conditions.

Agreement

Access to and use of the Hotspot is subject to the above Terms and Conditions, as may be amended by Sydney Trains from time to time. If you do not agree to these Terms and Conditions you must not access or use the Hotspot.
It seems that they openly and publically acknowledge to the collection of unique device data, as well as the URLs which you visit using the service. It's also an open-network, so you should be careful of transmitting any information "in the clear".
Random Transport Pictures
The passenger information display on the footbridge at Hornsby earlier when I visited it on Monday. Looks like it may have lost a RAM module.
An Amtech RFID rail tag, attached to a Tangara. This allows for track-side interrogator to read the carriage number as it passes by. All the commuter rolling stock have these tags affixed.
A platform gate lock at Granville – the crappy engraving job identifies this lock as belonging to CityRail, although the logo is no longer current since the rebrand. Fond memories.
The line status on the sydneytrains.info website some days doesn't paint a very friendly picture.
A millennium train had its digital station destination display fall out of sync with the stops, and it was eventually disabled in a way which made it give this message – Next Station Welcome aboard.
Conclusion
That's another three weeks of random! See you next time :).